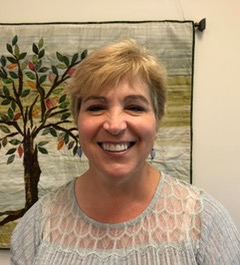 From Rev. Molly Housh Gordon:
I am very pleased to introduce to you our next Church Administrator, Suzanne Clark.
Suzanne has recently returned to Columbia after a number of years residing near family in Rochester, NY. She spent the last 15 years working at Temple B'rith Kodesh, a Reform synagogue in Rochester, where she performed administrative duties as assistant executive director. Congregational life and the rewards of working with a community were main motivators for her in applying for the position with us. She is looking forward to meeting everyone and adjusting to a new working environment.
Suzanne will start Monday, Sept. 17, and work with retiring Administrator Kathie Bergman for the next two weeks learning the ropes. Kathie's official retirement date is Sept. 30, although we are very grateful that she will remain available to Suzanne for a time for any questions that may come up.
Save the date for Sept. 30 after church to celebrate Kathie's long and wonderful tenure, and get excited to welcome Suzanne warmly among us!