From Rev. Molly and the Music Director Search Team: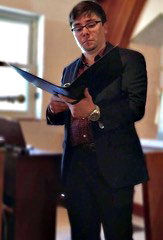 We are very pleased to introduce to you our new Director of Music Ministry, Jeremy Wagner!
Jeremy stood out to our search team because of his passion for building community through music and his gifts for working with singers of all ages and levels, including a gift for working with children and youth. He was recommended by his mentors and peers as an excellent and accessible conductor and showed himself through conversations with our search team to be dedicated, effective, and creative! We are so excited to begin working with Jeremy.
Jeremy will be getting oriented this week and next, and his first Sunday with us will be July 28. He also looks forward to gathering and meeting the choir in mid-August, and will be available for a meet and greet to the whole congregation after the service on July 28. Please plan to stay for coffee on Sunday the 28th and welcome Jeremy to our beloved congregation!
Jeremy is a promising music educator, performer and conductor who recently earned a Bachelor's of Science-Education degree (with an emphasis in Vocal Music), as well as a Bachelor's of Music in Vocal Performance degree at the University of Missouri-Columbia. Growing up in Edmond, Oklahoma, and living in New York, Texas, and Missouri, he found that no matter where he lived he was able to find friends and nurture his love for music through school choirs. During his time in both the School of Education and the College of Arts and Science at Mizzou, he was able to work alongside and learn directly from his mentors, Dr. Wendy Sims, Dr. Brandon Boyd, and Dr. R. Paul Crabb.
Additionally, he was given opportunities to work with local public educators and students from Columbia Independent School, Rock Bridge High School, Locust Street Expressive Arts Elementary School, and Jefferson Middle School. Through his participation in the community, he has also established himself as a performer, singing a number of roles with Show-Me Opera's productions and Missouri Symphony Society. His musical gifts and focused work ethic led to him being named the Director of Music at First Christian Church in Centralia, Mo., where he served for three years. He also worked as an intern for the Choral Arts Alliance of Missouri.
In Glad Song,
Rev. Molly & Your Music Search Team – Pack Matthews, Jamie Meadows, Neil Minturn, Jeanne Murphy