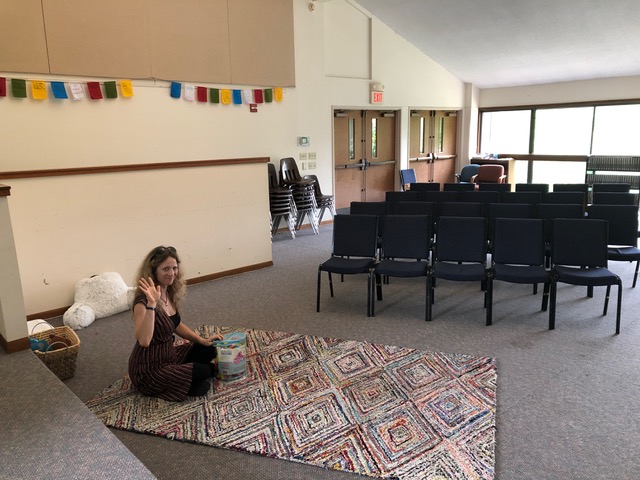 Starting Sunday, Sept. 8, you will notice that the front two rows of chairs on the west side of the Sanctuary have been removed and replaced by a large rug for children to sit on.The rug will have quiet items like crayons, paper and foam blocks. Parents, teachers, and other adults are invited to join the rug community too!
The reasons we are trying this are several. The first and most important is that we have designed the first part of the liturgy to be engaging to children and meaningful to folks of all ages, but it is hard for children to see and participate when they are sitting in the back of the room behind a bunch of adult heads! We believe children will feel more comfortable in our sanctuary, learn our rituals, and begin to engage more fully when they are nearer the "action" on the chancel.
The second is that creating a designated space for children front and center communicates that their presence in our worship life is important to the adults of our community and that learning to be a part of our services  is an important part of their religious education, one we know takes time and patience.
The third is to create a clearer pathway in the back of the sanctuary for people with all kinds of mobility needs to get where they need to go. We know families with children often sit in the back for easy access to the door in case a child needs to take a break in the Greeting Area. By placing the rug at the west side of the sanctuary, we hope families will still have easy access to the exit if they need it. Additionally we hope to continue fostering an atmosphere that truly welcomes the energy of children!
We'll check in after a while to see how it's going, and we are always happy to hear your thoughts directly – email either Rev. Molly or Director of Religious Education Jamila Batchelder, or both.