From Jeremy Wagner, UUCC Director of Music Ministry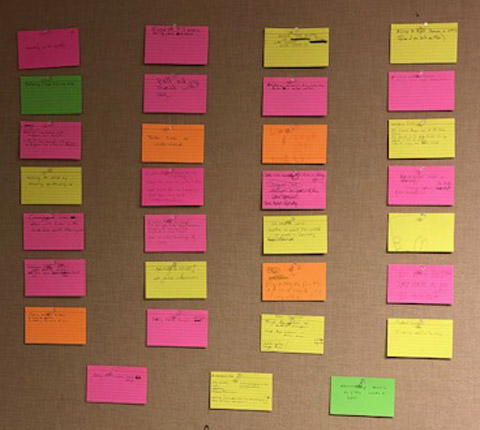 I want to congratulate everyone for their contributions to our music service on Sept. 22. You are now officially all budding musicians, and I greatly appreciate all of the thoughtful, meaningful words you gave to be shared during our service. I appreciate them so much that I decided to hang every index card I received in my office as a daily reminder of the wonderful humans, musicians and musical allies we have in this church.
Thank you all and please come stop by my office any time. If the light is on and I am here, I am open to having a discussion with every person who comes knocking.
To all parents of children in 3rd-8th grades
In the spirit of our music service and furthering our musical outreach in the church and in the community, I would like to extend an invitation to you and your children for the beginning of our very own UUCC Youth Choir, Pulchram Vocem, which translates to Beautiful Voice.
We are looking for a weekly meeting time, and I will reach out to you all individually to see when it would be possible for you and your children to be in attendance. The goal of this choir is to have fun creating music together and exploring what music means to us and how becoming musicians helps shape our lives. We are hoping to get this going as quickly as possible so our premiere performance can be at the Nov. 24 multigenerational Thanksgiving service.
To all non-choir members
Yes, I'm back once again wanting your voice in choir rehearsals Wednesday nights from 7 to 8:30 p.m. in the Centering Room. The only requirement for this choir is that you have a love of music and that you want to share that love with the world. You DO NOT need to be able to read music. All that we ask is that you come to rehearsal wanting to get better every day. After all, our mission as musicians and as humans is to improve ourselves every day. I believe firmly that there is no better way to improve our humanity than through sharing the gift of music. Please, join us. We would love to have you.
To everyone
Last, I want to thank everyone once more for being so welcoming, warm, generous, gracious and beautiful to me as I have come into the church. I greatly appreciate every person with whom I have conversed and who has expressed a desire to share their gifts with the congregation. You all make this the easiest job there is with your love, acceptance and warmth. Thank you all.