From Rev. Molly: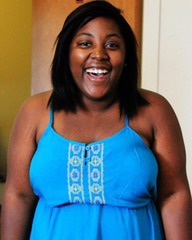 In expression of our partnership with Missouri Faith Voices and our intention to leverage our facility for the work of liberation, the UU Church of Columbia is proudly donating office space for Missouri Faith Voices Columbia Organizer Brittany Hughes.
Brittany is making use of our volunteer work room as well as sharing space downstairs with Music Director Jeremy Wagner. If you're around on a weekday you just may have the chance to share a warm UUCC welcome!
Brittany is the regional organizer for Columbia's chapter of the grassroots organizing group Missouri Faith Voices. Originally from Aliceville, Alabama, Brittany spent most of her school age years in St. Louis, Missouri. Her passion for this work is derived from her love of black folks and the desire to see the collective liberation of BIPOCs not only in America but globally. When she isn't working, Brittany enjoys a good book, cooking, music, and grabbing drinks with friends.