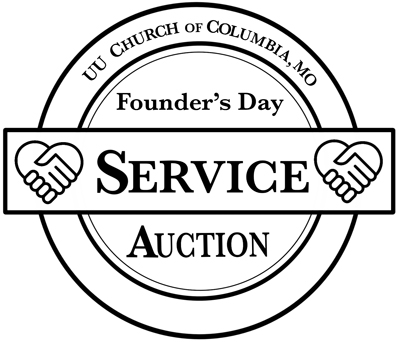 Are you excited? We Auction Team members sure are! The Founders' Day Auction is UUCC's premiere soirée, and for a mere $10, you will enjoy a fun and festive fête when we get together to raise money for the church and enjoy music, drinks, food and the opportunity to win the service of your dreams! So, two things –
One: Save the date – Saturday, Jan. 25, 2020, 6:30-8:30 p.m. Reserve your tickets at $10 each.
Two: We need donations! Because this is a service auction, think of a service (little or big) that you could offer.
Can you babysit, pet-sit, or house-sit?
Do you cook or repair things?
Are you good at music, painting or photography?
Do you have sports tickets you could donate or a weekend or overnight hide-away?
Can you teach someone a craft or mend some clothes?
Surely you can dust, right?
Groups could offer to do yard work, car detailing, window washing or paint a room in someone's house.
Be creative. What makes you special? Share it!
Look for the auction button on our website home page (or click the button below) to make a service donation, sign up to bring food or help with the auction, and purchase auction tickets.
Founders' Day Service Auction – Jan. 25, 2020