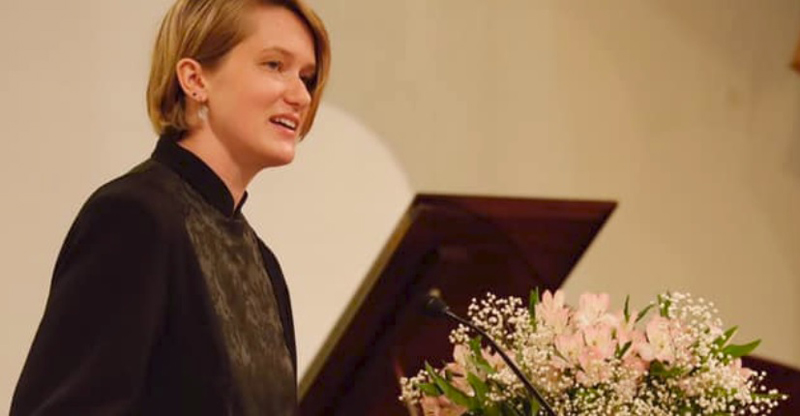 The Rev. Sally Fritsche, daughter of our members Lisa and Kevin Fritsche, joined the UU Church of Urbana-Champaign (UUCUC) as Associate Minister for Congregational Life on Sept. 1. Her duties will include pastoral care, membership, leadership development, small group support and alternative worship opportunities. She will also lead one Sunday service per month. She delivered her first sermon there on Sept. 13.
Rev. Sally grew up in our church and had a keen interest in world religions from a young age. After earning undergraduate degrees in sociology and religious studies, she first felt the call to ministry while serving in Americorps in rural Indiana. She was both disheartened by the poverty and suffering she witnessed and inspired by the activism and compassion she saw in local congregations. Newly reminded of the power religious community can have to change lives and sustain people, she turned away from her doctoral aspirations and instead applied to and was accepted at Harvard Divinity School.
While a divinity student, Sally served as an assistant chaplain to the Suffolk University Interfaith Center, as a chaplain intern at the Brigham & Women's Hospital in downtown Boston, and as an assistant director at the Boston Nature Center summer day camp. After graduating with her Master of Divinity in 2018, she served as ministerial intern at First Parish UU in Needham, MA, where she was ordained as a UU minister on June 20 this year.
Rev. Sally and her husband Miles Faaborg, also a Columbia native, moved to Urbana from Massachusetts and had a few weeks to get to know the area before she started her ministry at UUCUC. Miles also attended Harvard, where his field of study was applied physics, and he was a research fellow at Harvard's School of Engineering and Applied Sciences. The couple married in July 2018.
Rev. Sally can be contacted by email. You can read more about Rev. Sally here.
Below are additional photos of Rev. Sally from this summer.