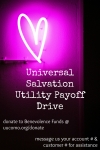 On Friday, Sept. 25, the City of Columbia announced that it will resume shutting off water and electricity services on Oct. 5 for households with unpaid accounts – all while Covid-19 continues to spread unchecked in our community. The city reports that 5,800 of our neighbors are at risk of disconnection. 
We want to be clear – shutting off people's power is especially cruel when thousands of our neighbors have lost work due to the pandemic and when we need them to stay in their homes as much as possible to mitigate the spread of the virus, including for their children's schooling. 
First and foremost, we call upon the City of Columbia to extend the grace period and work with folks to forgive or greatly discount unpaid bills so that no one loses power during this time. PLEASE CONTACT YOUR COUNCILPERSON TODAY and demand the city keep the lights on for our neighbors in need.
https://www.como.gov/council/council-members/
Second, we believe in the power of mutual aid as a grassroots organizing strategy. Our Universalist faith reminds us that all of us need all of us to make it. We help each other when we can, and through that assistance, we build relationships that can mobilize more of us to demand better. So, we're raising money to help out some small portion of the folks in danger of losing their utilities, while also asking them to contact their councilpersons and demand better as well. With more than 5,800 families in danger of shut-off, we know that our capacity to help will be relatively small. We also know it matters deeply.
Please give if you are able
by making a contribution to our Benevolence Funds at
uucomo.org/donate
(there select "Benevolence Funds"). And please
spread the word for those who need assistance
to fill out this form and we will do our best to help:
https://forms.gle/6Zwq8uGCzFcHd7wFA
.
Last, please contact me by
email
if you are willing to work in a coordinating capacity to make payments and to negotiate with the city to help the money we raise go as far as possible.
This is a time-limited campaign. We ask people to give by Friday, Oct. 2, and we will distribute the funds at that point.
In Faith,
Rev. Molly