During the influenza pandemic of 1918, our sister Unitarian and Universalist churches across the country stepped up, along with other faith communities, to become field hospitals, children's shelters, and even makeshift morgues. 
After learning of the lack of other viable options for the Room at the Inn emergency overnight shelter (RATI) this winter, our Board of Trustees was inspired by the faith of our forebears to vote to commit the use of our entire building (except the offices) to RATI for their 2020-2021 season. 
From December 13 to March 14, our sanctuary, classrooms, and even foyer will all be partitioned into 10 foot square spaces for guests in order to create as safe a shelter experience as possible during the Covid-19 pandemic. The Board made this decision after careful consideration of Room at the Inn's excellent plans for safe shelter procedures during the pandemic and with the concurrence of our Covid-19 Advisory Task Force. We are particularly glad that RATI has been able to arrange a separate site with substantial space for quarantine or isolation of guests who may be medically vulnerable, sick, or exposed to Covid-19. This will make our guests safer.
As our own Worship, small groups, and other ministries continue to meet online, it is clear to us that the life-saving efforts of Room at the Inn are a faithful use of our physical plant resources during this time. We know there may be some hardship for our congregation in this offering, but we are equally clear that our faith calls us to rise to meet the challenge of this moment, and we believe that pulling together to love our neighbors in this material way will be a source of hope and sustenance for our church community through this time. 
We know that our location is not ideal for Room at the Inn. We are off the beaten path for our guests in a residential neighborhood, and our space is not very large. However, as the only large enough congregation able to offer our facility for this use in this time, we know that the alternative of leaving people without safe shelter during dangerously cold temperatures is anathema to our faith.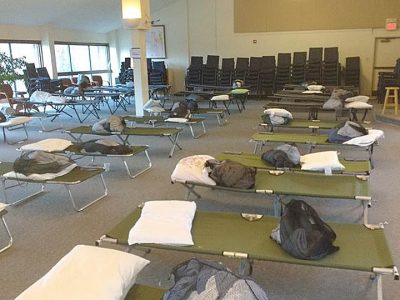 Sheltering unhoused Columbians during the winter months is always a significant undertaking. We know that it will be even more so during this pandemic winter. We know many of our church members will not be able to volunteer in the usual ways because of Covid risk factors, and we will be communicating about other opportunities to support the work of RATI as their needs become clear. We are pleased that RATI will have 4 paid staff people on site at all times to make up for any potential lack of volunteers. We are also grateful for the compassion of the Shepard Elementary School Principal and the Shepard Neighborhood Association President who have both expressed their support for our efforts.
We are proud to partner with Room at the Inn every year, and this year we are grateful for our congregation's clarity of mission, which allows us to step up and offer this use of our building to provide warm sanctuary that affirms the worth and dignity of every Columbian.