Rev. Molly Housh Gordon and Director of Religious Education Jamila Batchelder have outlined plans for re-gathering in September after 18 months of online programming.
From Rev. Molly:
Dear ones!
Your Board of Trustees, Covid Advisory Task Force, and staff team have been hard at work on a safe, inclusive plan for gathering together this fall after 18 months of all-online programming. We want to acknowledge right up front that things are not where we hoped they would be with the pandemic and that the local situation and therefore our plans will continue to evolve. We thank you for joining us in the difficult/beautiful spiritual practice of moving through uncertainty together. Here is what we know:
Beginning Sept. 12, we will be re-gathering at the church, outdoors for now, with worship services and children's religious education programs. We will also continue offering online worship. We will continually assess local transmission numbers, congregational comfort levels, and, of course, the weather, to determine when we will move inside.
Our outdoor service will be at our usual 10:30 a.m. time on church grounds, and because simultaneous live-streaming outdoors presents many technical difficulties, we will be offering a separate online service at 9:30 a.m. on Sundays while we are outdoors. Children's programs will be offered at 10:30 a.m. alongside outdoor services.
For those joining us online, note the time change and join us as you have been these many months! We will continue to offer online coffee hour.
For those joining us in person, we request universal masking, and we invite you to bring your own coffee, water, or other morning beverage. We are working on shade and good sound as I write. We will have chairs available but invite you to bring a lawn chair if you'd like and spread out.
We know that this is a highly vaccinated, socially responsible, warm and flexible community. We also know this evolving time of re-gathering may be awkward, or anxious, or have some false starts. Let's lead with love and be gentle with one another! And, let's remember to look out for new faces to warmly welcome the beloved ones who have previously only been with us online. It will be an adventure, but we've always been on an adventure of the spirit here. Onward!
– Rev. Molly
Note: Rev. Molly and Susan Even, chair of our Covid Advisory Task Force, presented a re-gathering webinar via Zoom on Thursday, Aug. 26. You can view the webinar by clicking the image below.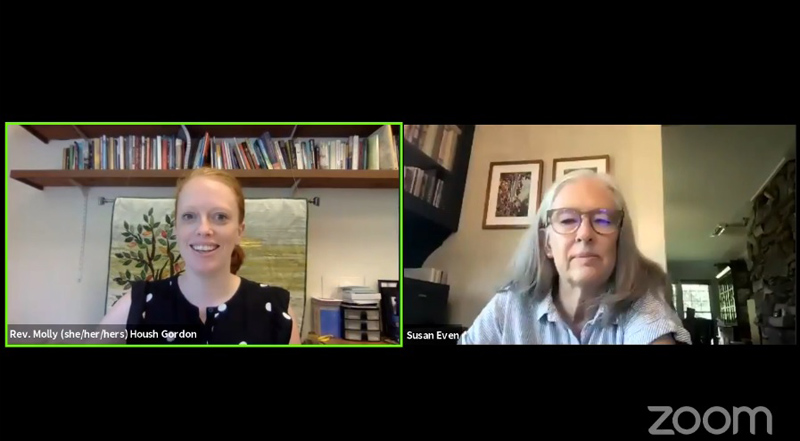 From DRE Jamila Batchelder:
We are going to begin in-person Religious Education classes starting Sept. 19, at 10:30 a.m. I am so excited to finally be together. But a few things will be a little different! First and foremost:
WE WILL BE OUTSIDE…
…at least for the first quarter of the year, as our community gets a handle on its Covid infection rates.
Potter Class will meet just outside their regular classroom, beside the lower parking lot.
K-7th graders will meet at Shepard Park under the shelter.
Coming of Age class will meet on the church grounds at a yet to be determined location.
Other changes: As we reintegrate to church life, K-7th graders will do a group curriculum focused on reconnection, relationship building and the joy of play. We will begin with a story to center us on our core values and then have a combination of structured and less structured activities for children to choose from as we rebuild our R.E. community. We will also build in service projects that allow us to put our faith into action.
Teachers and children will continue wearing masks when we are together, even outside. We will continue to re-evaluate our plans as conditions change here in Columbia and Missouri.
If you are interested in volunteering, please contact me. It is an amazing opportunity to be a part of creating a community of love, care and growth for the young people of our UU church.
Note: Jamila Batchelder presented a video on Sept. 3, 2021 in which she discussed plans for R.E. classes this year. Click the image below to view the video.