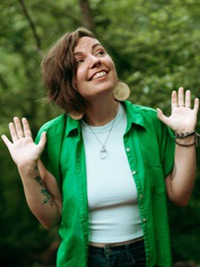 I am so excited to be joining the UU family! I look forward to seeing what kind of music magic we can all make together and can't wait to get to know you. I thought I'd tell you a little about myself and my musical journey and how it has led me here to you.
My first musical performance was at Earth Day of Columbia in Peace Park at the age of 9. From the very beginning, as a songwriter and performer, music was and still is a way for me to shed light on social issues, to heal and to open hearts and minds. I have played music across the country and Midwest touring with my band, Violet and the Undercurrents, and in 2018 I formed the Jane Doe Revue, an all-female rock orchestra that has helped to raise more than $20,000 for women's healthcare in Missouri.
I graduated from Central Methodist University in 2010 with a bachelor's degree in Music Education with a vocal emphasis and began teaching private music lessons shortly after. I have taught general and elementary music at Lange Middle School, Stephens College Children's School, Columbia Montessori School and Windsor Street Montessori. I love to teach and believe it is one of the most meaningful and radical ways to make a direct impact on our future.
On Oct. 1, my wife Phylshawn Johnson, local music teacher Audra Sergel and our non-profit music organization Compass Inc. announced that we will be opening a community music center in the heart of Columbia on University Avenue. The center will be a hub for our mid-Missouri music scene and a place where anyone can come to learn music. Through a community outreach program, we will be offering music lessons on a sliding scale. The center will also be home to a substance-free listening room, recording studio and workshop rooms. We are in the middle of our first fundraising campaign with hopes to open the center in the spring of 2022. If you are interested in learning more, visit https://compasscolumbia.org/.
Some of my music ministry goals at UUCC are to reconvene the choir safely, begin a youth music program with an emphasis on singing and playing based upon interest and skill level, youth and/or adult songwriting groups, involving and inviting members of the Columbia music scene to play for our services and of course involving and making space for all the talented UUCC musical members. I am grateful to have been welcomed into the UUCC family and look forward to growing the music program with you!
Musically yours,
Violet Vonder Haar