Launching Our 'Rising to the Moment' Accessibility Campaign
Join us in an exciting campaign to make important
accessibility improvements to our beloved UUCC facility!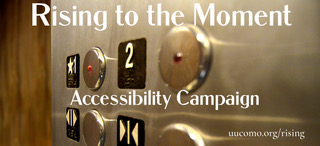 We are raising $400,000 to install an elevator, replace old, uneven carpeting throughout the building, add automatic openers to exterior doors, and place braille signage throughout the building. As we re-gather from our many months of online church, we understand more urgently than ever that we need a fully accessible building to meet our mission of radical welcome, deep connection, and helping to heal the world.
These improvements will serve our congregants of all ages, the many community organizations with whom we share our space, the unhoused neighbors who stay at Room at the Inn, and our future selves as our needs change over the years!
Please consider this gift separately from your annual giving that funds our year-round expenses like staff salaries, utilities, and more. Gifts of every size make a huge impact on this campaign – we hope you will give what feels GOOD!
Visit https://uucomo.org/rising/ to pledge to the campaign, or turn in a paper pledge card at church! "Frequently Asked Questions" and their answers can also be found on the website, or email Campaign Chair Ginny Winter with questions!