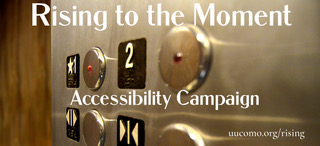 Thanks to all who gave and pledged for helping UUCC Rise to the Moment!
As of Dec. 12, 2021, those who gave, pledged and spread the word helped our Accessibility Campaign reach its full goal of $400,000.
The architects are hard at work on their designs, and we plan to begin work by the summer to install our elevator, new carpeting, door openers and braille signage!
With your help we will be more ready to advance our mission of radical welcome!