June 12 and July 10 after worship
We have some exciting music events planned this summer at UUCC. The choir has taken a break for the summer. However, if you're like me and can't keep from singing, I hope you'll join us on June 12 after the worship service for a fun group sing event – YO(UU) SING. I will share simple and familiar songs to sing together! This is for anyone and everyone, whether you're just a shower singer or love belting it out in the choir.
If you've got little ones, I've also got you covered. Join us on July 10 after worship for a YO(UU) KIDS SING! This will be a fun and interactive set of not-just-for-kids songs! From a love song to waffles to penguins drinking tea, laughter and joy are guaranteed. Come prepared to shake and sing your sillies out!
7 p.m. Saturday, June 25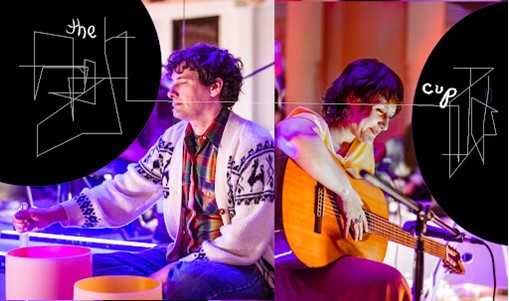 I'm also very excited to invite you to a special event on June 25. My dear friend Steph Plant from Edwardsville, Ill., will be offering a one-of-a-kind listening experience called "The Cup," an immersive musical experience that audiences are calling "inspired"… "hypnotic"… and "powerful medicine." It is part ritual, part concert, part sound bath… taking the listener on a profound emotional journey that guides the spirit through song and the transcendent healing frequencies of pure quartz crystal singing bowls. You won't want to miss this! Doors will open at 6:30 p.m. Saturday, June 25, and music will start at 7 p.m. There is a suggested donation of $15 at the door.
I am always looking for guest performers for our Sunday services. If there are any members who have music they'd like to share, please don't hesitate to reach out to me by email. See you in church!
– Violet Vonder Haar
Director of Music Ministry