Join us for a gala celebration from 7 to 10 p.m. Saturday, Aug. 13, 2022 honoring 10 years of shared ministry with Rev. Molly Housh Gordon and raising funds for our new elevator. Enjoy decadent desserts, dancing, live music from Violet and Phylshawn, and an exciting silent auction. The gala will be held at the Reichmann Paviliion at Stephens Lake Park. Free childcare will be available at UUCC.
Tickets: $25/person suggested donation. Sliding scale options available! Click the button below the following graphic to go to the page where you can order and pay for tickets, register for childcare, let us know about accessibility needs, and make auction contributions. You will receive an email confirming your ticket order, and you will be on the list of ticket-holders when you arrive at the gala.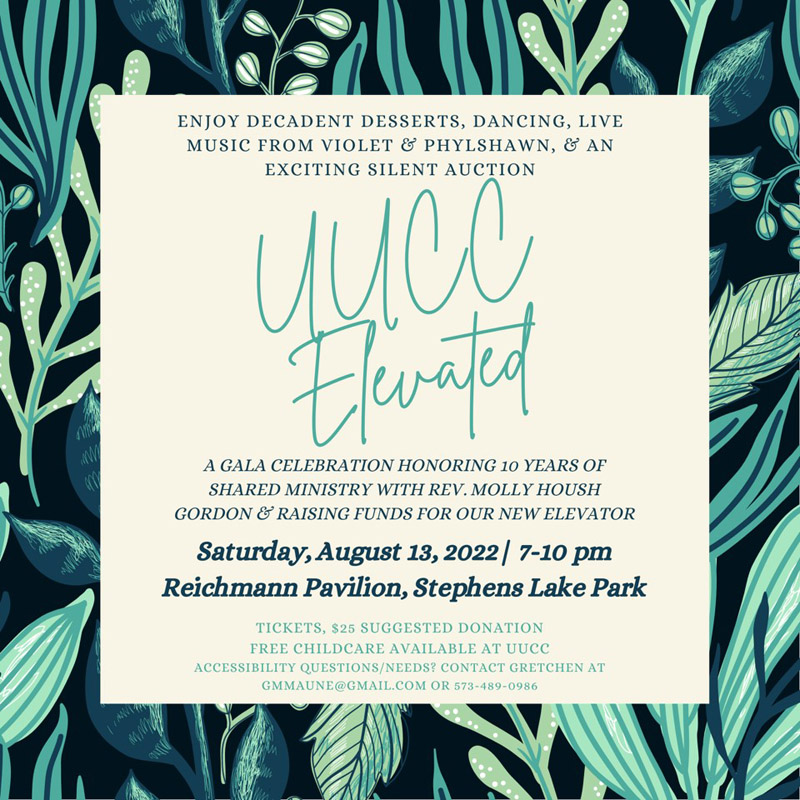 Get Gala tickets and register for childcare or accessibility needs
Accessibility questions/needs? Contact Gretchen Maune at 573-489-0986 or by email.