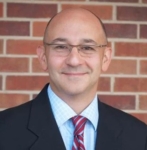 Paul Litton, who has been a UUCC member since November 2007, has been appointed permanent Dean of the University of Missouri School of Law after serving as interim dean since July 2022.
Since joining the MU law faculty in 2006, Paul also has served as Director of the Office of Academic Integrity and as Associate Dean for Research and Faculty Development. His own research has focused on the intersection of law and philosophy, including moral philosophy and criminal law theory.
Paul said of his appointment, "I am honored and thrilled to serve Mizzou Law, our students, faculty, staff and alumni in this role. When I joined Mizzou 17 years ago, after living my entire life on the East Coast, I did not foresee how this university and school would become so integral to my life and career. I am so proud to lead this outstanding law school and be part of this community.