2615 Shepard Blvd., Columbia, MO 65201-6132 • Phone: 573-442-5764
2021-22 Chalice Circles Signups
2021-22 Faith-to-Action Nominations
Welcome to the church nurturing spirit and service – a liberal religious voice lighting a moral beacon in Central Missouri. In the spirit of courageous love, we forge a community of radical welcome and deep connection that moves us together to heal the world. We invite you to join us.
---
Sept. 12, 2021 – First re-gathering at church since March 8, 2020

On Sept. 12, 2021 about 100 adults and children joyfully gathered at UUCC for our first in-person worship service since March 2020 – March 8, 2020 was the last time we worshiped together at church before the Covid pandemic necessitated online worship. Read more and see more photos.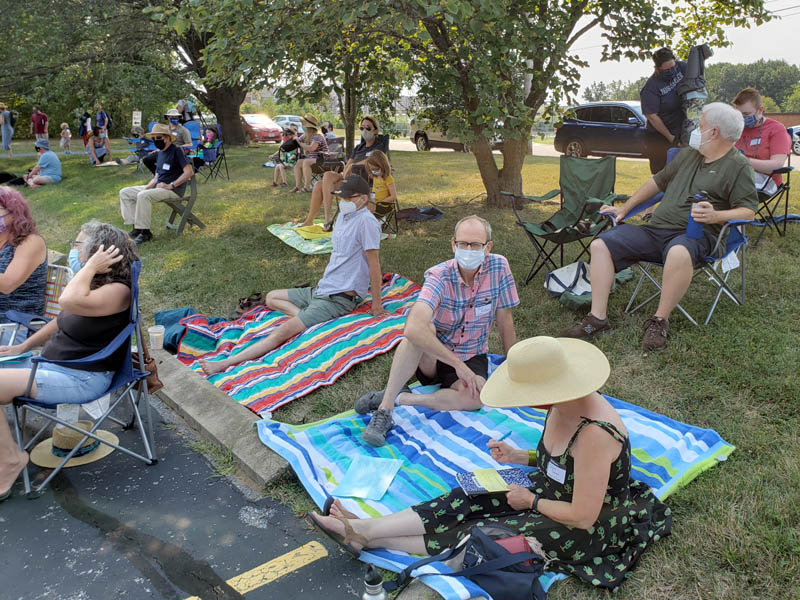 ---
Sunday at UUCC – Sept. 19, 2021
Worship – 9:30 a.m. online – 10:30 a.m. in-person outdoors at church

"Holding Each Other" – Rev. Molly Housh Gordon
During a time of World War, Irish political unrest, and flu pandemic, the Irish poet W.B. Yeats wrote in an essay: "Too many things are occurring for even a big heart to hold." Perhaps we may feel the same in our own time. Yet if we cannot hold it all, perhaps we can hold one another.
Read about our plans for re-gathering in person this fall for worship and religious education.
Submit Joys and Sorrows by 8:30 a.m. Sunday before worship:
Telephone: 312-626-6799 – Meeting ID: 380 411 489
Digital Chalice (click to light it)
Visitors participating in our online worship services are invited to fill out our Visitor Connection Card:
11:30 a.m. – Online Coffee Hour
Coffee Hour Zoom link (more information on the Zoom Links page)
1 to 3 p.m. – Sanctuary/Immigrant Justice Team – online
All are welcome to attend the monthly meeting of our Sanctuary/Immigrant Justice Team. The team works to support immigrant and refugee communities in our area and to protect immigrants facing deportation by literally offering sanctuary to people at risk of being deported. For more information, email either co-chair, Allie Gassmann or Dave Gibbons.
---