By Allie Gassmann, Honduras Ministry Team Leader
The Honduras Ministry Team went on the fifth UUCC service trip (and the 10th anniversary trip, the first trip having occurred in 2009) from Dec. 28, 2019 to Jan. 4, 2020. There were ten UUCC members and friends who went on the trip. Bertin "Cito" Lobo and his wife Keyla are our Honduran organizers on the ground and spent the whole time we were there together with us. Their children Brittany and Breslyn were a joy to have with us as well! The group worked together with the villagers to build eight latrines in the Colonia La Lopez. We had built latrines in the same community in 2011, and it was great to work with some of the same people again and to see how the community has grown and developed since 2011.
Why build latrines? According to the Centers for Disease Control, 1.6 million people died from diarrheal diseases in 2017. Children are especially vulnerable, and about 2,200 children die from diarrheal diseases every day. 88% of diarrhea-associated deaths are due to unsafe water, inadequate sanitation and insufficient hygiene. Latrines are key in preventing diarrheal diseases when indoor plumbing is not an option. This is why Nov. 19 was declared World Toilet Day by the United Nations in 2013. Watch for our next Trivia Night to raise funds for our Honduras work around World Toilet Day 2020!
Dec. 28, 2019
We all met at 4 a.m. at the St. Louis airport. Everything went smoothly with our flights, and Cito, Keyla and kids Brittany and Breslyn were there to greet us when we arrived in San Pedro Sula.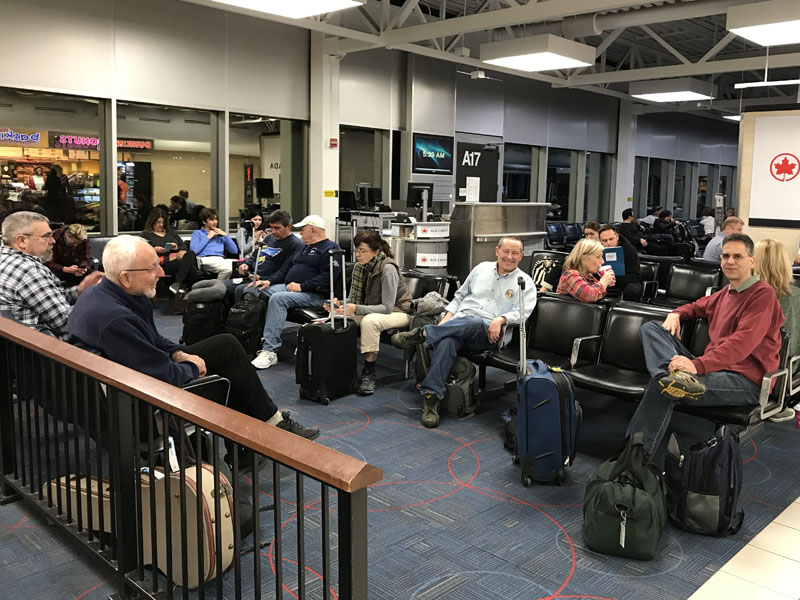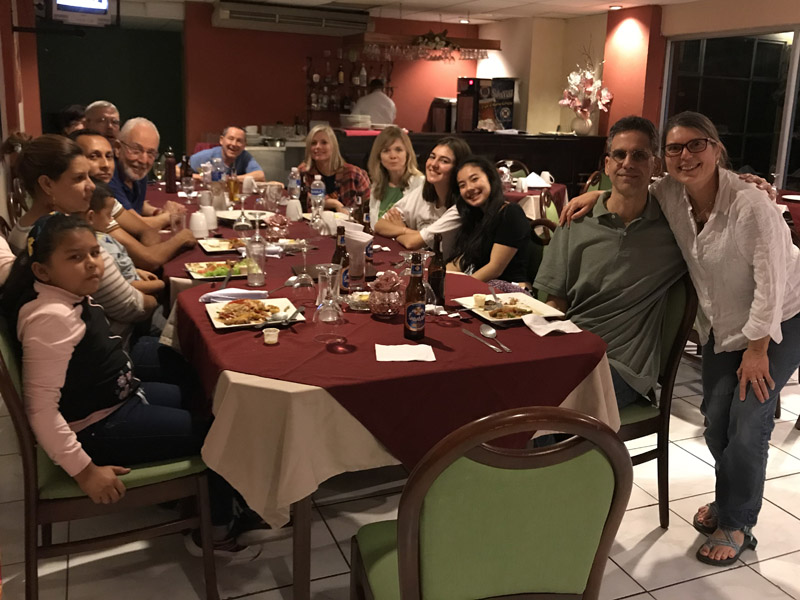 It was a very happy reunion, and even though everyone was tired, and the trip to La Ceiba seemed endless due to terrible traffic, everyone was in good spirits. Then we all had a nice dinner together. We were exhausted but happy and grateful to be there and excited about our week ahead!
Dec. 29, 2019
The next day we arrived in Las Mangas at the cabañas – beautiful as ever. The cabañas have been improved quite a bit and are a little less rustic than they used to be. Although there is still no hot water, which is a little harder in the winter than in June…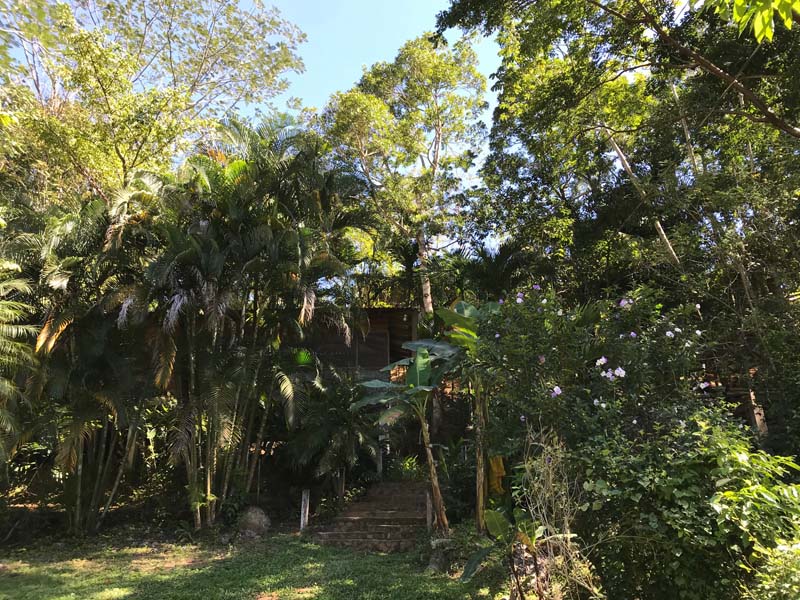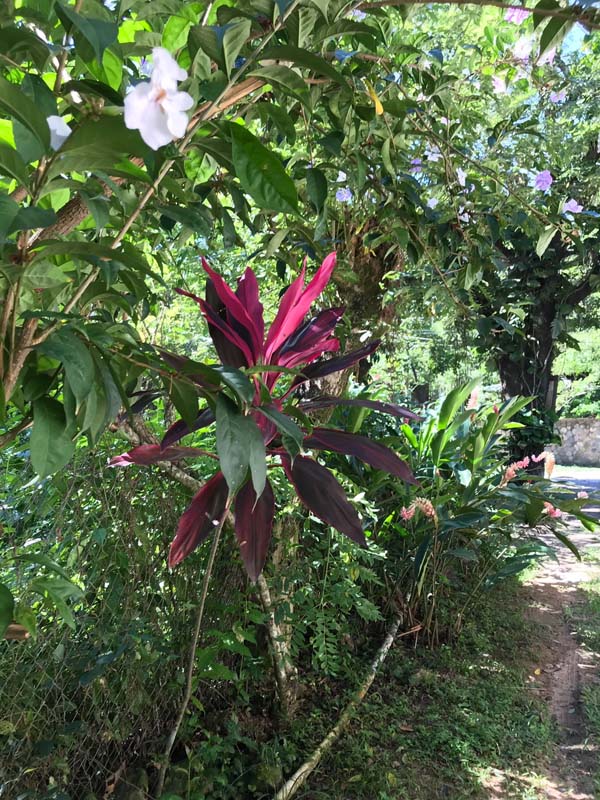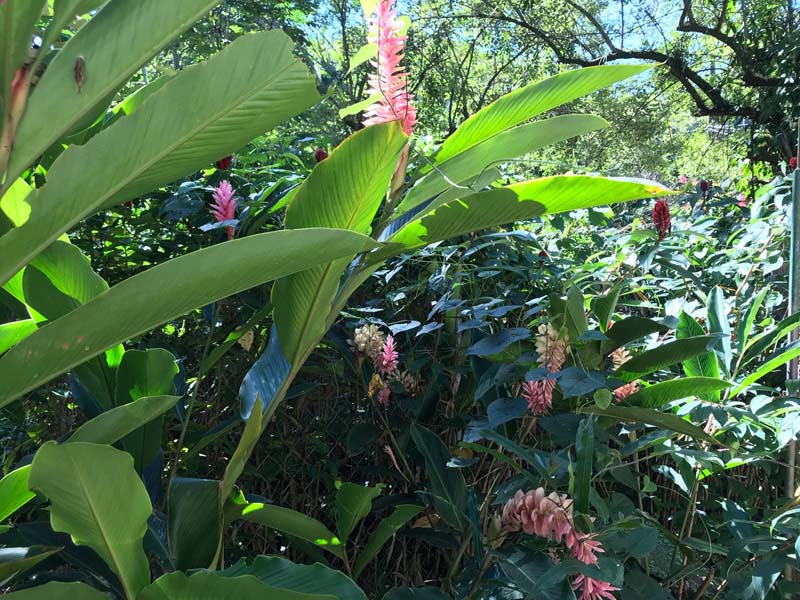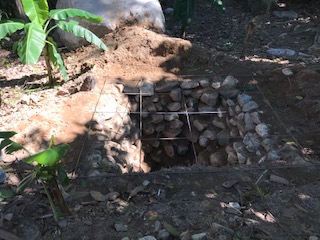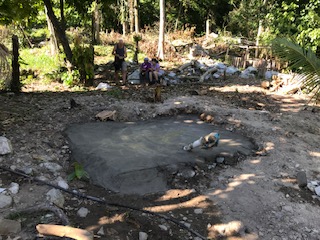 Dec. 30, 2019
It was a lot of fun to hang out with each other as a group and to get to know each other better. Wonderful to have had Amy, Beni and Orvelina (a friend of Caya's who is a leader in the resistance movement in the Aguan Valley) with us. Most of us got to know them for the first time on this trip. It was great to reconnect with old friends and to make new friends in the community we were working in.
After dinner that night, we shared with each other about our impressions, thoughts and feelings. Keyla started crying as she was telling us about the hardships one of the families we were building a latrine for. She sees poverty around her all the time, and still she was so deeply affected about what she had learned about the family that day.
Keyla and Cito are amazing human beings. So full of compassion, so smart, so strong, so kind. It is beautiful to see how much they love their studies at the university in La Ceiba. They get up at 5 a.m., start classes at 7 a.m., are in school until 6 p.m., then usually stay until 9 p.m. to do homework. At home when they need to do their studying, they struggle with bad internet connections. Wow! By the way, there are church members who are financing their education, because sadly it costs a lot to go to elementary school even, and gets worse the higher you go. It's hard for many people to afford anything beyond 6th grade.
Cito had always been a quiet and serious person, but it seems that his studies are just what he needed in his life. He has become much more open and talkative and smiles much more. And he is such a good student that he got a grant to go to England for a study trip recently.
Cito and Keyla have big dreams about how they can stay in their community as teachers and improve the lives of everyone in the community. It is beyond impressive.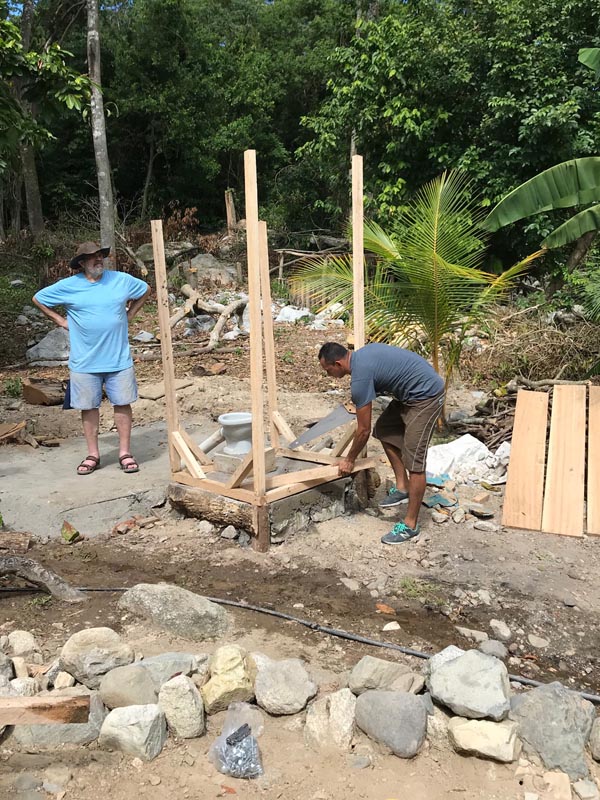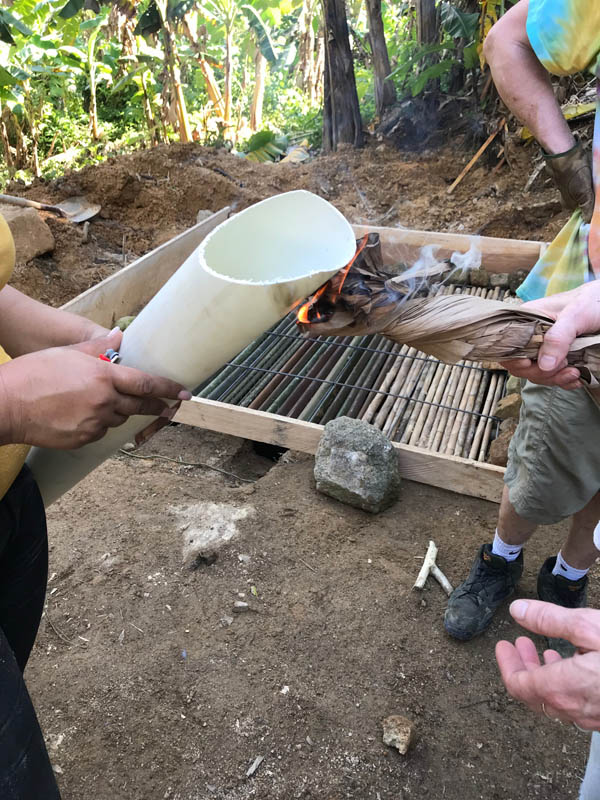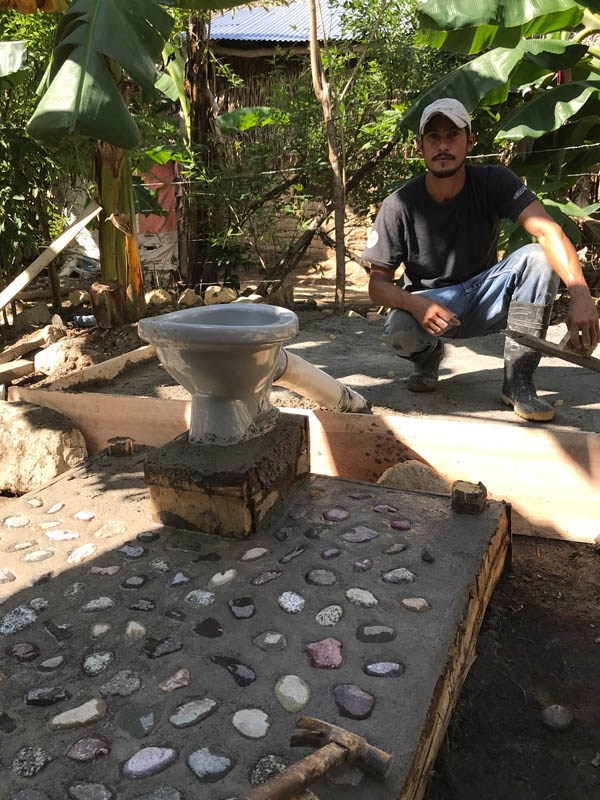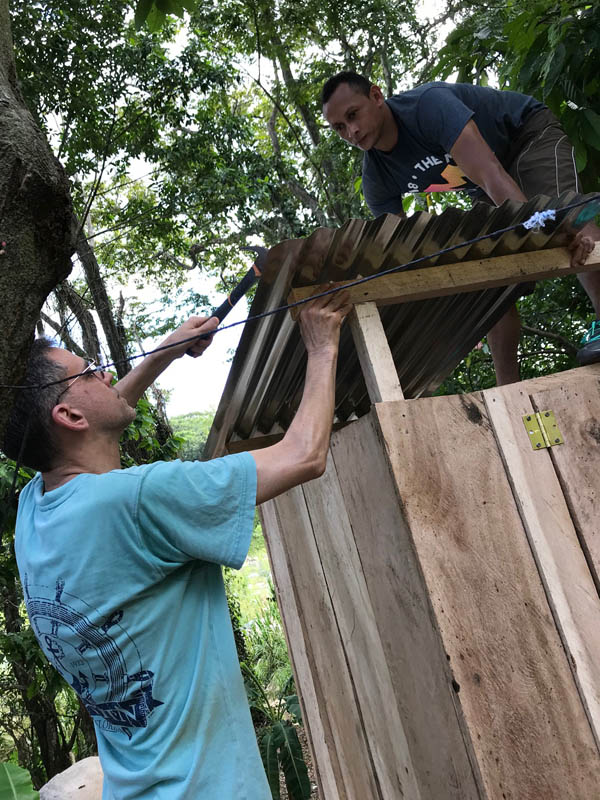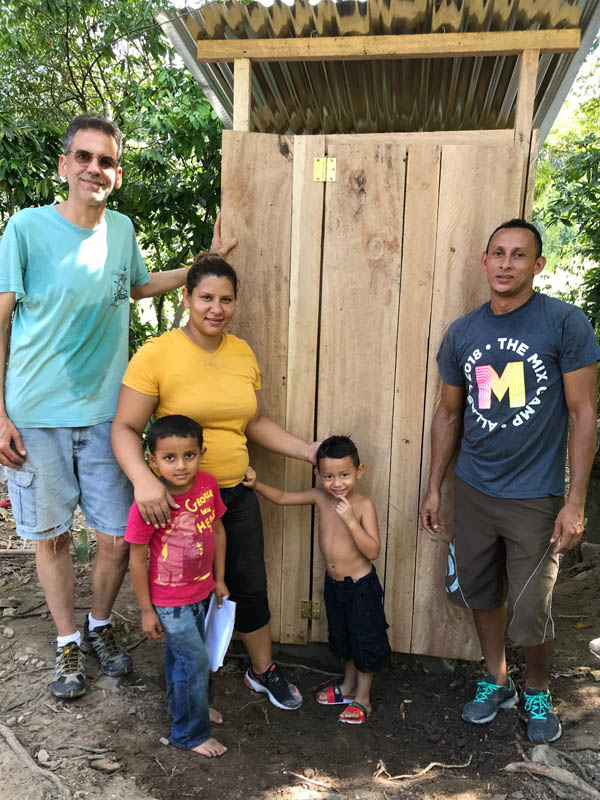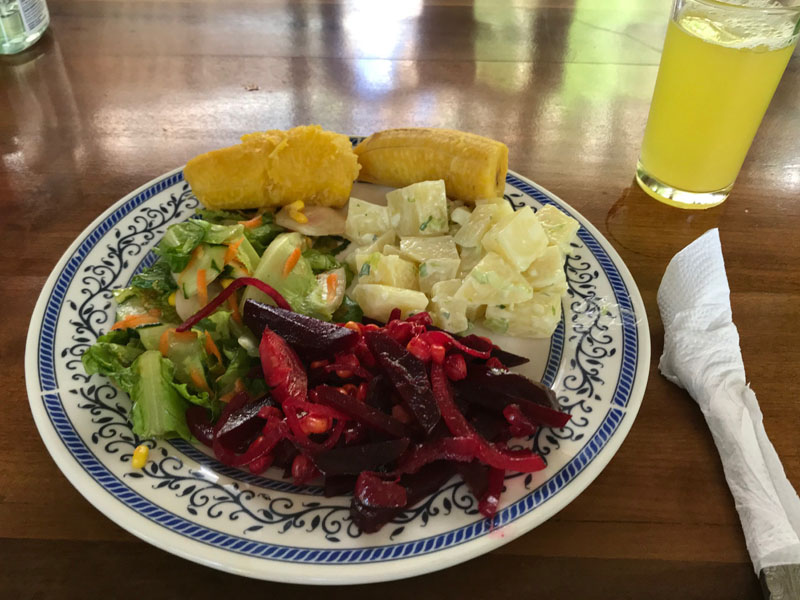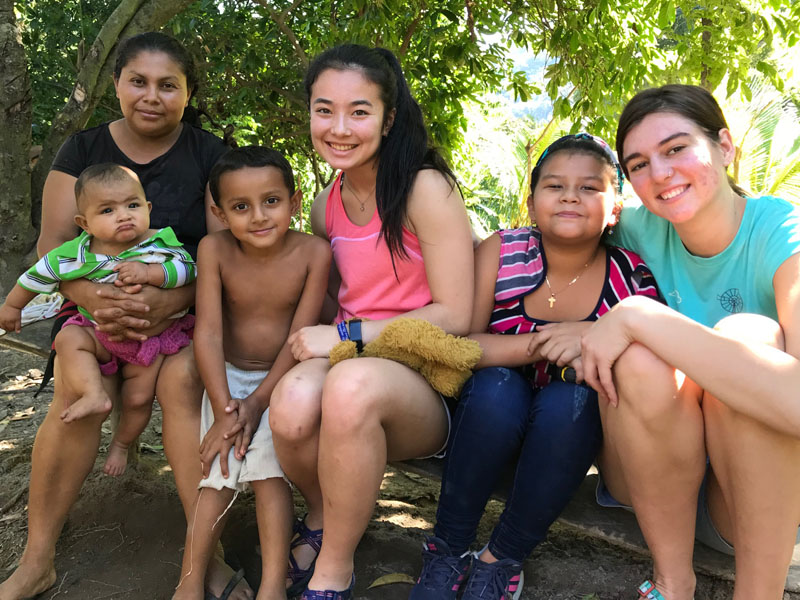 Dec. 31, 2019
We had a lovely celebration at the village where we were building latrines. Peter, Scott and Caya gave wonderful musical performances, and Don Neno, the patriarch of this village, also sang and played his guitar. Many people came, and the kids were all dressed up for this special event. In the end cake and juice were served. It was a fantastic way to end the old and ring in the new year!
I should tell you that Don Neno has 13 living children, 65 grandchildren and 6 great grandchildren. They all live in this compound. Only 3 children in the compound are not his grandchildren, and of course they call him abuelo too.
That day we finished two latrines completely, and we were close on two more. We were all getting more experienced and more efficient in our latrine building skills, and Cito and Keyla have also become a dynamic duo in organizing and leading us. Amy, Todd and Beni were new to this but learned quickly and are strong workers. Orvelina is amazing, she really knows how to build things and is super strong.
We were all too exhausted to make it to midnight, and we had lots of work ahead of us the next day!
Fiesta and concert fun photos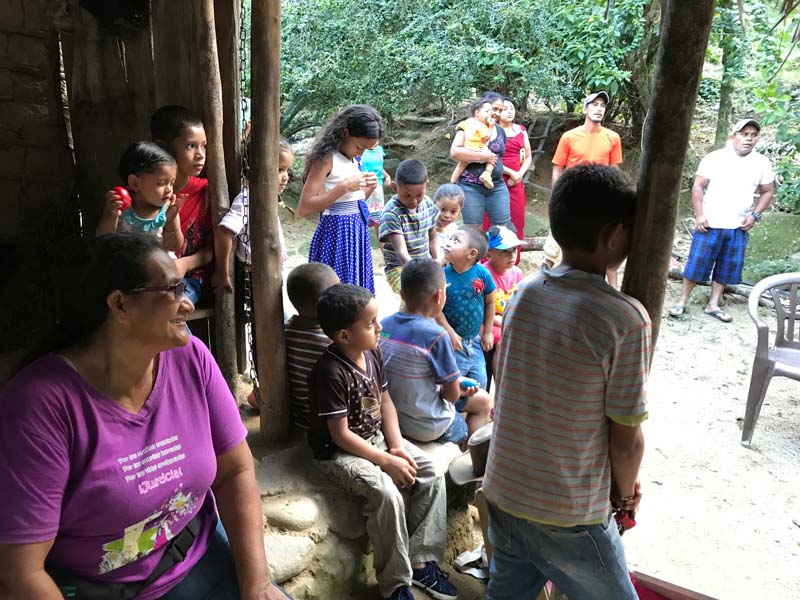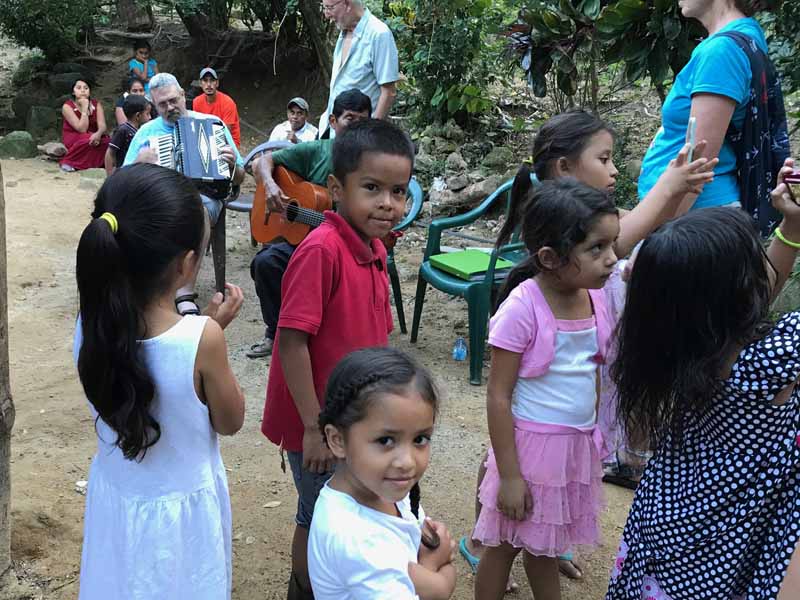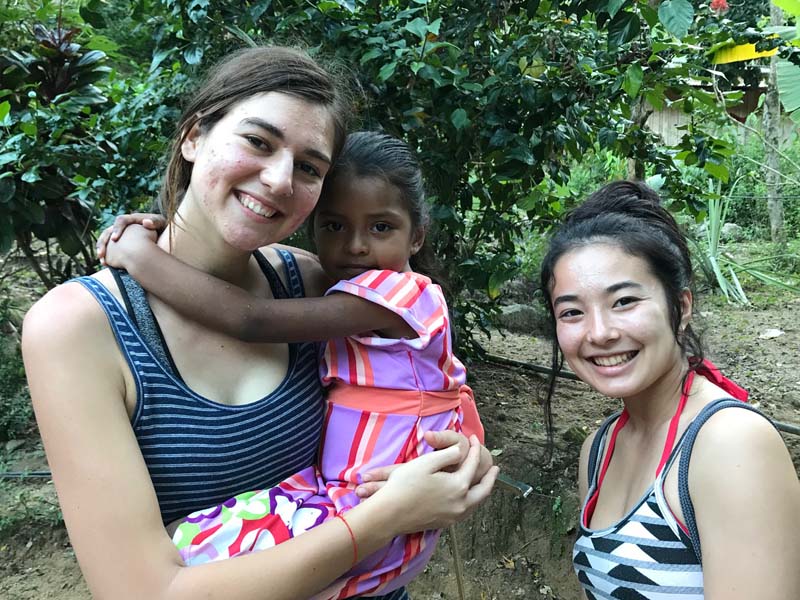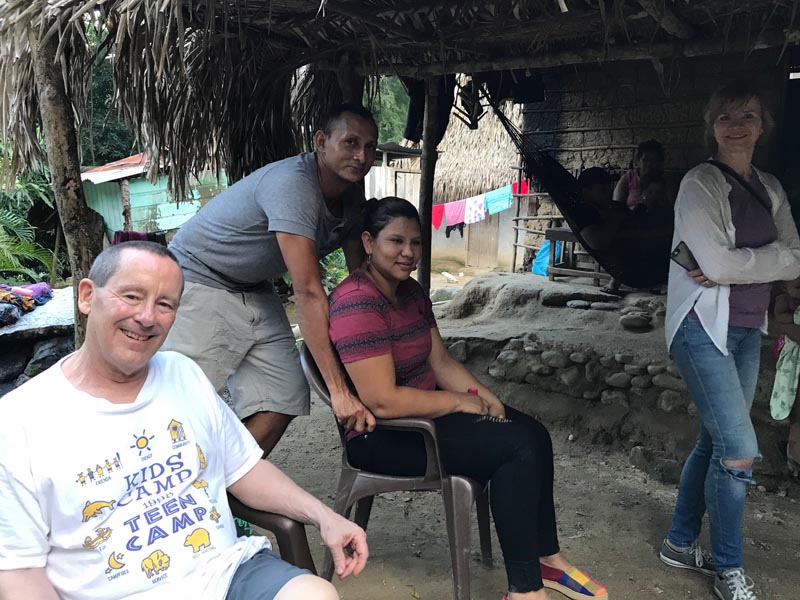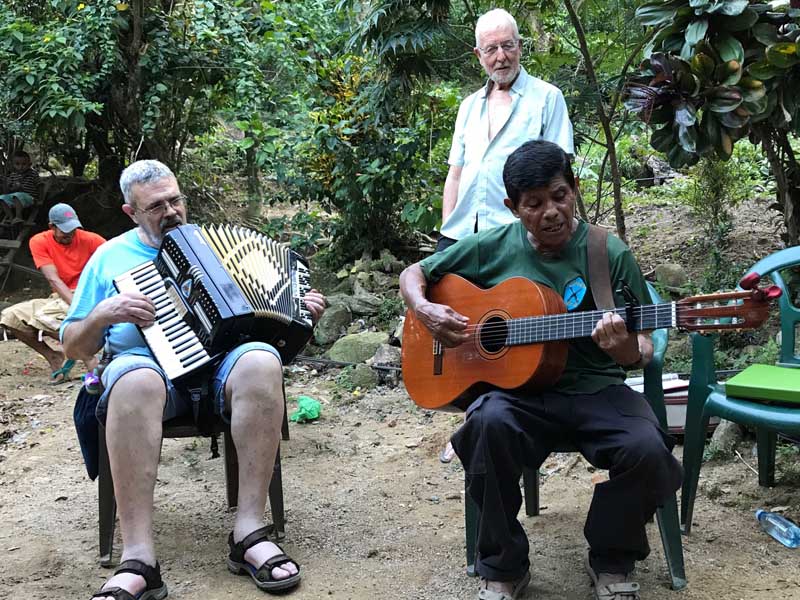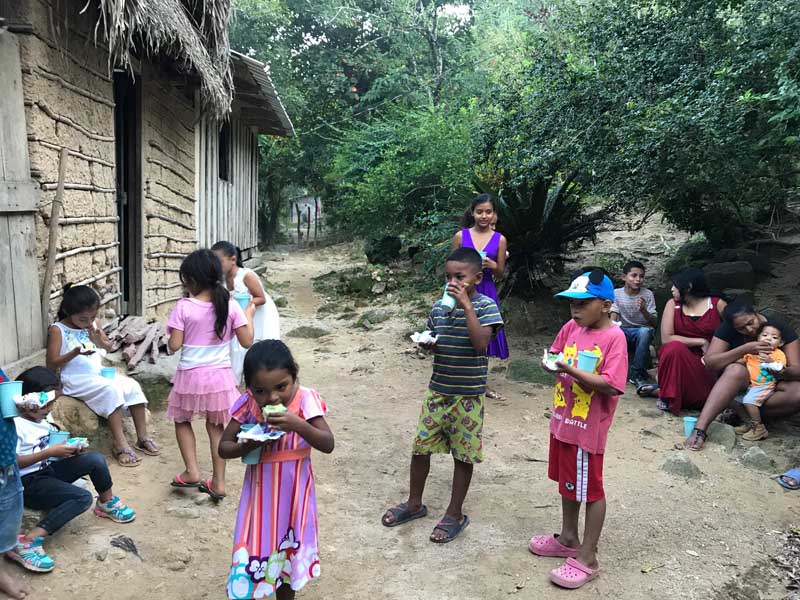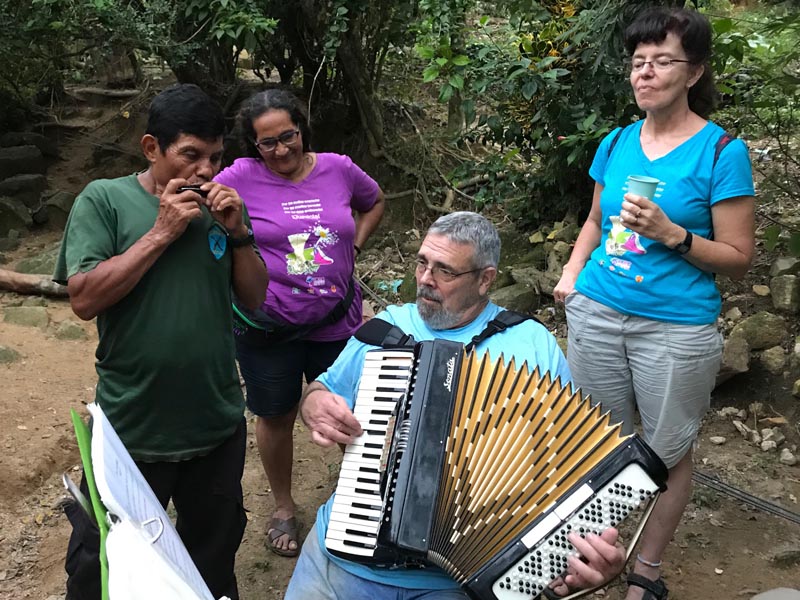 Jan. 1, 2020
We started the morning off with an "old acquaintance," Adolpho, who used to be a kid at Guaruma (the organization next door to the cabañas where youth get training in English, computer skills and environmental issues). Now he is a forestry student with plans to get his PhD in Brazil and to work for environmental protection here in the Rio Cangrejal Valley. He is such a neat, amazing and inspiring kid!
We worked on latrines and hung out with friends. Several more of us have gotten travelers diarrhea, but we all pulled through, and everyone is chipper and doing well!
Scott, Peter and Don Neno definitely contributed to our lifted spirits with their music! As did the kids around us! Beni and Leila were a joy to see as they interacted with the kids!
That day we also went to visit Cito's mother, younger sister and brother in law. Another bunch of impressive people! Cito's mother,Rosario, started the sewing cooperative and community center that has helped countless people in countless ways. Brother in law, Olvin, is active for environmental issues.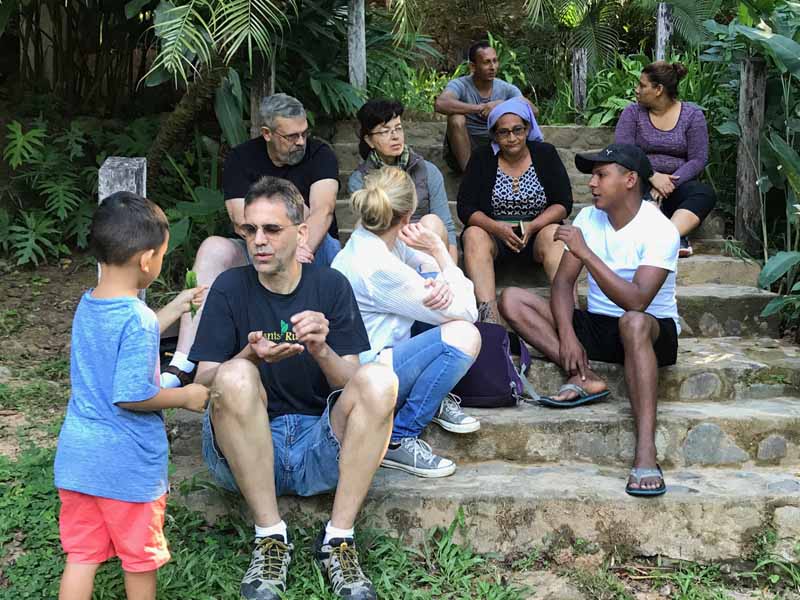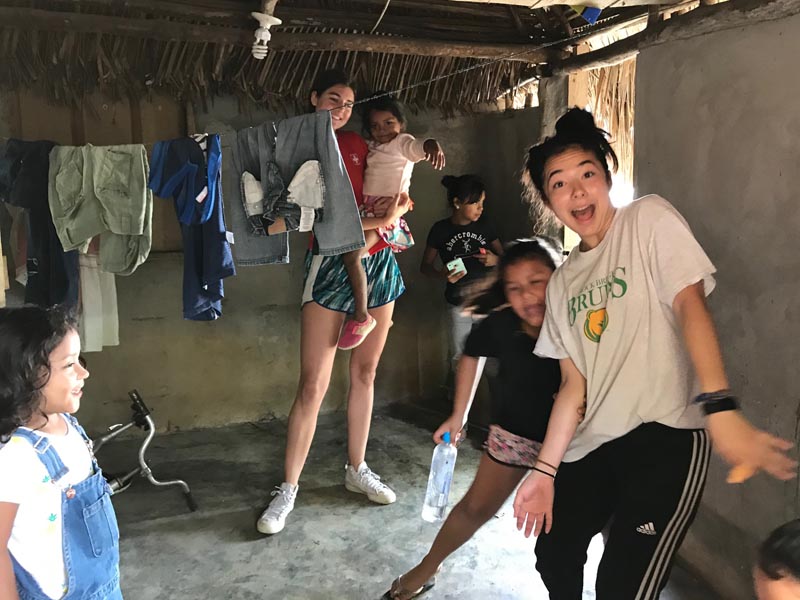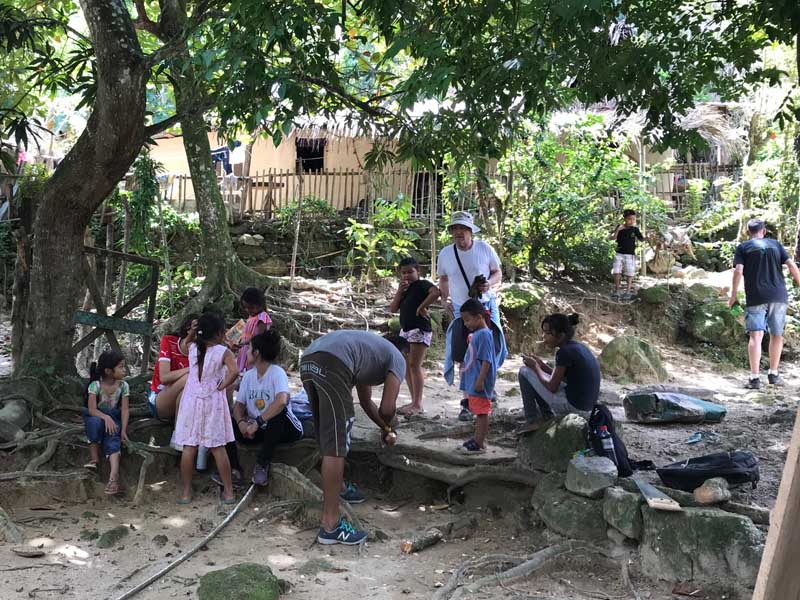 Jan. 2, 2020
We finished up our work in the village and said our sad good byes.
Don Neno and I had a heart-to-heart as we sat in the canasta for a little while so he could rest from all the work he had done to ferry people back and forth. He told me again how grateful everyone in the village is for all we do. We are the representatives, but all of you and our church are the ones whom we are representing, so I am passing on the deep gratitude and appreciation to you and our church as a whole. I am very proud of what we have all done together to become friends with the people here in this river valley. It is a beautiful thing!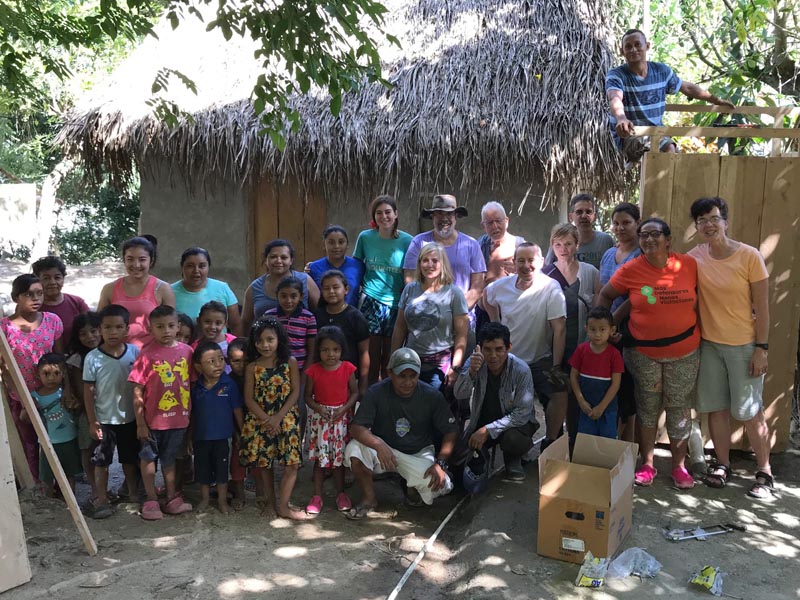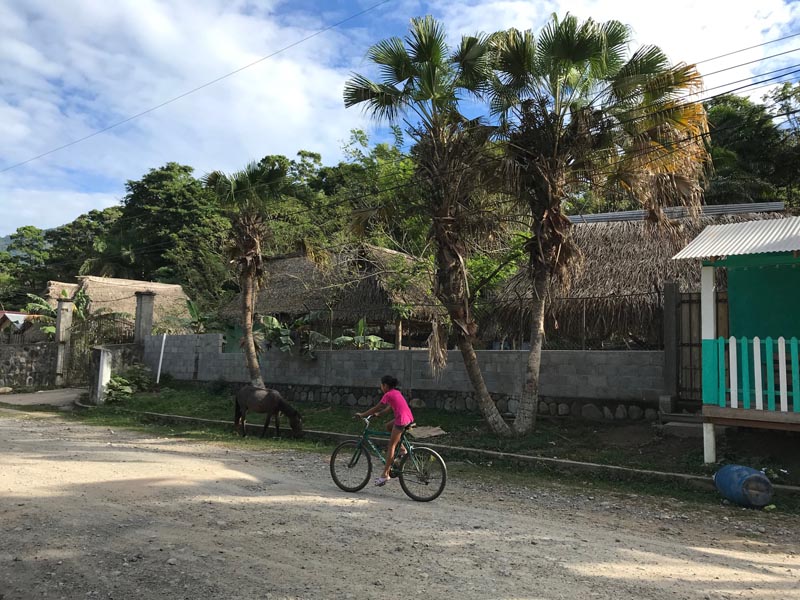 We did a fun "train" trip to get a tour around the town after we got back to Ceiba. This included a stop at the newly rebuilt pier, which was completely dilapidated when we last saw it 5 years ago.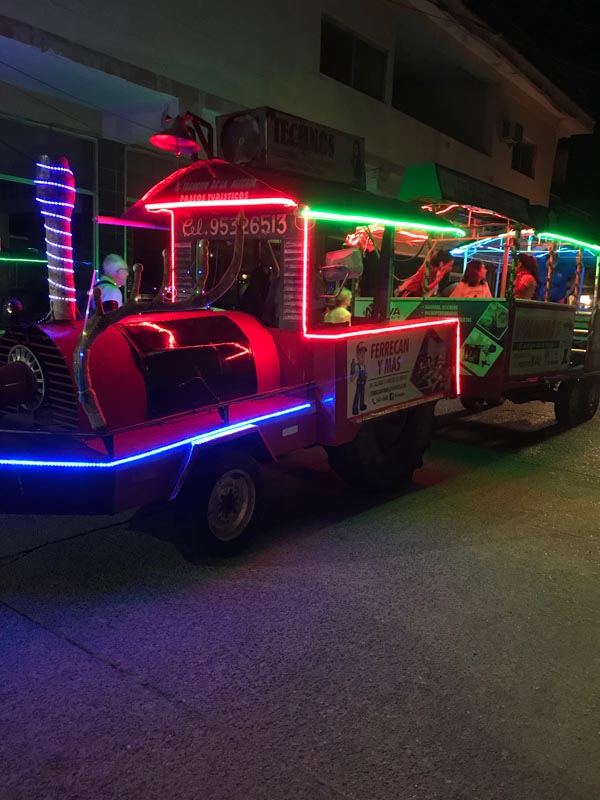 Jan. 3, 2020
This was our tourist day, and we took a trip to the Garifuna village of Sambo Creek. The Garifuna are descendants of African people who escaped slavery and probably of other African enslaved people in the Caribbean. From there we took a boat trip out to Cayos Cochinos, a group of several keys. It was the first time Cito, Keyla and kids were there, and the kids were very excited.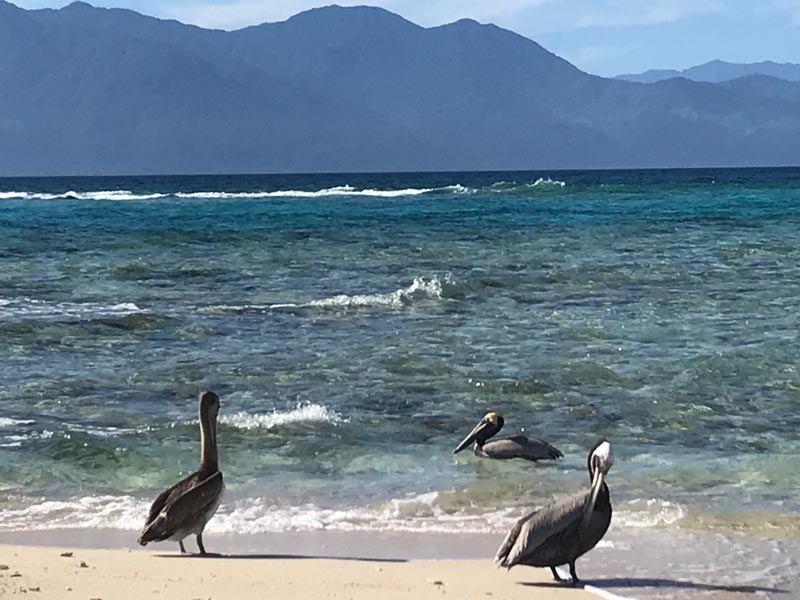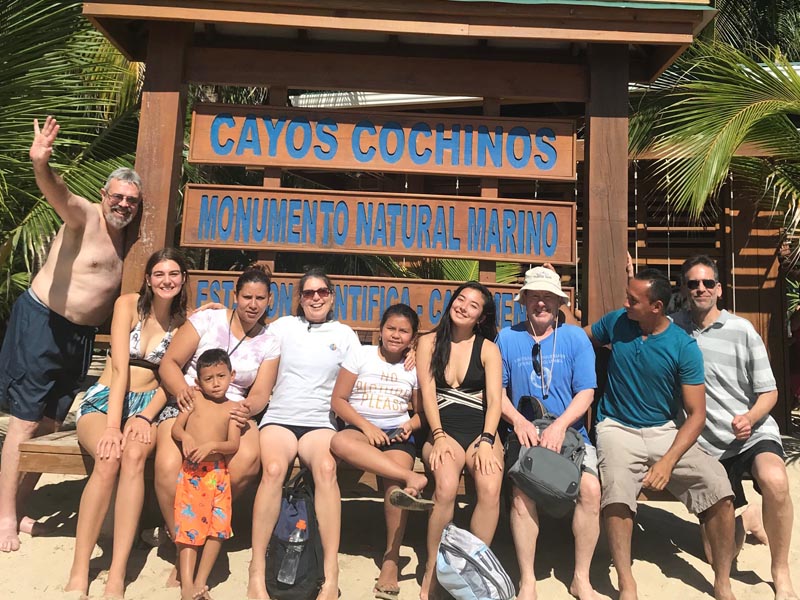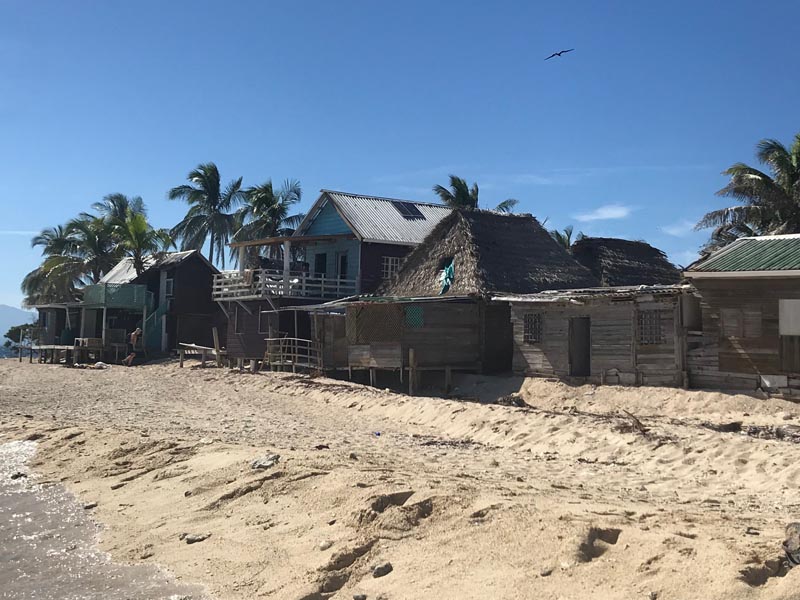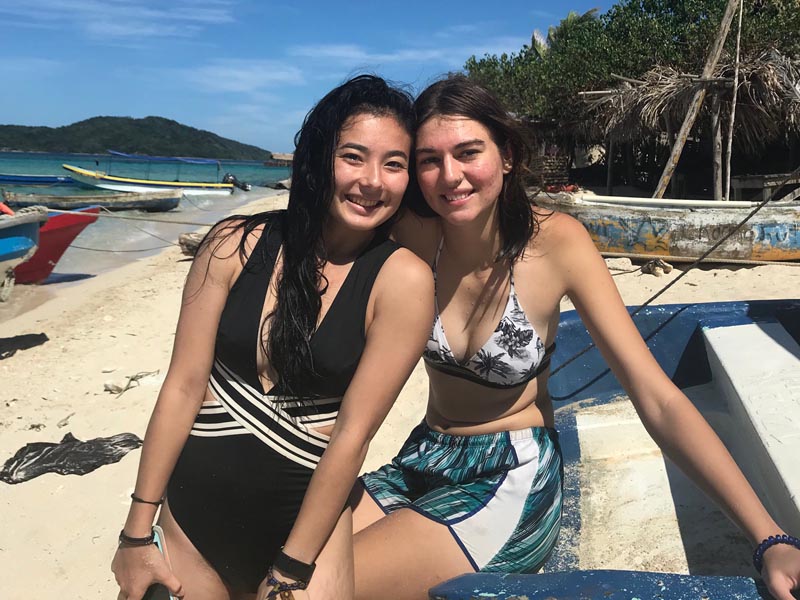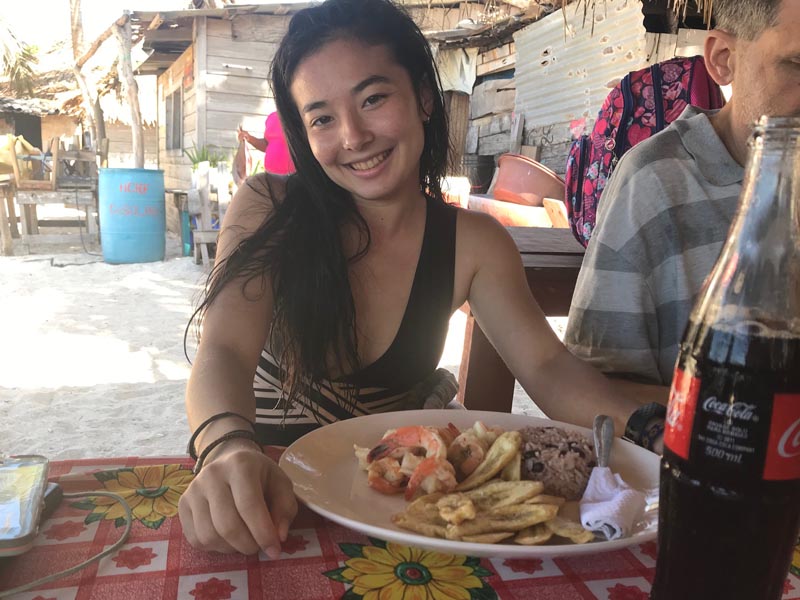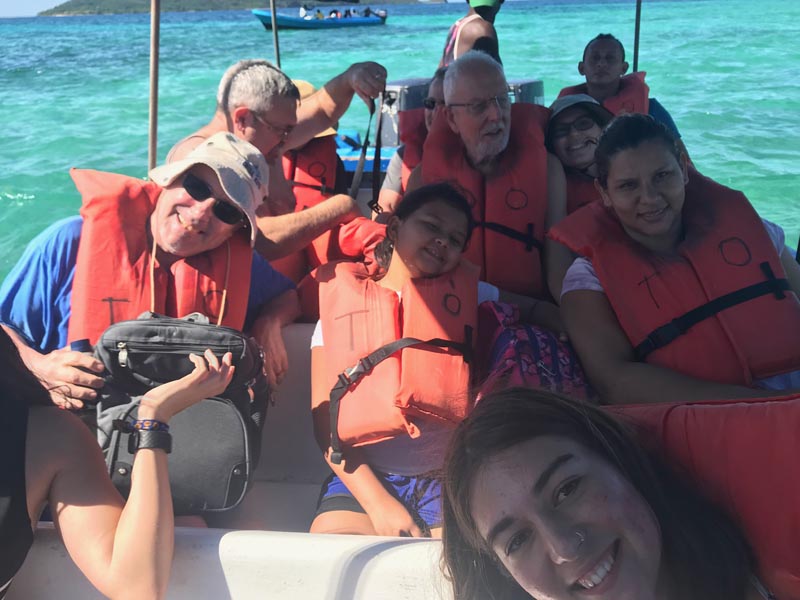 In the afternoon we met with activists from the Lower Aguán. They told us about their fight to protect their river and their environment from the mining companies who would destroy it all if they could have their way. People from this region have been murdered, raped and imprisoned for their activism, and yet they stand strong. It was a very moving time we had together. We learned about each other and about how we might be able to stand in solidarity with them.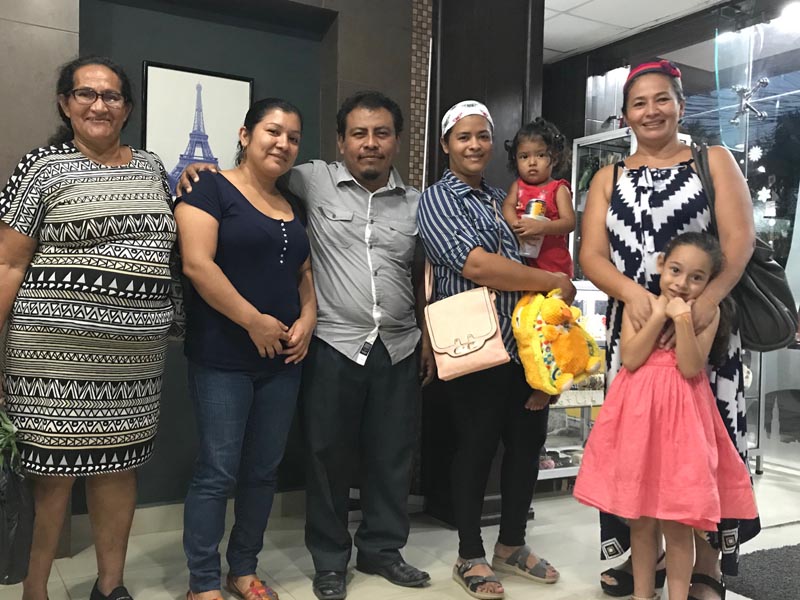 Our last dinner tonight included one last time singing "Somos el barco" and "De colores" with Peter on guitar and Scott on accordion. And the first tears started flowing. There would be many more at the airport the next day.
Jan. 5, 2020 – reflections on our trip
As I reflect back on our trip, I know there is much to be concerned about. 
The Honduran government is run by the drug cartels and is corrupt beyond belief, the hospitals are without supplies, and the education system is in shambles. Cito told us that the hospital in La Ceiba is considered the best in the region so that people from the surrounding departments (provinces) have traditionally come to La Ceiba when they needed specialized care. But now they come, and the hospital in La Ceiba can't do anything for them because they are out of supplies. When people come seeking care, they are given a list of supplies and meds they need to purchase before they can receive any treatment. Cito said he had considered taking us to the hospital to see conditions for ourselves, but then he decided against it because he didn't want us to get too depressed. 
The activists from the Aguan Valley (in Guapinol) testified about the hardships and danger they face and about what's at stake when the mining companies come in and do as they like. The politicians profit personally from the deals they make with the companies. People do live in such abject poverty, and the social service net has disintegrated.
And yet there are hopeful signs. La Ceiba's mayor since Jan. 2018, Dr. Jerry Sabio, is Garifuna and seems to be doing a lot to make things better in the city. We saw more people walking around, even at night. Things looked less run-down. Apparently there are neighborhoods where the drug cartels have been expelled, and life is much better again. Cito and Keyla kept insisting that La Ceiba is a very safe town except for a few neighborhoods that one must avoid at night. 
Cito, Keyla, and Adolpho seem to be getting good educations. They are fired up about what they are doing and are working everyday to improve the conditions around them. The activists from Guapinol are risking their lives to defend the country they love so much. All of them know that Honduras is a beautiful rich country with great potential and are wiling to stay and work peacefully and powerfully, with dignity and grace, against all odds.
I feel honored to have gotten to know such people. With people like these in the world, there is hope! There must be a way forward. And we in the US need to do our part since so much of Honduran politics are a result of a long history of US imperialism and hegemony that continues to this day. Sadly this is true for Democratic and Republican administrations. However, under the Trump administration things have reached a new low. The Hondurans we talked to about it are all rooting for a Democrat to win in November.
On the lighter side, boy did we have a good time! Scott's and Amy's laughter is infectious, and I found myself laughing louder and harder as a result. Peter and Scott's singing and playing brought joy to all. I will never forget how Scott started playing the accordion as we were waiting in long lines at the overcrowded Houston airport and cheered people up, even those who had missed their flights. Beni and Leila have a gift for connecting with the kids, and I treasure our thoughtful late night conversations we had on the trip. Without Caya we wouldn't have met the Guapinol activists, and Caya's deep caring and commitment is impressive. I loved talking with Todd, getting to know him better, he is a calm and wise presence. I couldn't do anything without Walter who is so competent and supportive and has a calm strength and deep caring. And thank you my dear sister comadre Kristine without whom none of this would even be happening in my life.
A great gift was spending all our time together with Cito, Keyla, Brittany and Breslyn. We deepened our friendship significantly.
Another gift was hearing the stories of the people in the village. I learned a lot on this trip.
I could go on an on… We hope to have opportunities throughout the coming months to share more about what we have learned and experienced.
Last but not least – a big thank you to all of you! It is only through the tremendous support and love of UUCC members and friends that our trips are possible! I am deeply grateful, and so are Cito, Keyla, Don Neno, and the community of La Lopez. As they say in Honduras – que Dios les bendiga. Or in Cito's words "No encuentro palabras para agradecerles." (I cannot find words to thank you.) "MUCHAS, MUCHAS, MUCHISIMAS GRACIAS."