General Church News
Wednesday, Aug. 10, 2022



Featured this week
Coming up Sunday
Announcements
What's happening soon?
Joys and sorrows
More activities
---
Featured this week
Online service auction ends this Friday, Aug. 12
Leading up to our Aug. 13 UUCC Elevated Gala, we are holding an online service auction for everyone, regardless of whether you can attend on the 13th! Bidding is open now and will remain open until 5 p.m. on Aug. 12. Bid early! Bid often! Go check out the fun and interesting offerings from your fellow UU Churchers at this website!
All proceeds from the Online Auction, Gala, and Gala Auction will go to fund our Accessibility Project.
Our final summer Friday Pie Day this week – 7 p.m. Friday, Aug. 12

Bring a pie to share for this casual chance to socialize, connect and enjoy delicious things together! Can't bring a pie? Come anyway – we'll have plenty. We may break out the board games or just sit and chat. We'll choose whether to meet outside or inside the upper level in response to weather and current Covid numbers.
Get your tickets now for the Aug. 13 UUCC Elevated Gala Celebration
Get Gala tickets and register for childcare or accessibility needs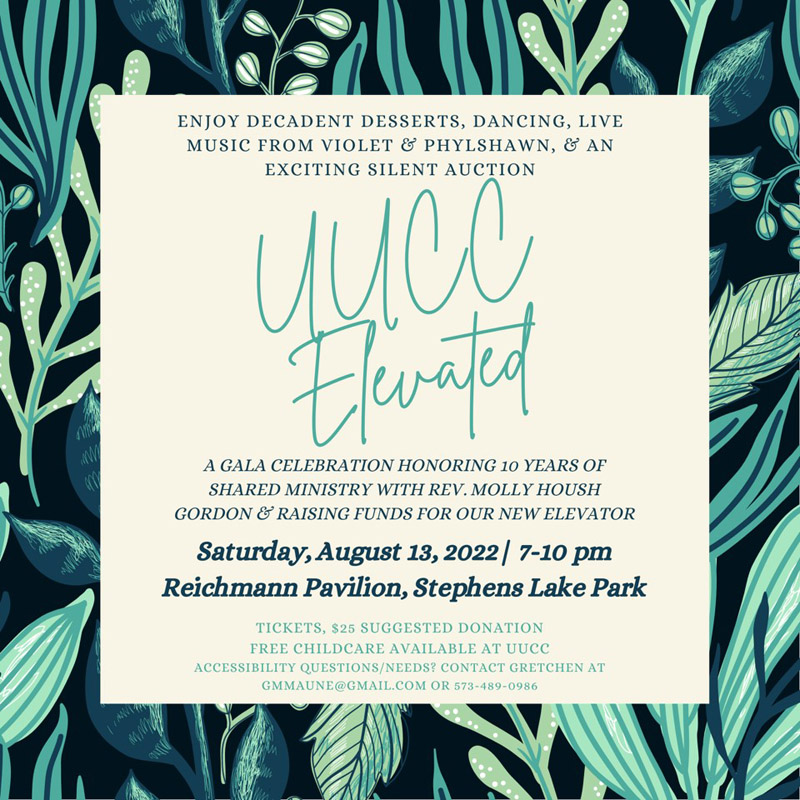 On Aug. 13 our UUCC Elevated Gala will be fundraising for our Accessibility project! The event will be at Riechmann Pavilion at Stephens Lake Park from 7 to 10 p.m., and we hope you'll buy your tickets (sliding scale available) and invite your friends ASAP. Folks who are fans of the church but not members are very welcome to join us.
There will be delicious desserts, drinks, dancing, a musical set from Violet and Phylshawn, and an exciting silent auction! You can sign up to contribute a dessert here and buy your tickets here. When you purchase tickets, you'll have the option to sign up for free childcare at the church and let us know about any accessibility needs you may have!
UUCC will provide Loaves and Fishes meal on Sunday, Aug. 21
The Social Action Team is looking for volunteers to prepare servings of various dishes, which are assembled into boxed meals at the Wilkes Boulevard United Methodist Church. This system requires the volunteers providing food to take the food to Wilkes Boulevard United Methodist Church by 4:15 p.m. The volunteers who assemble the boxed meals also are asked to be at the church by 4:15 p.m. Please sign up online here.
You can also support this effort by making a donation to the church specifying "Loaves and Fishes Fund." For information, email Diane Suhler.
Memorial service for Kakie Love – 3 p.m. Friday, Sept. 2
Long time church member Kakie Love died peacefully at home on July 15. We will gather to celebrate her life at 3 p.m. Friday, Sept. 2 at the church on what would have been her 90th Birthday. Kakie was a long-time teacher across the age span and a brilliant woman with a well-regarded career in mediation. She was a nearly 40-year member of our congregation, the creator of our Peace Building Team, and truly a force for our good congregational health.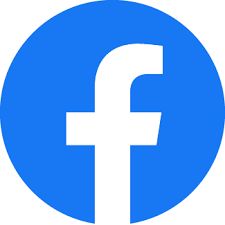 ---
Coming up Sunday – August 14

, 2022

10:30 a.m. Worship Service – in-person and online

"The Meaning of Everything"
Popcorn Theology – Children of Time
Steve Scott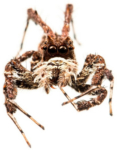 The best science fiction is not pure escapism. Rather, it raises and attempts to answer deep questions about the meaning of life, the universe and everything. Join us as lay leader Steve Scott explores the many layers of questions and answers in Adrian Tchaikovsky's novel Children of Time.
Along the way you'll be introduced to intelligent giant jumping spiders!
Please wear your masks if attending in person, or stay home and attend online if you feel sick – even just a little "under the weather." Group singing (masked) and in-person coffee hour have resumed.
Aug. 14 Order of Service (when available)
Remember to find yourself a chalice for home. Digital Chalice (click to light it).
If you have trouble using the technology to join us, please send an email to our tech team with your contact information, and someone will reach out to help you.
Visitors participating in our online worship services are invited to fill out our Visitor Connection Card
10:30 a.m. – Youth Religious Education classes

11:30 a.m. – Join us in-person or on Zoom for our Virtual Coffee Hour
---
Announcements
Do you want to get involved in our Religious Education program this year?
R.E. Volunteer Training at 9 a.m. Saturday, Aug. 20
It is an amazing way to get involved and give back to our community. Volunteer commitment is five Sundays over the course of the year, and volunteers can either lead classes or assist. We have great curricula at all age levels, including this year our ever-popular Neighboring Faiths curriculum where we learn about and visit other religious communities here in Columbia, and in so doing, learn about what it means to be a UU.
All volunteers are invited to join us for a training from 9 a.m. to noon Saturday, Aug. 20. We will go over our beliefs and goals, our policies and practices, and our curricula and methods. It will also be a chance to connect and brainstorm with your teaching team and get excited about the year ahead. Breakfast and childcare will be provided. RSVP by email to Jamila Batchelder.
Community/YO(UU) Kids Sing – Sunday, Aug. 21 after worship
If you can't keep from singing, join us on Aug. 21 after the worship service for a fun group sing event – YO(UU) KIDS SING. This is for anyone and everyone, whether you're just a shower singer or love belting it out in the choir. This will be a fun and interactive set of not-just-for-kids songs! From a love song to waffles to penguins drinking tea, laughter and joy are guaranteed. Come prepared to shake and sing your sillies out!
UU Meditation every Sunday at 9 a.m. starting Aug. 21
Take a deep breath. Meditators will meet at the Fire Circle, or in the Centering Room if it is raining or the temperature is below 50 degrees. Beginners and experienced meditators welcome.
August Festival of Sharing
For the month of August, the Festival of Sharing focus is on "Church World Service School Kits." These packs are for elementary school students who could not otherwise afford these supplies. Place all items in a large ziplock bag (2 to 2.5 gallon).
3 70-page spiral or tape bound notebooks
1 hand-held pencil sharpener (remove packaging)
1 pair of round-tip blunt metal scissors
1 large eraser
1 box of 24 crayons
1 12-inch ruler
6 new unsharpened pencils with erasers (remove packaging)
Collection boxes are available in the church greeting area.
New and continuing Chalice Circles – 2022-2023
Members and friends of UUCC – are you:

Looking for a way to connect with fellow UUCC members and friends?
Seeking opportunities to share your heart in a safe/brave space?
Wanting to find new connections and opportunities to discover how UUCC can be meaningful in your life?
Joining a Chalice Circle may suit your needs. You can learn more about Chalice Circles here.
Traditional nine-session Chalice Circles will meet once or twice a month for an hour or two from September 2022 through end of May 2023. Each circle is limited to 10 members. Groups are facilitated by fellow UU volunteers. Topics are planned in coordination with the Rev. Molly Housh Gordon. Regular service project opportunities are chosen by members of each group to enhance bonds of friendship. Commitment is for one cycle of nine sessions.
Chalice Circles are now open for signups here on the church website or by contacting Kathie Bergman by phone (573-999-3938 and leave a message) or by email. If you have questions, you are also welcome to call or email. We look forward to a full and exciting year ahead!
Rev. Molly's office hours

10:30 a.m.-noon Tuesdays in person at Uprise Bakery
2:30-4 p.m. Thursdays at Zoom Office
You can also schedule an in-person or online appointment here.
---
What's happening soon?
"Talk and Do" – 1:30 p.m. Fridays, Aug. 12, 19, 26 and Sept. 2 and 9 – online
Join your fellow UUs for some informal conversation from the comfort of your home! Come as you are, and feel free to work on a project as we chat -it's okay if your attention is divided! Email Robin Duple for more information.
Men's Breakfast Group – 8:30 a.m. Saturday, Aug. 13 & 27, Sept. 10 – online
In normal times the UUCC Men's Group meets in person on the second, fourth, and fifth Saturdays of each month. The group has arranged for online meetings during the Covid pandemic. For more information, contact Wiley Miller at 573-864-8574 or by email.
UUCC Book Discussion – 3:30 p.m. Saturday, Aug. 13 & Sept. 10 – online and phone
The Book Discussion Group will meet online and by phone to briefly discuss books we have read. If you have questions, contact Pam Springsteel at 573-445-0642 or by email.
Sanctuary/Immigration Justice Team – 1 p.m. Sunday, Aug. 14 & Sept. 11- online
The Sanctuary/Immigrant Justice Team works to protect immigrants facing deportation by literally offering sanctuary to people at risk of being deported and seeks ways our congregation can support immigrant and refugee communities in this area. Contact Allie Gassmann by email.
UUCC Board of Trustees Meeting – 7 p.m. Thursday, Aug. 18
Our Board of Trustees will hold its regular monthly meeting at 7 p.m. Thursday, Dec. 16. Church members are welcome to sit in on these meetings. The agenda and related documents will be posted on the Board Information page before the meeting.
Disability Justice & Inclusion Team – 12:30 p.m. Sunday, Aug. 21 – online
The Disability Justice and Inclusion Team seeks to create an inclusively designed environment, free from ableism, where all individuals feel welcome and are able to participate in every aspect of our church. Contact either co-chair, Gretchen Maune (573-489-0986 or email) or James Cutts (573-489-0879 or email).
The church office will be closed Monday, Sept. 5
For observance of Labor Day.
Church facilities status for gatherings
Small group meetings may take place inside and outside the church subject to the Board of Trustees' recently updated guidance. Worship services, programs, and ministries continue through the many technologies available to help us stay connected – phone, email, Facebook, and Zoom video conferencing. Staff will continue to work, so please feel free to call us at 573-442-5764 or send an email.
Many upcoming meetings are featured on the Upcoming Events page. You can also find information about events on our online Calendar.
For more information about particular groups, see the Church Groups page.
---
Joys and sorrows
You can read the Joys and sorrows shared with the congregation by clicking the link below. The page is also accessible from the Members/Friends drop-down menu. The Joys and Sorrows page is password-protected, so you must be logged in as a registered user of our site to see it. If you have not already registered, you can do so here.
You can submit joys and sorrows online by clicking this button:
---
More activities