General Church News
Wednesday, Dec. 4, 2019
Featured This Week
Coming Up Sunday
Announcements
What's Happening Soon?
Joys and Sorrows
More Activities
---
Featured This Week
Remember, we now offer only one worship service at 10:30 a.m.
Forum will continue to meet at 9 a.m.
Mindfulness Meditation will take place from 9:30 to 10:10 a.m.
Children's religious education will be offered only at 10:30 a.m.
After-worship meetings generally will start one-half hour earlier than before. Check the schedule on the home page or the online calendar for exact times.
Building Task Force Next Steps Weekend – Dec. 6-8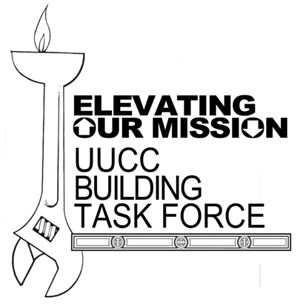 Our Building Task Force has arranged a "Next Steps Weekend" with a UUA consultant Dec. 6-8, 2019 to help determine our congregation's readiness to move forward with a Capital Campaign. Email Patty Daus if you would like to participate. Read more details.
Other information resources:

The weekend will conclude with a Congregational Briefing at noon Dec. 8 in the Sanctuary.
"Room at the Inn" will be hosted at UUCC – Dec. 8-22
"Room at the Inn," Columbia's emergency winter homeless shelter that moves among churches, will open at UUCC on Sunday, Dec. 8, 2019. The success of the shelter depends on the participation of many volunteers. Please be a volunteer!
There many ways to volunteer and two ways to sign up:
Connect to RoomattheInnComo.org and click on the volunteer button, or
Sign up at the table in our Greeting Area after worship
UUCC will provide Loaves and Fishes meal on Dec. 15 – sign up now!

Please sign up here to prepare food for this meal and/or to help set up, serve and clean up. Email Diane Suhler at drsuhler@ccis.edu for more information.
---
Coming Up Sunday – Dec. 8

Worship Service at 10:30 a.m.
"Including You" – Rev. Molly Housh Gordon
What does it truly mean to be a community of expansive and open welcome? Join us to explore what it could entail to become a place of extravagant love and ever-deepening inclusion. Our Faith-to-Action collection this week will benefit Room at the Inn.
Children's Religious Education – Dec. 8
10:30 a.m. – Older children will begin in the sanctuary with their families and will depart for their classes at 10:45 a.m. Please find your children in the lower level at 11:45 a.m.
Nursery Care – 10:15 a.m.-11:45 a.m. – Nursery care for infants and toddlers up to 3 years old is offered in the lower level
Noon-2 p.m. Simple Gifts Workshop – Families are invited to join us at our annual gift-making workshop! There will be a variety of crafts most appropriate for children ages 4-10. Childcare will be available for younger children who are too young for crafting. We will begin with a bagel brunch and tree decorating upstairs, and then move downstairs for crafts. RSVP by email to DRE Jamila Batchelder so we will have enough supplies. We also welcome volunteers.
Other Sunday activities on Dec. 8
Forum – 9 a.m. in the Library/Forum Room
Mindfulness Meditation – 9:30 a.m. in the Centering Room, Schweitzer classroom or Fire Circle
Youth Choir – 11:45 a.m. in the Centering Room
Building Task Force "Elevating Our Mission" Congregational Briefing – Noon in the Sanctuary
YRUU – YRUU members will be helping lead the Simple Gifts Workshop in the Lower Level
Room at the Inn moves in at 5:30 p.m. to set up for 7 p.m. opening
---
Announcements
Festival of Sharing – December 2019
For the month of December, the Festival of Sharing focus is on the "Missouri Student Dental Pack" project. Each box will consist of the following items:
4 child-sized soft toothbrushes (in original package)
2 adult soft toothbrushes (in original package)
1 fluoride toothpaste (6 oz or more)
In 2018, there were requests for 4,816 packs state-wide, but only 2,460 were provided.
Please note that with "Room at the Inn" at the church Dec. 8-22, the usual collection boxes will not be available. Please contact Bonnie Johnson at 573-442-4440 or by email, or bring donated items to her on Sunday mornings.
Founders' Day Service Auction is coming!

Are you excited? We sure are! The Founders' Day Auction is UUCC's premiere soirée, and for a mere $10 you will enjoy a fun and festive fête when we get together at 6:30 p.m. Jan. 25, 2020 to raise money for the church, enjoy music, drinks, food, and the opportunity to win the service of your dreams!
So, two things –
Save the date: Saturday – Jan. 25 from 6:30 to 8:30 p.m.
We need donations! Since this is a service auction, think of a service (little or big) that
you could offer. Can you babysit, dog-sit or house- sit? Do you cook or repair bicycles? Are you good at music, painting or photography? Do you have sports tickets you could donate or a weekend or overnight hide-away?

Can you teach someone a craft or

mend clothes? Surely you can dust, right?! Groups could offer to do yard work or car detailing, window washing or painting. Be creative. What makes you special? Share it!
Watch for an announcement of auction details on the website – you'll be able to purchase tickets, sign up to provide help and bring food, and make your own very special service offering.
The Choir wants YOU for Christmas Eve!
We will be performing the final two movements ("That was a Christmas Long Ago" and "Alleluia!") from Margaret Bonds' "Ballad of the Brown King" at the 8 p.m. service on Dec. 24. We need as many voices as we can to make it as powerful as it deserves to be. They are very fun songs and accessible. No music reading ability necessary – just a love for singing and fellowship. Email Jeremy Wagner for information or to sign up.
---
What's Happening Soon?

Choir Researsal – 7 p.m. Wednesday, Dec. 3, 11 and 18
Green Sanctuary Team Meeting – 7 pm. Thursday, Dec. 5
Building Task Force Next Steps Weekend – Congregational Briefing – Noon Sunday, Dec. 8
UU Life Writers – 10:30 a.m. Saturday, Dec. 7
Dinner for 8 Holiday Party – 5 p.m. Saturday, Dec. 7
Room at the Inn moves in – 5:30 p.m. Sunday, Dec. 8

Advent Vespers – 6 p.m. Tuesday, Dec. 10
Adult Religious Education – 6:30 p.m. Tuesday, Dec. 10 – Caring for our Bodies: We will discuss practices for nourishing and soothing the body during a time that can be filled with anxiety triggers, harmful diet-talk and more.
Conversations, Etc. – Noon Wednesday, Dec. 13 – The UUCC Women's Group will meet at church at noon. This is the group's annual Christmas Potluck. Do come and enjoy the company of friends. If you wish to attend and have not signed up, contact Pam Springsteel at 573-445-0642 or by email.
Junior Youth Friday Night – 6:30 p.m. Friday, Dec. 13

Men's Group – 8 a.m. Saturday, Dec. 14 and 28 – The UUCC Men's Group meets on the second, fourth, and fifth Saturdays of each month at 8 a.m. at the Holiday Inn Executive Center. The group is open to all men. There are no fees and no reservations are necessary. The agenda is an open discussion of whatever is on the minds of those in attendance – and breakfast! The agenda is an open discussion of whatever is on the minds of those in attendance – and breakfast! For more information, contact Wiley Miller at 573-864-8574 or by email.
UUCC Book Discussion Group – Noon Saturday, Dec. 14 – New day, time and location! We are trying a new place! The group will meet at Surah Korean Cuisine and Barbecue, 3510 I-70 SE Drive, at noon. Bring a book you have read to discuss briefly. For more information, contact Pam Springsteel at 573-445-0642 or by email.
A busy Sunday on Dec. 15 after worship
11:45 a.m. – Sanctuary/Immigration Justice Team (was Sanctuary Congregation Team) Meeting
11:45 a.m. – Youth Choir
11:45 a.m. – Disability Justice and Inclusion Team (was AIM Team) Meeting
Noon – YRUU
2 p.m. – Memorial service and scattering of ashes for Patricia Morrow
4:30 p.m. – Loaves and Fishes
5:30 p.m. – X-ennial Dinner Group
7 p.m. – Holiday Blues Service
---
Joys and Sorrows
You can read the Joys and sorrows shared with the congregation last Sunday by clicking the link below. The page is also accessible from the Members/Friends drop-down menu. The Joys and Sorrows page is password-protected, so you must be logged in as a registered user of our site to see it. If you have not already registered, you can do so here.
---
More Activities