General Church News
Wednesday, Nov. 25, 2020

Featured this week
Coming up Sunday
Announcements
What's happening soon?
Joys and sorrows
More activities
---
Featured this week
UUCC Thanksgiving
We know this will be a much different Thanksgiving than most of us were hoping or expecting. Our official Thanksgiving worship service was Sunday, Nov. 22. In addition, we've developed these offerings for Thanksgiving week to bring a bit of cheer and connection into the holiday:
Thanksgiving Porch Drop Food Swap – Thursday, Nov. 26 – drop off by 1 p.m.
A little food fun on this less than ideal 2020 Thanksgiving holiday. Signups and delivery assignments are now closed. Make your signature side or sweet dish in the quantity you would for guests, then drop off the extra portion on the porch of your assigned UU Churcher.
Thanksgiving Pie & Sigh – 4-5 p.m. Thursday, Nov. 26
Join your fellow UU Churchers on Zoom (perhaps with pie in hand!) to share a bit of Thanksgiving themed poetry, a bit of giving thanks, and a bit of a sigh about the challenges of Covid holidays.
Join the Zoom Meeting: https://zoom.us/j/92833532463?pwd=eWJPTEUzK1kwb3lrZDd2VmNmdU9Tdz09
Meeting ID: 928 3353 2463 Passcode: 538283
UUCC offices closing for holiday
UUCC offices will be closed Thursday, Nov. 26 and Friday, Nov. 27.
Waiting with the Animals: A Nature-Based Advent Study with Rev. Molly
7:30-8:30 p.m. Tuesdays, Dec. 1, 8, 15, and 22
We will use the book All Creation Waits: The Advent Mystery of New Beginnings by Gayle Boss, which offers daily reflections "depicting how wild animals of the northern hemisphere ingeniously adapt when darkness and cold descend." At the first session on Dec. 1, we will spend time with the introduction (available online here) and the themes of Advent. Then we will reflect each week on the animal stories from that week's daily readings. While the book is centered in the Christian season of advent, the content of the reflections themselves are appropriate for anyone who enjoys delving into the wisdom of the natural world.
Please RSVP here: https://forms.gle/mbwo6ZycZDgaGbUT9
The book is available from your favorite online bookshop, and ebooks also are available. If you would like to join us but purchasing the book is a hardship, let us know in your RSVP and we will be happy to have one sent to you.
Rev. Molly planning new activities
Rev. Molly is currently planning new activities to succeed the Tuesday/Thursday 9 a.m. "Sacred Reading" and Wednesday noon "Lunchtime Discussion" programs. Those programs have now been discontinued.
---
Coming up Sunday, Nov. 29

Worship service online at 10:30 a.m.

What's in Your Go-Bag?
Rev. Sally Fritsche
This extraordinary year has brought with it soaring demand for things like sourdough yeast, chest freezers, toilet paper, and canning supplies. Join our guest preacher this Sunday to reflect on the ways we prepare for disasters, and what those preparations might reveal about us. Together we'll consider the meaning of an apocalypse, and recommit to a preparedness grounded in community care and UU values.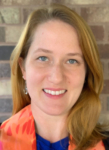 Rev. Sally Fritsche is a lifelong Unitarian Universalist who grew up right here in our Columbia, Mo. congregation. She graduated from Harvard Divinity School in 2018 and was ordained into UU ministry in June 2020. She is currently serving as the Associate Minister for Congregational Life at the UU Church of Urbana-Champaign in Illinois.
Having been nurtured her whole life by the warmth and depth of UU community, Sally is committed to creating and sustaining that same sense of spiritual home for others. In these uncertain times, Sally is excited to be visiting her home congregation to see so many of the familiar faces who centered and supported her on her journey toward ministry.
Remember to find yourself a chalice for home. We'll share hymn lyrics on screen.
Digital Chalice (click to light it)
At 11:30 a.m., be sure to join in our Coffee hour:
If you have trouble using the technology to join us, please send an email to our tech team with your contact information, and someone will reach out to help you.
Visitors participating in our online worship services are invited to fill out our Visitor Connection Card.
Weekly Online Youth Religious Education
This year we have tried to develop a variety of R.E. plans to meet the needs of children of all ages and who learn in a variety of different ways, within the constraints of our need to remain physically distant from each other until the pandemic has passed. Read on to see what we have planned:
Home Spiritual Practice Kits


Families who register to participate will have kits that cycle between families every two weeks (with the option of a quarantine phase at the church for families that request it). Each kit will have a chalice and a different simple spiritual practices to explore as a family.
Sunday Morning Tea Party (all ages, but targeted at pre-K to K) – Sunday at 10 a.m.
We will meet via Zoom and get a chance to see each other's faces, say hi, and share a story together, And because each tea party needs pastries and fabulous attire, we will also have a (optional) muffin recipe suggestion and costuming suggestion for each Sunday.
Family Movie Night (all ages, but targeted at K-4th grade) – 1st and 3rd Fridays each month at 6:30 p.m.
In place of a Sunday RE class for K-4th graders, we will have a movie night where we will show a Pixar short film, and follow it with discussion questions. Families can choose to join in a Zoom discussion with other families or can log off and discuss with their families alone.

Twilight Zone Class

(5th-6th grade) – Sunday at noon
We will watch a Twilight Zone episode (created by UU Rod Serling!) and discuss the big ideas that are explored in the episode.
YUUTs Online Collective Journal – (7-8th grade)
Instead of another Zoom class for our Zoomed-out junior high schoolers, we will create a collaborative journal for them to contribute to with a combination of deep reflection and deep silliness.
Service Sundays (all ages) – First Sunday each month at noon
We are taking our service project programming online! Families will have the opportunity to register in advance, and a kit of materials will be delivered to your house. For those who want to, we will meet via Zoom to keep each other company as we work on our service projects.

Junior Youth (6th-8th grade) – 2nd and 4th Fridays each month from 6:30 to 8 p.m.
We have been having so much fun in Junior Youth this summer that we are increasing our meeting time to twice a month. We will meet via Zoom for a variety of fun activities, from movie watching, to playing games, to cooking challenges.
YRUU (high school youth group) – Sunday, 4-6 p.m.
We will meet in a combination of socially distanced in-person events and online (depending on pandemic conditions in Columbia). The teens will use their first meeting to brainstorm activities.
If you have questions or would like to volunteer, please email DRE Jamila Batchelder.
---
Announcements
November and December Festival of Sharing

For the months of November and December, the Festival of Sharing focus is on "Missouri Family Food Boxes." These are targeted at families with low incomes. At this time, the pandemic has driven increased need for these products and we have decided to continue to gather food for families in need. Each box will consist of the following items:
3 different cans of vegetables
3 different cans of fruit
3 cans of chicken
3 cans of tuna
1 can of pasta sauce
1 lb pasta (any type)
3 packages of macaroni and cheese
1 jar of peanut butter
There is a great need for the food boxes. In 2019, there were requests for 6,953 but only 2,119 were provided. In 2020, your generosity allowed UUCC to provide 25 boxes. Please drop donations at the church.
A report on our Festival of Sharing work in 2019-2020 is available here. For more information please email Bonnie Johnson, Festival of Sharing Chair.
Rev. Molly's December office hours
Tuesdays on Zoom – 9:30-11 a.m.
Thursdays on Zoom or outdoors if the weather is particularly nice – 11 a.m.-12:30 p.m.
If Thursday office hours will be offered outdoors, an announcement email will be sent out.
Rev. Molly remains available by Zoom and phone if in-person outdoor visits do not fit your risk level. Simply select "virtual meeting" on the scheduling app – calendly.com/revmollyhoushgordon.
Room at the Inn will be at UUCC from Dec. 13 through March 14
Room at the Inn (RATI) Website
During the influenza pandemic of 1918, our sister Unitarian and Universalist churches across the country stepped up, along with other faith communities, to become field hospitals, children's shelters, and even makeshift morgues during an extremely challenging time. A century later, after learning of the lack of other viable options for the Room at the Inn (RATI) emergency overnight shelter this winter, our Board of Trustees was inspired by the faith of our forebears to vote to commit the use of our entire building (except the offices) to RATI for their entire 2020-2021 season from Dec. 13 through March 14.
Our sanctuary, classrooms, and even foyer will all be partitioned into 10-foot-square spaces for guests in order to create as safe a shelter experience as possible during the Covid-19 pandemic. RATI has been able to arrange a separate site with substantial space for quarantine or isolation of guests who may be medically vulnerable, sick, or exposed to Covid-19. This will make our guests safer.
Sheltering unhoused Columbians during the winter months is always a significant undertaking. We know that it will be even more so during this pandemic winter. Many of our church members will not be able to volunteer in the usual ways because of Covid risk factors, and we will be communicating about other opportunities to support the work of RATI as their needs become clear. We are pleased that RATI will have four paid staff people on site to make up for any potential lack of volunteers. We are also grateful for the compassion of the Shepard Elementary School principal and the Shepard Neighborhood Association president who have both expressed their support for our efforts.
---
What's happening soon?

In-person gatherings in the church building are canceled until further notice. Small group meetings may take place on the church grounds with appropriate social distancing. Worship services, programs, meetings and ministries continue through the many technologies available to help us stay connected – phone, email, Facebook, and Zoom video conferencing. Staff will continue to work, so please feel free to call us at 573-442-5764 or send an email.
Our meeting rooms have been closed to all outside groups. If your group usually meets at the UUCC church, you may no longer do so until Church leadership decides to re-open.
Upcoming online meetings – email the leader listed below for details
Regular, Ongoing Activities
Choir Hangout – 7 p.m. Wednesdays – online time together – email Jeremy Wagner or see the Zoom Links page.
Crafting Club – 1 p.m. Fridays – Hosted by Robin Yoerger Duple online. Join UU crafters and friends to share ideas or simply chat while knitting, crocheting, or crafting from the comfort of your home. Go to the Zoom Links page for details on how to join the sessions.
Religious Education Family Movie Night – (all ages, but targeted at K-4th grade) – online at 6:30 p.m. 1st and 3rd Fridays of each month. Contact Jamila Batchelder
Junior Youth Group Friday Night Online –6:30 p.m. 2nd and 4th Fridays of each month.
Contact Jamila Batchelder.
Other Opportunities
Thursday, Nov. 26 – Thanksgiving! See sections above for details. Offices will be closed Nov. 26 & 27
Men's Breakfast Group – online at 8:15 a.m. Saturday, Nov. 28 & Dec. 12. Contact Wiley Miller
Waiting with the Animals: an online Advent study program (see above) – Tuesdays, Dec. 1, 8, 15, 22
at 7:30 p.m. Sign up here
Green Sanctuary Team Meeting – online Thursday, Dec. 3 at 7 p.m. Contact Allie Gassmann
YRE Family Movie Night – online at 6:30 p.m. on Friday, Dec, 4 & 18. Contact Jamila Batchelder
UU Writers – online at 10:30 a.m. on Saturday, Dec. 5 & 19. Contact Fran Reynolds
Service Sunday – online at noon on Sunday, Dec. 6. Contact Jamila Batchelder
Social Action Team Meeting – online at 1 p.m. Sunday, Dec. 6. Contact Fred Young
Conversations, Etc. – Day/Date Change! – online at noon Monday, Dec. 7. Contact Pam Springsteel
Men's Non-Toxic Masculinity Group – online at 7 p.m. Monday, Dec. 7. Contact Jeff Ordway
UU Book Discussion Group – online at 5 p.m. Friday, Dec. 11. Contact Pam Springsteel.
Jr. Youth Group Online Friday Night – 6:30 p.m. Friday, Dec. 11. (November 27 is canceled.)
Contact Jamila Batchelder
For more information about particular groups, see the Church Groups page.
Memorial services will be scheduled in the future…
For our losses of Paul Wallace, Robin Remington, Sue Bader, Duane Dailey, Rob Bartel, George Frissell, Roberta Jones, Wayne Anderson and Rev. Gertrude Lindener-Stawski.
---
Joys and sorrows
You can read the Joys and sorrows shared with the congregation last Sunday by clicking the link below. The page is also accessible from the Members/Friends drop-down menu. The Joys and Sorrows page is password-protected, so you must be logged in as a registered user of our site to see it. If you have not already registered, you can do so here.
You can submit joys and sorrows online to our minister by clicking this button:
---
More activities