General Church News
Wednesday, Feb. 24, 2021

Featured this week
Coming up Sunday
Announcements
What's happening soon?
Joys and sorrows
More activities
---
Featured this week
Our new 2021 CommUUnity Connection Project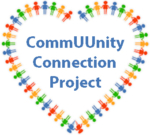 The goal of our CommUUnity Connection Project is to strengthen intersectional bonds within the congregation by connecting interested families of any configuration with each other during the months of March, April, and May. We have covered everything we can think of here, but if you have additional questions, please email Jan Weaver.
Who Can Participate?
Any size family can participate. You can be a family of one, a couple, a nuclear family, a multigenerational family, or a blended family.
How Can I Participate?
Click the following button to sign up. Our project organizers will partner you with another family and provide each family with contact information.
CommUUnity Connection Project Signup
Expectations for Participants
● Make contact with your partner family within two weeks of being paired up.
● Make one connection each month in March, April, and May.
● If you have to leave the project, let your partner family and us know.
Rules for Interactions with Minors
● Parents should be present for all contact with minors, whether by zoom, phone, in person, etc.
● Include parents on emails, messages, texts, etc.
● Adult friends should not contact minors without a parent's knowledge.
● Check with parents before giving gifts to children.
Sign-Up Deadline
We have no firm deadline for sign up, but if you are interested, please aim to sign up before March 7. Read more information here.
Third new Chalice Circle added for women

Our January signup for two new Chalice Circles was so popular that we are now adding a third circle. This new Chalice Circle will specifically be a women's group and will be facilitated by Connie Ordway. Sign up here.
Please do be in touch if you are still seeking an all-gender chalice circle small group experience, and we'll work on finding you a spot!
Worship Associates ask – Are you ready for the end of the pandemic?
Of course you are! So are we. As we begin to see a light at the end of the tunnel, join your worship associates this summer for a lay worship series reflecting on where we've been and where we're going.
What have you learned from the pandemic experience?
What have you lost? Gained?
What is your vision for what's next?
Don't hide your light under a bushel! You may have something to share but feel that a whole service is too daunting. Let us know. We can work with you and others to create a service. Or you may have an idea for a whole service but could use some help navigating the process of creating a service online. We can do that, too.
The main point is, we can't do this alone. We need you. Please help. Email Todd Iveson.
Nominating Committee seeks Board of Trustees candidates
Serving on our Board of Trustees is a meaningful service that gives you the opportunity to lead our beloved church community in the shaping and fulfillment of our mission and vision. Read a comprehensive job description for board members.
Kara Braudis, Timothy Dickerson, Jeremy Duke, Rebecca Graves, David Leuthold and Ginny Winter look forward to welcoming three new members to the board as of July 1 and continuing together in service to build the world we dream of. The terms of board members Mark Johnson, Mindy McPherson and Jan Swaney will end June 30.
For more information or to make a nomination, email Mindy McPherson, Jenny Bossaller, Patty Daus or Qhyrrae Michaelieu. Self-nominations are welcome. Suggestions of other nominees will be confirmed with the nominees.
---
Coming up Sunday – Feb. 28, 2021

Worship service online at 10:30 a.m.

Side with Love Sunday
A worship experience from our Unitarian Universalist Association
What if to "side with love" meant making bold, faith-full choices? What if it were even a little bit scary? This worship service brings together renowned Unitarian Universalist worship leaders and musicians from across the country to offer hopeful, moving, challenging reminders about what we, as Unitarian Universalists, are called to do, and BE, in the world.
Remember to submit online by 10 a.m. Sunday any Joys and Sorrows you want to be sure are read aloud.
Remember to find yourself a chalice for home. We'll share hymn lyrics on screen.
Digital Chalice (click to light it)
At 11:30 a.m., be sure to join in our Coffee hour:
If you have trouble using the technology to join us, please send an email to our tech team with your contact information, and someone will reach out to help you.
Visitors participating in our online worship services are invited to fill out our Visitor Connection Card.
Weekly online children's religious education
This year we have tried to develop a variety of R.E. plans to meet the needs of children of all ages and who learn in a variety of different ways, within the constraints of our need to remain physically distant from each other until the pandemic has passed. Read on to see what we have planned:
Home Spiritual Practice Kits


Families who register to participate will have kits that cycle between families every two weeks (with the option of a quarantine phase at the church for families that request it). Each kit will have a chalice and a different simple spiritual practices to explore as a family.
Sunday Morning Tea Party (all ages, but targeted at pre-K to K) – Sunday at 10 a.m.
We will meet via Zoom and get a chance to see each other's faces, say hi, and share a story together, And because each tea party needs pastries and fabulous attire, we will also have a (optional) muffin recipe suggestion and costuming suggestion for each Sunday.
Family Movie Night (all ages, but targeted at K-4th grade) – 1st and 3rd Fridays each month at 6:30 p.m.
In place of a Sunday RE class for K-4th graders, we will have a movie night where we will show a Pixar short film, and follow it with discussion questions. Families can choose to join in a Zoom discussion with other families or can log off and discuss with their families alone.

Twilight Zone Class

(5th-6th grade) – Sunday at noon
We will watch a Twilight Zone episode (created by UU Rod Serling!) and discuss the big ideas that are explored in the episode.
YUUTs Online Collective Journal – (7-8th grade)
Instead of another Zoom class for our Zoomed-out junior high schoolers, we will create a collaborative journal for them to contribute to with a combination of deep reflection and deep silliness.
Service Sundays (all ages) – First Sunday each month at noon
We are taking our service project programming online! Families will have the opportunity to register in advance, and a kit of materials will be delivered to your house. For those who want to, we will meet via Zoom to keep each other company as we work on our service projects.

Junior Youth (6th-8th grade) – 2nd and 4th Fridays each month from 6:30 to 8 p.m.
We have been having so much fun in Junior Youth this summer that we are increasing our meeting time to twice a month. We will meet via Zoom for a variety of fun activities, from movie watching, to playing games, to cooking challenges.
YRUU (high school youth group) – Sunday, 4-6 p.m.
We will meet in a combination of socially distanced in-person events and online (depending on pandemic conditions in Columbia). The teens will use their first meeting to brainstorm activities.
If you have questions or would like to volunteer, please email DRE Jamila Batchelder.
---
Announcements

In this very unique year, we invite you to join us in an all-digital Stewardship Campaign focused on connection as we continue to love each other across the distance and love our world by living our mission!
We are celebrating our congregation with Love Notes to UUCC and our Annual Pledge Drive to materially support the important work we share…
Do you love UUCC's mission-centered leap to host Room at the Inn for their whole season?
Do you love the small group that has seen you through this difficult time?
Do you love the multi-media worship, home spirituality kits, and innovative kids' programming our staff has created to keep us connected?
We invite you to join us in a collective outpouring of love to this beloved community of ours!
Make your pledge today and visit our interactive love note bulletin board to leave a note for our community and your fellow UU Churchers! And be sure to check out our Love Note video from Sunday's service.
Want to know more about pledging? Check out our Stewardship FAQ and take a look at my stewardship letter to the congregation. We are asking for a pledge increase of 5% this year from those individuals and families who are able to increase their gift. Our campaign runs until March 8, and your early pledge helps us reach our goal! Please let us know if you can make the increase, continue pledging as before, or make a brand new pledge for the first time. For first-time pledgers, we recommend checking out this great giving guide from the Unitarian Universalist Association.
With Love, Rev. Molly
UU Life Writers' Group publishes "Stories, Just Stories"
Members of the UU Life Writers Group are pleased to announce the publication of their second anthology, Stories, Just Stories. The stories are mini-memoirs about family, growing up, social activism, romance and pets. A big section of poetry is included. The anthology also has tributes to those writers no longer with us.
Copies are $8 and can be ordered by email to Fran Reynolds. Pay on the church's donation page, selecting the "Other" option and specifying "Life Writers Anthology" as the purpose of the donation.
March is Women's History Month! The Life Writers will be writing stories about women who have been important to them, the church and the community. Everyone is welcome to join us on Zoom. We will meet at 10:30 a.m. March 6 and 20. For more information email Fran Reynolds.
Please help sponsor the UUCC Honduras education effort
Our congregation has for many years been in relationship with a community in the Cangrejal River Valley of Honduras. Groups of UU Churchers have visited every couple of years to work on projects identified by local partners, and have maintained relationship between trips with communications and material support for things like the local health clinic. This relationship has been mutually rich in learning and connection for both communities.
Two years ago, our Social Action Team undertook a project to establish an Education Fund to aid community leaders in furthering their education, building their skills to help in their community, and improving their status. The Honduras Education Fund provides scholarship funding for these local leaders, but it is currently running low on funds! The team is seeking 60 individuals or families to each pledge a gift of $160/year (which comes out to about $15/month) for two years to keep the Education Fund up and running! One time gifts of any amount are also accepted to the Fund on our online donation page – select the "Other" option and note "Honduras Education Fund" for the explanation.
Can you help? Pledge today! Email Caya Tanski with any questions.
Let's finish up the February Festival of Sharing project
For the month of February, the focus is on the "Missouri Baby Bundle Pack." Each box will consist of the following items:
2 receiving blankets
1 sweater or sweatshirt
2 sleepers
3-pack of onesies
8-12 count disposable diapers
1,365 of these packs were requested in 2019, but only 1,186 were provided. In particular, agencies do not usually have a large supply of diapers. You can leave your donations at the church administrative office or immediately outside the office door. For additional information please contact Bonnie Johnson.
Rev. Molly's Sabbatical coming up!
After delaying her planned sabbatical last summer due to the Covid-19 Pandemic, Rev. Molly has rescheduled this time for spring/summer 2021. The new sabbatical dates are April 5 to Aug. 1, 2021. This timing will allow her to be back in plenty of time to plan for the new church year – in high hopes that we will be able to re-gather in person sometime in the fall or winter. Read more about Rev. Molly's sabbatical.
---
What's happening soon?

In-person gatherings in the church building are canceled until further notice. Small group meetings may take place on the church grounds with appropriate social distancing. Worship services, programs, meetings and ministries continue through the many technologies available to help us stay connected – phone, email, Facebook, and Zoom video conferencing. Staff will continue to work, so please feel free to call us at 573-442-5764 or send an email.
Our meeting rooms have been closed to all outside groups. If your group usually meets at the UUCC church, you may no longer do so until Church leadership decides to re-open.
Upcoming online meetings – email the leader listed below for details
Regular, Ongoing Activities
Choir Hangout – 7 p.m. Wednesdays – online time together – email Jeremy Wagner or see the Zoom Links page.
Crafting Club – 1 p.m. Fridays – Hosted by Robin Yoerger Duple online. Join UU crafters and friends to share ideas or simply chat while knitting, crocheting, or crafting from the comfort of your home. Go to the Zoom Links page for details on how to join the sessions.
Religious Education Family Movie Night – (all ages, but targeted at K-4th grade) – online at 6:30 p.m. 1st and 3rd Thursdays of each month. Contact Jamila Batchelder.
Junior Youth Group Friday Night Online –6:30 p.m. 2nd and 4th Fridays of each month.
Contact Jamila Batchelder.
Other Opportunities
For more information about particular groups, see the Church Groups page.
Memorial services will be scheduled in the future…
…for our losses of Paul Wallace, Robin Remington, Sue Bader, Duane Dailey, Rob Bartel, George Frissell, Roberta Jones, Wayne Anderson, Rev. Gertrude Lindener-Stawski and Andrew Twaddle.
---
Joys and sorrows
You can read the Joys and sorrows shared with the congregation last Sunday by clicking the link below. The page is also accessible from the Members/Friends drop-down menu. The Joys and Sorrows page is password-protected, so you must be logged in as a registered user of our site to see it. If you have not already registered, you can do so here.
You can submit joys and sorrows online to our minister by clicking this button:
---
More activities