---
Description of Worship Services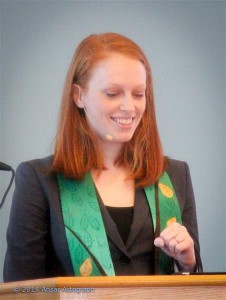 From early September to late May, we offer two worship services on Sunday at 9 and 11 a.m. From late May to early September, we offer one worship service at 10:30 a.m. Services last about one hour.
The 9 a.m. service is interactive, intimate and family-friendly. Joys and sorrows are shared in a spoken-aloud format, and there are often other interactive elements of the service. Nursery care is provided.
The 11 a.m. service (10:30 a.m. during summer months) is inspirational, reverent and familiar, and there is less expectation of interaction. The children are present for about the first 15 minutes, which includes a ritual of joys and sorrows, and the children then leave for their regular religious education classes. Nursery care and our full religious education program for preschool through high school are offered at this time.
Although each of our services is unique, services usually begin with a welcome and announcements, after which newcomers and visitors are given an opportunity to introduce themselves (but are not obligated to do so).
Interspersed with a variety of music and hymn singing, the typical service also includes the lighting of the chalice, one or more inspirational readings, a "story of faith" from a member of the congregation, a sermon or homily, an offertory, an opportunity to express joys and sorrows, and a closing benediction.
After the service we gather back in the Greeting Area for fellowship, conversation, and coffee.
Members of a group called the Worship Associates assist in planning worship services and also participate in conducting services.
---
Lay-Led Worship Services
Our lay-led services honor our commitment to lay involvement in church leadership and our church's history. We began in 1951 as a lay-led fellowship, and thus all services were lay led until we called our first minister in 1980.
From September through May, the minister steps down from the pulpit one Sunday each month, and the service is entirely lay led, usually by one of the groups in the church, such as the Writer's Group, Social Action, or the high school youth group.
During the summer, the minister is in the pulpit half the time, and the Worship Associates organize lay-led services the rest of the time. These services are often non-traditional and unique, and allow individuals to speak to a topic of interest or lead the congregation in exploring a variety of activities related to the many facets of worship and spirituality. Summer service topics have included an Animal (Pet) Blessing, Silence, What It Means to be an American, and the Honduras service trips.
---
Schedule of Future Services
From early September through late May, we offer two worship services at 9 and 11 a.m. on Sundays, unless otherwise noted. From late May through early September, we have one worship service at 10:30 a.m. on Sundays. On our Home Page you will find details about the worship service for the coming Sunday. Worship plans for each month appear here.
December 2018 Sunday Worship Schedule (also see Holiday Worship Services below)

Services at 9 and 11 a.m.

Sunday, Dec. 2 – "The F-Word" – Rev. Molly Housh Gordon
Faith can be a loaded word for Unitarian Universalists, as it is often set up in opposition to reason or doubt. But can it be of use in our thought and practice?
Sunday, Dec. 9 – "No Guarantees" – Rev. Molly Housh Gordon
How do we move through the world with any measure of trust, when there are no guarantees? Where are the small places in our lives where we place our faith?
Sunday, Dec. 16 – "Stepping Out and Stepping Up" – Alexis, Intern Minister
Join Intern Minister Alexis this week to consider what faith can call us to do for ourselves and what it calls us to be for others.
Sunday, Dec. 23 – "Sweet Dreams" Solstice Service – Rev. Molly Housh Gordon and DRE Jamila Batchelder
Join us at this intergenerational service to mark the solstice, the longest night, with a dreamy service for all ages exploring the importance of cozy time in the dark and the act of dreaming.
Sunday, Dec. 30 – "Begin Again in Love" New Year's Service – Rev. Molly Housh Gordon and DRE Jamila Batchelder
Join us for an intergenerational service to prepare for the new year by reflecting on the year now past, burning away our grudges, and regrets, and setting intentions for 2019.
Holiday Worship Services
Sunday, Dec. 16 at 7 p.m. – Holiday Blues Service
This celebratory time of year can be painful for we who suffer grief, loss, family conflict, depression and more. Join us in the Centering Room in the lower level for a service that takes seriously the blues that exist amid the merriment.
Christmas Eve – Monday, Dec. 24 – Services at 6 and 8 p.m.
A cookie reception will be offered between the two services
Family Service – 6 p.m.
Join us for the traditional carols and candlelight, and a family-friendly telling of the Christ mas story with an accessible message of hope.
Candlelight Service – 8 p.m.
Join us for the later service, with the traditional carols and candlelight, and a Christmas homily from Rev. Molly.
Minister's December Worship Message
Our 2018-2019 Theme is Loaded Words – November's Loaded Word is . . . FAITH

"Faith is the strength by which a shattered world shall emerge into the light."
– Helen Keller
Unitarian Universalism is steeped in a history of rationalism, stretching back from our Enlightenment origins and through the Humanist movement still forming us. We also carry personal histories of faith into Unitarian Universalism, which are often complicated. These truths make "faith" a loaded word for us.
Faith is often framed as belief, and indeed as irrational belief. This is not the only definition of faith, which can also be an attitude of trust or trustworthiness or even an identity.
But I wonder what it would be like for us, as Unitarian Universalists, to lean into faith as unproven belief. What if our "faith" was our wild claim about the world, despite all evidence to the contrary? What if our "faith" is what we believe fiercely, and even irrationally, as a part of dreaming better for our world?
My faith is that love will win. My faith is that beauty matters. My faith is that our communities will save us. None of these claims is strictly rational or likely to be proven in some final way. But I choose them, and they deeply impact the way I live my life. In fact, they make all the difference. See you in church!
In Faith,
– Rev. Molly
---
2018-19 Worship Theme
Loaded Words
"Speech has power. Words do not fade. What starts out as a sound, ends in a deed."
– Abraham Joshua Herschel
I believe that one of the central tasks of Unitarian Universalism is to wrestle with big ideas. We are not a people to let a thought lie, but rather we turn them upside down and around and examine every inch. We know that words and ideas have formative power in our world and that we must contest in the public sphere for language that is precise and powerful and true. To do this, we must first do our own grappling.
This year, we will be going deep each month with a "loaded word," exploring what we think we know about language we may use every day or reject out of hand. Some of these words are already complicated for us, as people with many experiences and beliefs seeking meaning together. Some of them might feel easy to us… too easy, and might be calling us to challenge our assumptions. All of them, I hope, are ripe for deeper examination.
Our loaded words this year are:
Sanctuary
Evil
Sacrifice
Faith
Solidarity
Power
Salvation
Surrender
Obligation
Join us to wrestle with them all together.
See you in church!
Rev. Molly