---
Description of Worship Services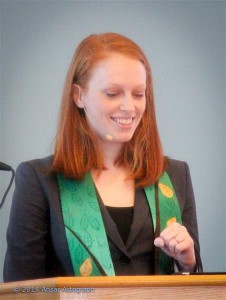 We offer a worship service every Sunday. The current month's schedule appears below. Services last about one hour. In normal times, the children are present for about the first 15 minutes, which includes a ritual of joys and concerns, and the children then leave for their religious education classes; nursery care and our full religious education program for preschool through junior high school are offered at this time.
Although each of our services is unique, services usually begin with a welcome from a member of our Board of Trustees and occasional special announcements.
Interspersed with a variety of music and hymn singing, the typical service also includes the lighting of the chalice, one or more inspirational readings, a sermon or homily, an offertory, an opportunity to express joys and sorrows, and a closing benediction.
After the service we gather for fellowship, conversation, and coffee.
Members of a group called the Worship Associates assist in planning worship services and also participate in conducting services.
---
Lay-Led Worship Services
Our lay-led services honor our commitment to lay involvement in church leadership and our church's history. We began in 1951 as a lay-led fellowship, and thus all services were lay led until we called our first minister in 1980.
From September through May, the minister steps down from the pulpit one Sunday each month, and the service is entirely lay led, usually by one of the groups in the church, such as the Writer's Group, Social Action, or the high school youth group.
During the summer, the minister is in the pulpit half the time, and the Worship Associates organize lay-led services the rest of the time. These services are often non-traditional and unique, and allow individuals to speak to a topic of interest or lead the congregation in exploring a variety of activities related to the many facets of worship and spirituality. Summer service topics have included an Animal (Pet) Blessing, Silence, What It Means to be an American, and the Honduras service trips.
---
Schedule of Future Services
We offer worship services on Sundays. On our Home Page you will find details about the worship service for the coming Sunday. Worship plans for each month appear here.
June 2022 Sunday Worship Schedule

Sunday worship is at 10:30 a.m. If you have trouble accessing the technology to join us online, please send an email to our Tech Team.
Sunday, June 5 – "Pop(sicle) Theology" – All-Ages Service at Shepard Park Shelter – Rev. Molly Housh Gordon
Join us to celebrate the end of the program year and the launch of our summer Pop(corn) Theology series with a casual outdoor service at the Shepard Park Shelter next door to the church! We'll have popsicles and frozen treats, reflections on the year, a sing-along with Violet, and meaningful fun for all ages.
Sunday, June 12 – "Is This the Bad Place?" – Rev. Molly Housh Gordon
Join us for the first in our Pop(corn) Theology series as Rev. Molly reflects on the popular television series "The Good Place." We'll use this hilarious series to think about heaven, hell and sites between.
Sunday, June 19 – Pride Service – With Special Guest Autumn Equinox
Join members of our congregation and special guest, drag comedian and performer Autumn Equinox for a meaningful and fabulous Pride Month service!
Sunday, June 26 – "The Every" – Jenny Bossaller
Join us for the second in our Pop(corn) Theology series with lay leader Jenny Bossaller, thinking through the spiritual implications of technology and surveillance with the help of Dave Eggers' popular novel The Every.
The Zoom address for our 10:30 a.m. Sunday worship is:
https://zoom.us/j/380411489
You can also join by phone: 312-626 6799
Webinar ID: 380 411 489
Services are also streamed live to Facebook.
The Zoom address for our coffee hour is:
https://zoom.us/j/95152263717?pwd=SzJJeWdWV0d5QkU4MTdnK1U0b1ZDQT09
You can also join by phone: 312-626 6799 – Webinar ID: 652 315 354
---
Minister's Monthly Worship Message
May 2022 – Staying Connected

I was reflecting the other day that most relationships go through periods of greater closeness and greater distance as we do this dance of life as entangled beings. The existential truth, of course, is that we are never disconnected, but our experience of proximity is another more changeable thing. I've noticed that sometimes distance feels like a healthy opening for growth, and sometimes it feels unbearably painful and lonely. Sometimes closeness feels stifling, and sometimes it feels so precious.
The task in life, and in community, is to move through these different feelings of proximity without severing relationship entirely – attending carefully to one's own needs and the needs of the whole in a way that makes way for thriving within our interconnection. No small task, right?!
These last two years our relationship to community proximity has been stretched and challenged by extreme external factors – we have been forced into close quarters within our households, and forced out of proximity from wider community. As we continue in this time of healing, reconnection and continued cautiousness, I think it behooves us to ask: How would you like to be connected? Where are you craving closeness? Where is space helping you grow?
This summer and into the coming year, we'll be focusing a lot of staff time and energy on re-connecting as a congregation, and we'd love to hear from you about what you are craving from your community. How would you like to be connected? Let us know!
See you in church,
Rev. Molly
---
2021-22 Monthly Worship Themes
September – Staying Present
October – Embracing Tension
November – Grieving Together
December – Seeking Inspiration
January – Confronting Power
February – Nurturing Each Other
March – Engaging Conflicts
April – Renewing Promises
May – Celebrating the Good
Rev. Molly also will be preaching a monthly theology series, delving into how a number of theological frameworks speak into the moment at hand:
Theology for the Moment Series
Unitarianism & Universalism for this moment (2 Sundays)
Political Theology for this moment
Process Theology for this moment
Womanist Theology for this moment
Queer Theology for this moment
Disability Theology for this moment
Earth-Centered Theology for this moment
Liberation Theology for this moment