---
Description of Worship Services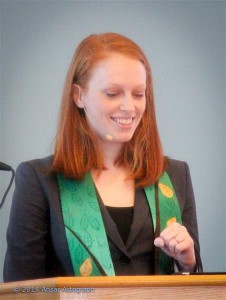 From early September to late May, we offer two worship services on Sunday at 9 and 11 a.m. From late May to early September, we offer one worship service at 10:30 a.m. Services last about one hour.
The 9 a.m. service is interactive, intimate and family-friendly. Joys and sorrows are shared in a spoken-aloud format, and there are often other interactive elements of the service. Nursery care is provided.
The 11 a.m. service (10:30 a.m. during summer months) is inspirational, reverent and familiar, and there is less expectation of interaction. The children are present for about the first 15 minutes, which includes a ritual of joys and sorrows, and the children then leave for their regular religious education classes. Nursery care and our full religious education program for preschool through high school are offered at this time.
Although each of our services is unique, services usually begin with a welcome and announcements, after which newcomers and visitors are given an opportunity to introduce themselves (but are not obligated to do so).
Interspersed with a variety of music and hymn singing, the typical service also includes the lighting of the chalice, one or more inspirational readings, a "story of faith" from a member of the congregation, a sermon or homily, an offertory, an opportunity to express joys and sorrows, and a closing benediction.
After the service we gather back in the Greeting Area for fellowship, conversation, and coffee.
Members of a group called the Worship Associates assist in planning worship services and also participate in conducting services.
---
Lay-Led Worship Services
Our lay-led services honor our commitment to lay involvement in church leadership and our church's history. We began in 1951 as a lay-led fellowship, and thus all services were lay led until we called our first minister in 1980.
From September through May, the minister steps down from the pulpit one Sunday each month, and the service is entirely lay led, usually by one of the groups in the church, such as the Writer's Group, Social Action, or the high school youth group.
During the summer, the minister is in the pulpit half the time, and the Worship Associates organize lay-led services the rest of the time. These services are often non-traditional and unique, and allow individuals to speak to a topic of interest or lead the congregation in exploring a variety of activities related to the many facets of worship and spirituality. Summer service topics have included an Animal (Pet) Blessing, Silence, What It Means to be an American, and the Honduras service trips.
---
Schedule of Future Services
From early September through late May, we offer two worship services at 9 and 11 a.m. on Sundays, unless otherwise noted. From late May through early September, we have one worship service at 10:30 a.m. on Sundays. On our Home Page you will find details about the worship service for the coming Sunday. Worship plans for each month appear here.
February 2019 Sunday Worship Schedule

Services at 9 and 11 a.m.

Sunday, Feb. 3 – "The M-Word" – Rev. Molly Housh Gordon
It's the year of loaded words, and is there a word more loaded than money? Join us to reflect on your relationship to money and how we can bring this important part of life into line with our values. Can our financial decisions become a source of joy?
Sunday, Feb. 10 – "Breath, Rhythm, Song" – Marques J. Ruff and Jamila Batchelder
Join us for an interactive music service for all ages, exploring the power of breath, rhythm, and song to bring us together. Come ready to breathe, drum, and sing!
Sunday, Feb. 17 – "The Power of Intimacy" – Intern Minister Alexis
Exercising our abilities and influence in a way that refuses to yield and evolve has stagnating and dangerous consequences. What might life be like if we embrace the power of intimacy and collaborative interactions with one another as well as our environment? We will also celebrate the conclusion of our six weeks of Green Hearts. If you haven't pledged yet, check out the Green Hearts bulletin board in the southeast corner of the Greeting Area.
Sunday, Feb. 24 – "Reparations and Soul Repair" – Rev. Molly Housh Gordon
If power is the ability to act, then our power is deeply affected by our resources. What do we do about the truth of history that many have been systemically robbed of resources and thus power? What joyful redistribution of shared power could we find through the exercise of reparations? And what does all this mean for the wellbeing of our souls?
Evensong 2019 – 7 p.m. Feb. 25

In view of the overwhelming success of our first Evensong in December, we have scheduled a number of Evensong events in 2019.
Although January's weather slowed us down, the next Evensong will be at 7 p.m. Feb. 25.
The service is just about 45 minutes, and offers a unique, non-traditional service woven together through music. Join us for an evening of prayer, meditation and song.
Minister's February Worship Message
Our 2018-2019 Theme is Loaded Words – February's Loaded Word is . . . POWER

"Power without love is reckless and abusive, and love without power is sentimental
and anemic. Power at its best is love implementing the demands of justice, and
justice at its best is power correcting everything that stands against love."
– Martin Luther King Jr.
Rev. Dr. Martin Luther King described power as "the ability to achieve purpose" and "the strength required to bring about social, political and economic change." Power is a neutral force that can be used for good or for ill, and the way we use it is often a strong predictor of its positive or negative influence. Power-over is used to oppress; power-with is used to free. The two are often confused.
Some of the biggest mistakes we make in our interactions with other people come when we misjudge the amount of power we are bringing to the situation – over-estimating our power can lead to ineffectual action, and under-estimating our power can lead to great harm or injury of the other. 
Power can be personal, positional, institutional, structural, ideological, collaborative, dominant, and more. In any situation, it behooves us to ask, where is my power coming from and how am I sharing it equitably? This month, let's get in right relationship to our power.
See you in church! Power to the People!
– Rev. Molly
---
2018-19 Worship Theme
Loaded Words
"Speech has power. Words do not fade. What starts out as a sound, ends in a deed."
– Abraham Joshua Herschel
I believe that one of the central tasks of Unitarian Universalism is to wrestle with big ideas. We are not a people to let a thought lie, but rather we turn them upside down and around and examine every inch. We know that words and ideas have formative power in our world and that we must contest in the public sphere for language that is precise and powerful and true. To do this, we must first do our own grappling.
This year, we will be going deep each month with a "loaded word," exploring what we think we know about language we may use every day or reject out of hand. Some of these words are already complicated for us, as people with many experiences and beliefs seeking meaning together. Some of them might feel easy to us… too easy, and might be calling us to challenge our assumptions. All of them, I hope, are ripe for deeper examination.
Our loaded words this year are:
Sanctuary
Evil
Sacrifice
Faith
Solidarity
Power
Salvation
Surrender
Obligation
Join us to wrestle with them all together.
See you in church!
Rev. Molly