---
Description of Worship Services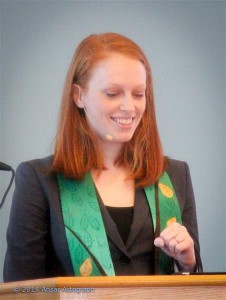 From early September to late May, we offer two worship services on Sunday at 9 and 11 a.m. From early May to early September, we offer one worship service at 10:30 a.m. Services last about one hour.
The 9 a.m. service is interactive, intimate and family-friendly. Joys and sorrows are shared in a spoken-aloud format, and there are often other interactive elements of the service. Nursery care is provided.
The 11 a.m. service (10:30 a.m. during summer months) is inspirational, reverent and familiar, and there is less expectation of interaction. The children are present for about the first 15 minutes, which includes a ritual of joys and sorrows, and the children then leave for their regular religious education classes. Nursery care and our full religious education program for preschool through high school are offered at this time.
Although each of our services is unique, services usually begin with a welcome from a member of our Board of Trustees and occasional special announcements.
Interspersed with a variety of music and hymn singing, the typical service also includes the lighting of the chalice, one or more inspirational readings, a sermon or homily, an offertory, an opportunity to express joys and sorrows, and a closing benediction.
After the service we gather back in the Greeting Area for fellowship, conversation, and coffee.
Members of a group called the Worship Associates assist in planning worship services and also participate in conducting services.
---
Lay-Led Worship Services
Our lay-led services honor our commitment to lay involvement in church leadership and our church's history. We began in 1951 as a lay-led fellowship, and thus all services were lay led until we called our first minister in 1980.
From September through May, the minister steps down from the pulpit one Sunday each month, and the service is entirely lay led, usually by one of the groups in the church, such as the Writer's Group, Social Action, or the high school youth group.
During the summer, the minister is in the pulpit half the time, and the Worship Associates organize lay-led services the rest of the time. These services are often non-traditional and unique, and allow individuals to speak to a topic of interest or lead the congregation in exploring a variety of activities related to the many facets of worship and spirituality. Summer service topics have included an Animal (Pet) Blessing, Silence, What It Means to be an American, and the Honduras service trips.
---
Schedule of Future Services
We offer a worship service at 10:30 a.m. on Sundays. On our Home Page you will find details about the worship service for the coming Sunday. Worship plans for each month appear here.
December 2019 Sunday Worship Schedule – 10:30 a.m.

Sunday, Dec. 1 – Guest Preacher – Rev. Dr. CW Dawson
Join one of UUCC's favorite guest preachers for a rousing and thought-provoking service. The Rev. Dr. CW Dawson is pastor of Dawson Journeys Ministry and teaches philosophy and religion at area colleges.
Sunday, Dec. 8 – "Including You" – Rev. Molly Housh Gordon
What does it truly mean to be a community of expansive and open welcome? Join us to explore what it could entail to become a place of extravagant love and ever-deepening inclusion.
Sunday, Dec. 15 – "Radical Unitarian Universalism" – Rev. Molly Housh Gordon
After focusing on the "welcome" part of our intention to create "radical welcome," this Sunday we're going to spend some time with "radical." What does a radical Unitarian Universalism look like?
Sunday, Dec. 22 – "Cradled in the Longest Night" Solstice Service – Rev. Molly Housh Gordon and DRE
Jamila Batchelder
Join us to experience the peaceful rest of the darkness and the quiet return of the light as we mark the solstice in this meaningful service for all ages.
Sunday, Dec. 29 – "Releasing and Re-Centering" New Year Service – Rev. Molly Housh Gordon and DRE
Jamila Batchelder
Join us for our annual burning of the grudges and setting of intentions as we prepare to enter a new year together. This service for all ages will invite you to let go of the ending year and center your hearts as you enter 2020.
---
Minister's Monthly Worship Message
2019-2020 worship theme – Living Our Mission:
In the spirit of courageous love we
forge a community of radical welcome and deep
connection that moves us together to heal the world.
December's theme is: Radical Welcome
"Hospitality is the way we come out of ourselves. It is the
first step toward dismantling the barriers of the world."
– The Rule of Benedict
The archetype of the stranger exists in many of the world's religious and mythic traditions – along with the understanding that encountering the stranger will always change us, sometimes for the better and sometimes not.
Welcoming another into your community, home, heart, or life is always a risk, because it is an opening to the unknown. And yet, that opening is one of the most reliable ways we grow – it is how we dismantle the barriers of the world and of our own hearts. Many of those same religious and mythic traditions contain an encouragement or even a mandate to welcome the stranger.
Welcome is an easy word to say but a much harder idea to live. We want to believe that we are welcoming, but all too often we chafe at the changes and challenges that new folks bring to us. It is comfortable to welcome folks who fit in with how we already are, less so to invite the transformation that takes place when we welcome those with whom we feel uncomfortable.
Join us this month to explore what it takes and how we will grow when we say "Welcome into our community, heart, life" and mean it, even when it's a challenge.
See you in church,
Rev. Molly
---
2019-20 Worship Theme
Rooted in Mission
"In the spirit of courageous love, we forge
a community of radical welcome and
deep connection that moves us together
to heal the world."
– UU Church of Columbia, Missouri
In 2013 our congregation adopted the beautiful mission statement above by a vote of the congregation. Since then, its evocative phrases and aspirations have become a part of our weekly conversation and our congregational DNA. But the things that become part of us can also become rote without our attention. So this year, your Worship Associates have chosen our very own mission as our over-arching theme for the year.
Each month in worship and in our chalice circles, we will dive deep with one of the phrases that names our hopes for who we are becoming together:
September – Mission
October – Courageous Love
November – Forging Community
December – Radical Welcome
January – Deep Connection
February – Moving Together
March – To Help
April – Healing the World
What do these things mean to us, when the rubber meets the road? Join us all year to contemplate together!
In Faith,
Rev. Molly