---
Description of Worship Services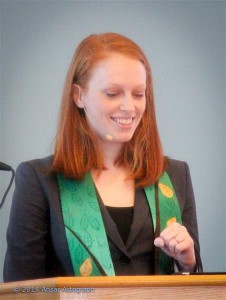 We offer one worship service at 10:30 a.m. every Sunday. Services last about one hour. In normal times, the children are present for about the first 15 minutes, which includes a ritual of joys and concerns, and the children then leave for their religious education classes; nursery care and our full religious education program for preschool through junior high school are offered at this time.
Although each of our services is unique, services usually begin with a welcome from a member of our Board of Trustees and occasional special announcements.
Interspersed with a variety of music and hymn singing, the typical service also includes the lighting of the chalice, one or more inspirational readings, a sermon or homily, an offertory, an opportunity to express joys and sorrows, and a closing benediction.
After the service we gather for fellowship, conversation, and coffee.
Members of a group called the Worship Associates assist in planning worship services and also participate in conducting services.
---
Lay-Led Worship Services
Our lay-led services honor our commitment to lay involvement in church leadership and our church's history. We began in 1951 as a lay-led fellowship, and thus all services were lay led until we called our first minister in 1980.
From September through May, the minister steps down from the pulpit one Sunday each month, and the service is entirely lay led, usually by one of the groups in the church, such as the Writer's Group, Social Action, or the high school youth group.
During the summer, the minister is in the pulpit half the time, and the Worship Associates organize lay-led services the rest of the time. These services are often non-traditional and unique, and allow individuals to speak to a topic of interest or lead the congregation in exploring a variety of activities related to the many facets of worship and spirituality. Summer service topics have included an Animal (Pet) Blessing, Silence, What It Means to be an American, and the Honduras service trips.
---
Schedule of Future Services
We offer a worship service at 10:30 a.m. on Sundays. On our Home Page you will find details about the worship service for the coming Sunday. Worship plans for each month appear here.
February 2021 Sunday Worship Schedule – 10:30 a.m. online only

As we continue worshiping online, if you have any trouble accessing the technology to join us, please email our Tech Team with your contact information. Someone will reach out to help!
Sunday, Feb. 7 – "The World Is on Fire (and We Still Fall in Love)" – Rev. Erin Walter, Pulpit Guest
After almost a year of pandemic life, some days may feel almost normal, while others still bring us to our knees. Drawing upon the poetry of Rainer Maria Rilke and her own spiritual practice of music-making, Unitarian Universalist Rev. Erin Walter will reflect on how we may endure ongoing isolation and struggle while also embracing moments of love and joy along the way.
Rev. Erin J. Walter (she/her/hers) is a minister, activist, and musician based in Austin, Tex. and winner of the 2017 Sermon Award from the UU Women's Federation. A former YMCA director, Rev. Erin is the singer/songwriter for the band Parker Woodland, whose music you'll hear in this service. She serves as a board member for the Texas Unitarian Universalist Justice Ministry and is the Affiliated Community Minister of Wildflower (Unitarian Universalist) Church in Austin. You can find more about her music and ministry at http://www.erinjwalter.com/.
Sunday, Feb. 14 – "Love Each Other, Love the World" – Rev. Molly Housh Gordon
What have we learned about what Love asks of us in these times? Join us for a Valentine's Day service to ponder where the personal and political meet in our efforts to love the world more fully.
Sunday, Feb. 21 – "Loving Well" – Rev. Molly Housh Gordon
Join us for some musings on loving well in relationships and community. How do we grow in our capacity for compassion, relational health and connection?
Sunday, Feb. 28 – Side With Love Sunday – A Worship Experience from Our Unitarian Universalist Association

What if to "side with love" meant making bold, faith-full choices? What if it were even a little bit scary? This worship service brings together renowned Unitarian Universalist worship leaders and musicians from across the country to offer hopeful, moving, challenging reminders about what we, as Unitarian Universalists, are called to do, and BE, in the world.
Worship services are offered via Zoom. Services are followed by a weekly digital coffee hour.
The Zoom web address for our Sunday 10:30 a.m. worship is:
You can also join by phone: 312-626 6799
Webinar ID: 380 411 489
The Zoom web address for our weekly 11:30 a.m. coffee hour is:
You can also join by phone: 312-626 6799
Webinar ID: 652 315 354
Services are also streamed live to Facebook
---
Minister's Monthly Worship Message – February 2021
Worship Arc 2020-21- How do we . . . Love Well?
"Love isn't just one thing;
it's fierce and soft,
intimate and collective,
wild and sincere and deliberate and just.
Love can be more chaos than order.
Love can be a boundary.
Love can be conflict.
It's complicated.
It's multifaceted.
Love is hard work.
Love is natural.
Love is a process and practice.
Though its paths are many and varied,
love always leads to life.
Love is an ever-unfolding thing
we are all still figuring out."
– enfleshed, spiritual nourishment for collective liberation
Whenever I find myself with someone facing a difficult decision or inner conflict, I always ask the same question: "What does it mean to love well in this moment?" This question can be as frustrating as it is centering. Love is so many things, so multi-faceted, so rigorous and beautiful and simple and difficult and sacred.
The question doesn't provide a clear-cut map forward through difficulty, but it always, always offers a north star. What does it mean to love well in this moment? Let us journey the question together this month, step by faltering, faithful step.
See you in (online) church.
– Rev. Molly
---
2020-21 Worship Arc
How do we do this?
Although the origins of the phrase are lost to history and misattribution, it has long been quipped that one might effectively curse a foe by wishing them, "May you live in interesting times."
Surely we are now living in quite interesting times! We are encountering challenges we never quite imagined. We don't know how to do any of this: How to live well through climate change, threatened democracy, anti-racist revolution, and global pandemic. But through the power of community I believe we can weather these interesting times not cursed, but blessed by one another and by our shared compassion and wisdom.
This year's worship arc is a simple and pressing question: How do we do this? Each month we will wrestle together with one of the practical questions that are arising for us in these unprecedented times. How do we…
Navigate Uncertainty?
Transform Rage?
Keep Going?
Seek Delight?
Stay Grounded?
Love Well?
Pay Attention?
Nurture Beauty?
Find Belonging?
Join us and perhaps together we can find out.