---
Description of Worship Services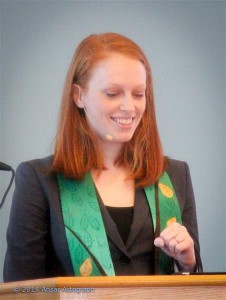 From early September to late May, we offer two worship services on Sunday at 9 and 11 a.m. From early May to early September, we offer one worship service at 10:30 a.m. Services last about one hour.
The 9 a.m. service is interactive, intimate and family-friendly. Joys and sorrows are shared in a spoken-aloud format, and there are often other interactive elements of the service. Nursery care is provided.
The 11 a.m. service (10:30 a.m. during summer months) is inspirational, reverent and familiar, and there is less expectation of interaction. The children are present for about the first 15 minutes, which includes a ritual of joys and sorrows, and the children then leave for their regular religious education classes. Nursery care and our full religious education program for preschool through high school are offered at this time.
Although each of our services is unique, services usually begin with a welcome from a member of our Board of Trustees and occasional special announcements.
Interspersed with a variety of music and hymn singing, the typical service also includes the lighting of the chalice, one or more inspirational readings, a sermon or homily, an offertory, an opportunity to express joys and sorrows, and a closing benediction.
After the service we gather back in the Greeting Area for fellowship, conversation, and coffee.
Members of a group called the Worship Associates assist in planning worship services and also participate in conducting services.
---
Lay-Led Worship Services
Our lay-led services honor our commitment to lay involvement in church leadership and our church's history. We began in 1951 as a lay-led fellowship, and thus all services were lay led until we called our first minister in 1980.
From September through May, the minister steps down from the pulpit one Sunday each month, and the service is entirely lay led, usually by one of the groups in the church, such as the Writer's Group, Social Action, or the high school youth group.
During the summer, the minister is in the pulpit half the time, and the Worship Associates organize lay-led services the rest of the time. These services are often non-traditional and unique, and allow individuals to speak to a topic of interest or lead the congregation in exploring a variety of activities related to the many facets of worship and spirituality. Summer service topics have included an Animal (Pet) Blessing, Silence, What It Means to be an American, and the Honduras service trips.
---
Schedule of Future Services
From early September through late May, we offer two worship services at 9 and 11 a.m. on Sundays, unless otherwise noted. From late May through early September, we have one worship service at 10:30 a.m. on Sundays. On our Home Page you will find details about the worship service for the coming Sunday. Worship plans for each month appear here.
June 2019 Sunday Worship Schedule

Services at 10:30 a.m.
(Our summer schedule is one worship service at 10:30 a.m.)
Sunday, June 2 – "At the Riverside, In Spirit" – Peter and Casey Holmes, Alan and Carol Arnold, and Scott Denson
For the first time in 13 years, flooding will prevent our annual service at the Missouri River. However, we will be presenting exactly the same intergenerational service at the church – outdoors if the weather permits – conjuring up the spirit of the river! The main focus will be an interactive portrayal of our modern creation story: "The Journey of the Universe" from the Big Bang to the present – a journey into grandeur that no previous generation could have fully imagined.
Sunday, June 9 – "UU Church and the Sacred Text" – Intergenerational Book Communion – Rev. Molly Housh Gordon and DRE Jamila Batchelder
Is there a secular text that has shaped your thinking? A book, a poem, a lyric that is rich with meaning for your life? This summer's lay-led preaching series will engage the secular sacred texts of our congregation, and this Sunday, we'll kick it off with a book communion service for all ages. Bring a favorite book to share and go home with someone else's fave. We'll also explore spiritual practices for reading.
Sunday, June 16 – "Secular Sacred Text: Looking Up to Les Misérables" – Sam Otten and Tim Dickerson
As part of the summer series where we bring sacred practices to secular texts, you are invited to engage with Victor Hugo's 19th Century novel Les Misérables. Its profound characters and its tumultuous political setting provide inspiration for how we might participate in the world today. Inter-textual connections also will be made to the music of Sufjan Stevens.
Sunday, June 23 – "Secular Sacred Text: Sparkling Dust in His Dark Materials" – Rev. Molly Housh Gordon
Join us to reflect on Rev. Molly's secular sacred text, the series His Dark Materials by Phillip Pullman. A fantasy trilogy for children full of theological themes, this text explores questions of innocence and experience, death and life and meaning. And, there are daemons.
Sunday, June 30 – "Secular Sacred Text: The Mists of Avalon" – Cande Iveson
The message of any text changes with each reading, as the reader's context constantly shifts. In 1983, the New York Times called Marion Zimmer Bradley's Mists of Avalon "…a monumental reimagining of the Arthurian legends…we see the saga from the vantage point of its principal women." Almost 40 years later, the text still resonates, but in very different ways and for very different reasons.
Minister's June Message
The green will never
again be so green, so purely and lushly
new, grass lifting its wheaty seedheads
into the wind. Rich fresh wine
of June, we stagger into you smeared
with pollen, overcome as the turtle
laying her eggs in roadside sand.
– From "More Than Enough" by Marge Piercy
The summer time can be so luscious. Days stretch longer drenched in sun. Evenings open up in moonlit possibility. The world is full of growing things and every expanse of nature feels wide and wild and pulsing with life.
For me, summer is a time of spaciousness, a time to look up for the first time in months and breathe and take a break. At church it feels that way, too. We dream together in the summer and hold fewer committee meetings. We breathe together and remember life to be a great gift. I hope to see you here in June to celebrate this gift together.
See you in church!
Rev. Molly