---
Description of Worship Services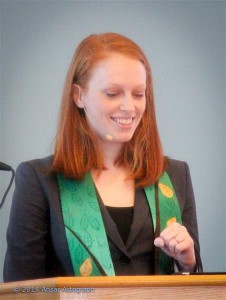 We offer one worship service at 10:30 a.m. every Sunday. Services last about one hour. In normal times, the children are present for about the first 15 minutes, which includes a ritual of joys and concerns, and the children then leave for their religious education classes; nursery care and our full religious education program for preschool through junior high school are offered at this time.
Although each of our services is unique, services usually begin with a welcome from a member of our Board of Trustees and occasional special announcements.
Interspersed with a variety of music and hymn singing, the typical service also includes the lighting of the chalice, one or more inspirational readings, a sermon or homily, an offertory, an opportunity to express joys and sorrows, and a closing benediction.
After the service we gather for fellowship, conversation, and coffee.
Members of a group called the Worship Associates assist in planning worship services and also participate in conducting services.
---
Lay-Led Worship Services
Our lay-led services honor our commitment to lay involvement in church leadership and our church's history. We began in 1951 as a lay-led fellowship, and thus all services were lay led until we called our first minister in 1980.
From September through May, the minister steps down from the pulpit one Sunday each month, and the service is entirely lay led, usually by one of the groups in the church, such as the Writer's Group, Social Action, or the high school youth group.
During the summer, the minister is in the pulpit half the time, and the Worship Associates organize lay-led services the rest of the time. These services are often non-traditional and unique, and allow individuals to speak to a topic of interest or lead the congregation in exploring a variety of activities related to the many facets of worship and spirituality. Summer service topics have included an Animal (Pet) Blessing, Silence, What It Means to be an American, and the Honduras service trips.
---
Schedule of Future Services
We offer a worship service at 10:30 a.m. on Sundays. On our Home Page you will find details about the worship service for the coming Sunday. Worship plans for each month appear here.
September 2020 Sunday Worship Schedule – 10:30 a.m.
We will be worshiping together online until further notice as we continue to observe social distancing in response to the COVID-19 pandemic.
Sunday, Sept. 6 – Rev. Dr. CW Dawson
Join the Rev. Dr. C.W. Dawson Jr. for the last sermon of his residency as Philosopher-in-Residence (and rest assured he'll be back to guest preach again soon). Also plan to join us for coffee hour to celebrate his time with us!
Sunday, Sept. 13 – "Shifting Ground" – Rev. Molly Housh Gordon
These times are peeling back our illusions of certainty, and it can all be too much. What are some of the spiritual tools we can engage to traverse shifting ground? Where can we find surer footing in deeply uncertain times?
Sunday, Sept. 20 – "On the Brink" – Rev. Molly Housh Gordon and DRE Jamila Batchelder
Join us on the Sunday before the Fall Equinox as the light and dark balance at the turning of the year. We'll share a contemplative service on all that balances on the brink and all the places we seek greater balance in our own lives.
Sunday, Sept. 27 – "What Does Love Require?" – Rev. Molly Housh Gordon
On the 250th anniversary of John Murray's famous sermon proclaiming Universalism to America, we will ponder a question that can ground us and give us a way forward, even amid uncertainty: What does Love require of me, right now?
As we continue worshiping online, if you have any trouble accessing the technology to join us, please send an email to our Tech Team with your contact information. Someone will reach out to assist!
Worship services are offered via Zoom. Services are followed by a weekly digital coffee hour.
The Zoom web address for our Sunday 10:30 a.m. worship is https://zoom.us/j/380411489
You can also join by phone: 312-626 6799 – Webinar ID: 380 411 489
Services are also streamed live to Facebook
The Zoom web address for our weekly 11:30 a.m. coffee hour is https://zoom.us/j/652315354
You can also join by phone: 312-626 6799 – Webinar ID: 652 315 354
If you have any trouble accessing the technology to join us, please email our Tech Team with your contact information, and someone will reach out to you to assist!
---
Minister's Monthly Worship Message – September 2020
September's Theme – How Do We… Navigate Uncertainty?
"I wanted a perfect ending. Now I've learned, the hard way, that some poems don't rhyme, and some stories don't have a clear beginning, middle, and end. Life is about not knowing, having to change, taking the moment and making the best of it, without knowing what's going to happen next. Delicious Ambiguity."

– Gilda Radner
The uncertainty of this year has been forced upon us, and yet it has also uncovered a spiritual truth – that our pursuit of certainty was always illusory. Join us to reflect on how we can find our bearings amid painful uncertainty, how we can find possibility in ambiguity, and how we can be held by community when we're not sure where to turn.
With Love,
Rev. Molly
---
2020-21 Worship Arc
How do we do this?
Although the origins of the phrase are lost to history and misattribution, it has long been quipped that one might effectively curse a foe by wishing them, "May you live in interesting times."
Surely we are now living in quite interesting times! We are encountering challenges we never quite imagined. We don't know how to do any of this: How to live well through climate change, threatened democracy, anti-racist revolution, and global pandemic. But through the power of community I believe we can weather these interesting times not cursed, but blessed by one another and by our shared compassion and wisdom.
This year's worship arc is a simple and pressing question: How do we do this? Each month we will wrestle together with one of the practical questions that are arising for us in these unprecedented times. How do we…
Navigate Uncertainty?
Transform Rage?
Keep Going?
Seek Delight?
Stay Grounded?
Love Well?
Pay Attention?
Nurture Beauty?
Find Belonging?
Join us and perhaps together we can find out.