---
Description of Worship Services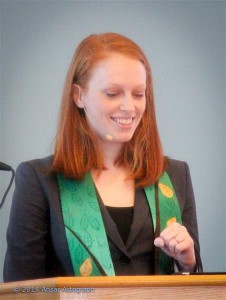 From early September to late May, we offer two worship services on Sunday at 9 and 11 a.m. From early May to early September, we offer one worship service at 10:30 a.m. Services last about one hour.
The 9 a.m. service is interactive, intimate and family-friendly. Joys and sorrows are shared in a spoken-aloud format, and there are often other interactive elements of the service. Nursery care is provided.
The 11 a.m. service (10:30 a.m. during summer months) is inspirational, reverent and familiar, and there is less expectation of interaction. The children are present for about the first 15 minutes, which includes a ritual of joys and sorrows, and the children then leave for their regular religious education classes. Nursery care and our full religious education program for preschool through high school are offered at this time.
Although each of our services is unique, services usually begin with a welcome from a member of our Board of Trustees and occasional special announcements.
Interspersed with a variety of music and hymn singing, the typical service also includes the lighting of the chalice, one or more inspirational readings, a sermon or homily, an offertory, an opportunity to express joys and sorrows, and a closing benediction.
After the service we gather back in the Greeting Area for fellowship, conversation, and coffee.
Members of a group called the Worship Associates assist in planning worship services and also participate in conducting services.
---
Lay-Led Worship Services
Our lay-led services honor our commitment to lay involvement in church leadership and our church's history. We began in 1951 as a lay-led fellowship, and thus all services were lay led until we called our first minister in 1980.
From September through May, the minister steps down from the pulpit one Sunday each month, and the service is entirely lay led, usually by one of the groups in the church, such as the Writer's Group, Social Action, or the high school youth group.
During the summer, the minister is in the pulpit half the time, and the Worship Associates organize lay-led services the rest of the time. These services are often non-traditional and unique, and allow individuals to speak to a topic of interest or lead the congregation in exploring a variety of activities related to the many facets of worship and spirituality. Summer service topics have included an Animal (Pet) Blessing, Silence, What It Means to be an American, and the Honduras service trips.
---
Schedule of Future Services
From early September through late May, we offer two worship services at 9 and 11 a.m. on Sundays, unless otherwise noted. From late May through early September, we have one worship service at 10:30 a.m. on Sundays. On our Home Page you will find details about the worship service for the coming Sunday. Worship plans for each month appear here.
August 2019 Sunday Worship Schedule

Services at 10:30 a.m.
(Our summer schedule is one worship service at 10:30 a.m.)
Sunday, Aug. 4 – "Secular Sacred Text: Oathbringer" – Melissa Ensign-Bedford
We love this series of reflections on our touchstone books and secular sacred texts. Learn about the meaning to be made from the work of renowned fantasy author Brandon Sanderson.
Sunday, Aug. 11 – Special Guest Preacher – The Rev. Dr. C.W. Dawson
Come hear one of our favorite guest preachers deliver a rousing and thought-provoking sermon. The Rev. Dr. C.W. Dawson is pastor of Dawson Journeys Ministry and teaches philosophy and religion at several area colleges.
Sunday, Aug. 18 – "The Scripture of Poetry" – Rev. Molly Housh Gordon

This summer we've been exploring our congregation's secular sacred text and have mostly spent time with novels. This Sunday, join us to delve into the poetry that touches our souls. If you have a poem that is a particularly sacred text to you, send it on Rev. Molly for possible inclusion in the service. Our special musical guest will be Arun Garg!
Sunday, Aug. 25 – "The Water Remembers" – Ingathering and Water Ceremony – Rev. Molly Housh Gordon and DRE Jamila Batchelder
Join us for our beloved annual ingathering ceremony as we mingle waters of refreshment and renewal and reflect upon how we are sustained in our community. If you are able, bring water either from or symbolic of a place that has renewed your spirit over the summer months.
Minister's August Message – 2019-20 Worship Theme

Rooted in Mission
"In the spirit of courageous love, we forge
a community of radical welcome and
deep connection that moves us together
to heal the world."
– UU Church of Columbia, Missouri
In 2013 our congregation adopted the beautiful mission statement above by a vote of the congregation. Since then, its evocative phrases and aspirations have become a part of our weekly conversation and our congregational DNA. But the things that become part of us can also become rote without our attention. So this year, your Worship Associates have chosen our very own mission as our over-arching theme for the year.
Each month in worship and in our chalice circles, we will dive deep with one of the phrases that names our hopes for who we are becoming together:
September – Mission
October – Courageous Love
November – Forging Community
December – Radical Welcome
January – Deep Connection
February – Moving Together
March – To Help
April – Healing the World
What do these things mean to us, when the rubber meets the road? Join us all year to contemplate together!
In Faith,
Rev. Molly