---
Description of Worship Services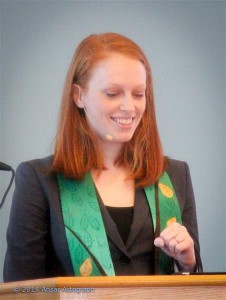 We offer one worship service at 10:30 a.m. every Sunday. Services last about one hour. In normal times, the children are present for about the first 15 minutes, which includes a ritual of joys and concerns, and the children then leave for their religious education classes; nursery care and our full religious education program for preschool through junior high school are offered at this time.
Although each of our services is unique, services usually begin with a welcome from a member of our Board of Trustees and occasional special announcements.
Interspersed with a variety of music and hymn singing, the typical service also includes the lighting of the chalice, one or more inspirational readings, a sermon or homily, an offertory, an opportunity to express joys and sorrows, and a closing benediction.
After the service we gather for fellowship, conversation, and coffee.
Members of a group called the Worship Associates assist in planning worship services and also participate in conducting services.
---
Lay-Led Worship Services
Our lay-led services honor our commitment to lay involvement in church leadership and our church's history. We began in 1951 as a lay-led fellowship, and thus all services were lay led until we called our first minister in 1980.
From September through May, the minister steps down from the pulpit one Sunday each month, and the service is entirely lay led, usually by one of the groups in the church, such as the Writer's Group, Social Action, or the high school youth group.
During the summer, the minister is in the pulpit half the time, and the Worship Associates organize lay-led services the rest of the time. These services are often non-traditional and unique, and allow individuals to speak to a topic of interest or lead the congregation in exploring a variety of activities related to the many facets of worship and spirituality. Summer service topics have included an Animal (Pet) Blessing, Silence, What It Means to be an American, and the Honduras service trips.
---
Schedule of Future Services
We offer a worship service at 10:30 a.m. on Sundays. On our Home Page you will find details about the worship service for the coming Sunday. Worship plans for each month appear here.
December 2020 Sunday Worship Schedule – 10:30 a.m. online only

As we continue worshiping online, if you have any trouble accessing the technology to join us, please email our Tech Team with your contact information. Someone will reach out to help!
Sunday, Dec. 6 –  "Delight Close In" – Rev. Molly Housh Gordon
With our lives so circumscribed by the pandemic, it is all the more necessary that we take delight in close-by, everyday things. How do we find the state of mind that allows us to notice and seek sustaining delight in this difficult time?
Sunday, Dec. 13 – "Odes to Small Necessary Things" – Rev. Molly Housh Gordon and YOU!
Inspired by Pablo Neruda's poetry collection Odes to Common Things, this Sunday's service will be a collection of odes to the small things that bring delight, written and presented by members of our congregation. If you'd like to write and share a piece, email Rev. Molly.
Sunday, Dec. 20 – "A Cozy Longest Night" Solstice Service – Rev. Molly Housh Gordon and DRE Jamila Batchelder
Join us for a multi-media service celebrating the Winter Solstice and cozying down for what may feel like a long winter. How do we create warm space in cold times and prepare to welcome the dark and light alike?
Sunday, Dec. 27 – "New and Not" New Year Service – Rev. Molly Housh Gordon and DRE Jamila Batchelder
Many of us are very ready to wish good riddance to 2020, and yet we know that the challenges we are experiencing won't magically vanish on Jan. 1. How do we mark a year that will be both new and not? Join us for our annual service helping us cast off the old year and enter with intention into the new year.
Worship services are offered via Zoom. Services are followed by a weekly digital coffee hour.
The Zoom web address for our Sunday 10:30 a.m. worship is:
You can also join by phone: 312-626 6799
Webinar ID: 380 411 489
The Zoom web address for our weekly 11:30 a.m. coffee hour is:
You can also join by phone: 312-626 6799
Webinar ID: 652 315 354
Services are also streamed live to Facebook at:
https://www.facebook.com/pg/UnitarianUniversalistChurchOfColumbiaMO/videos/
---
Minister's Monthly Worship Message – December 2020
Worship Arc 2020-21- How do we . . . Seek Delight?
"For everything that lives is holy, life delights in life."
– William Blake
The winter holiday season has always been oriented toward light and delight in the darkening, colder months. It feels very strange to say it, but I have been experiencing more delight than usual in these pandemic times.
The why and the how of this points to the shades of meaning in the word. More than enjoying, or being content, or being happy, the word delight, to me, has a proactive shade to it. I delight in something by noticing it. Delight is a quality of attention, one we claim by reveling in things close in.
With my world so constricted by the pandemic, I find that I am paying closer attention to the every- day, and I am in greater need of delight – I am seeking it out. I am delighted by the new variety of winter squash (delicata) we've introduced into our regular diet this fall. You can eat the skin! I am delighted by the variety in the crowds of birds I had not before thought to notice in our overgrown garden.
In this season of light… and of ever-changing expectations… I'd love to hear where you are seeking, and finding, and claiming delight. Goodness knows we need it!
See you in (online) church,
– Rev. Molly
---
2020-21 Worship Arc
How do we do this?
Although the origins of the phrase are lost to history and misattribution, it has long been quipped that one might effectively curse a foe by wishing them, "May you live in interesting times."
Surely we are now living in quite interesting times! We are encountering challenges we never quite imagined. We don't know how to do any of this: How to live well through climate change, threatened democracy, anti-racist revolution, and global pandemic. But through the power of community I believe we can weather these interesting times not cursed, but blessed by one another and by our shared compassion and wisdom.
This year's worship arc is a simple and pressing question: How do we do this? Each month we will wrestle together with one of the practical questions that are arising for us in these unprecedented times. How do we…
Navigate Uncertainty?
Transform Rage?
Keep Going?
Seek Delight?
Stay Grounded?
Love Well?
Pay Attention?
Nurture Beauty?
Find Belonging?
Join us and perhaps together we can find out.