---
Description of Worship Services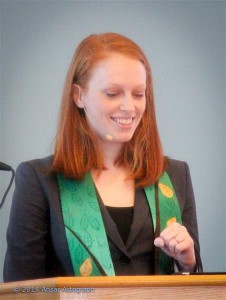 We offer one worship service at 10:30 a.m. every Sunday. Services last about one hour. The children are present for about the first 15 minutes, which includes a ritual of joys and concerns, and the children then leave for their religious education classes. Nursery care and our full religious education program for preschool through high school are offered at this time.
Although each of our services is unique, services usually begin with a welcome from a member of our Board of Trustees and occasional special announcements.
Interspersed with a variety of music and hymn singing, the typical service also includes the lighting of the chalice, one or more inspirational readings, a sermon or homily, an offertory, an opportunity to express joys and sorrows, and a closing benediction.
After the service we gather back in the Greeting Area for fellowship, conversation, and coffee.
Members of a group called the Worship Associates assist in planning worship services and also participate in conducting services.
---
Lay-Led Worship Services
Our lay-led services honor our commitment to lay involvement in church leadership and our church's history. We began in 1951 as a lay-led fellowship, and thus all services were lay led until we called our first minister in 1980.
From September through May, the minister steps down from the pulpit one Sunday each month, and the service is entirely lay led, usually by one of the groups in the church, such as the Writer's Group, Social Action, or the high school youth group.
During the summer, the minister is in the pulpit half the time, and the Worship Associates organize lay-led services the rest of the time. These services are often non-traditional and unique, and allow individuals to speak to a topic of interest or lead the congregation in exploring a variety of activities related to the many facets of worship and spirituality. Summer service topics have included an Animal (Pet) Blessing, Silence, What It Means to be an American, and the Honduras service trips.
---
Schedule of Future Services
We offer a worship service at 10:30 a.m. on Sundays. On our Home Page you will find details about the worship service for the coming Sunday. Worship plans for each month appear here.
January 2020 Sunday Worship Schedule – 10:30 a.m.
Sunday, Jan. 5 – "How to Make Friends and Connect with People" – Rev. Molly Housh Gordon
We live in a culture whose structures make deep connection difficult and in which loneliness is climbing. How do we opt into a different way of being with one another when the systems of our world are stacked against us?
Sunday, Jan. 12 – "Listening Deeply" – Rev. Dottie Mathews
Join our Affiliated Community Minister Dottie Mathews to benefit from her wisdom born of years of professional deep listening. How can we connect to one another in a healing way? Just listen!
Sunday, Jan. 19 – "A Single Garment of Destiny" – Rev. Molly Housh Gordon
On Martin Luther King Jr. Sunday, we will explore Dr. King's philosophy of interconnection and what it means for contemporary justice movements.
Sunday, Jan. 26 – "The House That Love Built" – Founders' Day Sunday – Rev. Molly Housh Gordon
Join us to celebrate the legacy of our founders and contemplate how we can carry it forward in our own time. What will our legacy be? Stay after worship for church birthday cake and a meeting with our Building Task Force!
---
Minister's Monthly Worship Message
2019-2020 worship theme – Living Our Mission:
In the spirit of courageous love we
forge a community of radical welcome and deep
connection that moves us together to heal the world.
January's theme is: Deep Connection
"Only connect! That was the whole of her sermon.
Only connect the prose and the passion, and both
will be exalted, and human love will be seen at
its height. Live in fragments no longer."
– E.M. Forster, Howards End
One of the core features of Unitarian Universalist theology is our recognition that we are all connected. We are bound and wound together inextricably with all of creation, and we know this by our experience, by our best understanding of science, and by the wisdom of many traditions. In a very real sense, deep connection is simply the way of the universe.
Why, then, is it a key phrase of our mission statement? Why do we feel it is something we must create? Because the systems around us are set up to fuel the illusion of our separateness, to help us forget how we need one another, and even to alienate us from our own instincts to connect. Deep connection is the way of the universe, but it is also a deeply countercultural choice. Let us choose it.
Join us this month to connect with our deepest selves, with loved ones and strangers – our human kin, and with the very web that binds us together –greater than the sum of our parts.
See you in church!
Rev. Molly
---
2019-20 Worship Theme
Rooted in Mission
"In the spirit of courageous love, we forge
a community of radical welcome and
deep connection that moves us together
to heal the world."
– UU Church of Columbia, Missouri
In 2013 our congregation adopted the beautiful mission statement above by a vote of the congregation. Since then, its evocative phrases and aspirations have become a part of our weekly conversation and our congregational DNA. But the things that become part of us can also become rote without our attention. So this year, your Worship Associates have chosen our very own mission as our over-arching theme for the year.
Each month in worship and in our chalice circles, we will dive deep with one of the phrases that names our hopes for who we are becoming together:
September – Mission
October – Courageous Love
November – Forging Community
December – Radical Welcome
January – Deep Connection
February – Moving Together
March – To Help
April – Healing the World
What do these things mean to us, when the rubber meets the road? Join us all year to contemplate together!
In Faith,
Rev. Molly