---
Description of Worship Services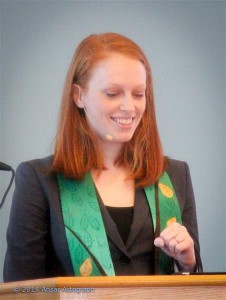 From early September to late May, we offer two worship services on Sunday at 9 and 11 a.m. From early May to early September, we offer one worship service at 10:30 a.m. Services last about one hour.
The 9 a.m. service is interactive, intimate and family-friendly. Joys and sorrows are shared in a spoken-aloud format, and there are often other interactive elements of the service. Nursery care is provided.
The 11 a.m. service (10:30 a.m. during summer months) is inspirational, reverent and familiar, and there is less expectation of interaction. The children are present for about the first 15 minutes, which includes a ritual of joys and sorrows, and the children then leave for their regular religious education classes. Nursery care and our full religious education program for preschool through high school are offered at this time.
Although each of our services is unique, services usually begin with a welcome from a member of our Board of Trustees and occasional special announcements.
Interspersed with a variety of music and hymn singing, the typical service also includes the lighting of the chalice, one or more inspirational readings, a sermon or homily, an offertory, an opportunity to express joys and sorrows, and a closing benediction.
After the service we gather back in the Greeting Area for fellowship, conversation, and coffee.
Members of a group called the Worship Associates assist in planning worship services and also participate in conducting services.
---
Lay-Led Worship Services
Our lay-led services honor our commitment to lay involvement in church leadership and our church's history. We began in 1951 as a lay-led fellowship, and thus all services were lay led until we called our first minister in 1980.
From September through May, the minister steps down from the pulpit one Sunday each month, and the service is entirely lay led, usually by one of the groups in the church, such as the Writer's Group, Social Action, or the high school youth group.
During the summer, the minister is in the pulpit half the time, and the Worship Associates organize lay-led services the rest of the time. These services are often non-traditional and unique, and allow individuals to speak to a topic of interest or lead the congregation in exploring a variety of activities related to the many facets of worship and spirituality. Summer service topics have included an Animal (Pet) Blessing, Silence, What It Means to be an American, and the Honduras service trips.
---
Schedule of Future Services
From early September through late May, we offer two worship services at 9 and 11 a.m. on Sundays, unless otherwise noted. From late May through early September, we have one worship service at 10:30 a.m. on Sundays. On our Home Page you will find details about the worship service for the coming Sunday. Worship plans for each month appear here.
October 2019 Sunday Worship Schedule – 9 and 11 a.m.

Sunday, Oct. 6 – "Begin Again in Love" – Jeanne Snodgrass, Director of Mizzou Hillel Jewish Student Center
One way we practice courage is by making amends and beginning again in love. On this closest Sunday to Yom Kippur, join our special guest Jeanne Snodgrass to learn what wisdom we can all take from the traditions of Judaism's High Holidays.
Sunday, Oct. 13 – "Loving Bravely" – Rev. Molly Housh Gordon
Join us to explore together how we live through the spiraling dance of love and fear, discern the difference between discomfort and danger, and expand our comfort zones so that we can draw the circles of love and compassion in our lives wider and wider.
Sunday, Oct. 20 – "Strengthening Our Hearts" – UU Churchers
Our Worship Associates have put together a meaningful lay-led service during which you will have the opportunity to hear several UU Churchers' testimony about what "Courageous Love" means to them in their lives. Don't miss this powerful sharing in community!
Sunday, Oct. 27 – "Trying on Fear" – Halloween – Rev. Molly Housh Gordon and DRE Jamila Batchelder
Join us for a fun and spooky exploration of fear on this Sunday before Halloween, which will be accessible for all ages. Why do we like to dress up in scary costumes and visit haunted houses? What do we have to learn about life by trying on fear at Halloween? UU Churchers of all ages are welcome to come to church in costume this Sunday!
---
Minister's Monthly Worship Message
2019-2020 worship theme – Living Our Mission:
In the spirit of courageous love we
forge a community of radical welcome and deep
connection that moves us together to heal the world.
October's theme is: Courageous Love
"Your heart is a muscle the size of your fist; keep loving, keep fighting."
– Ariel Gore
Last week my one-year-old bit an old reusable straw and broke off two small shards of hard plastic. One of the shards she spit out. The other shard was nowhere to be found.
She smiled at me and laughed while I panicked. I called the doctor's office, learned there was nothing I could do but watch her for signs of distress, and spent the rest of the morning hovering around her, dripping fear like an anxious sweat, imagining all of terrible things that could happen to her tender little body.
Hours later, I found the second shard, which she had not actually swallowed, and all was well again, until the next inevitable scary incident. In the meantime, I have invested in metal straws.
I consider managing my own fear while sending my children progressively out into the world to be some of the most important and challenging work of my life. And so it goes with every beloved creature in our lives.
Loving someone is one of the most terrifying things we can do. When we love someone or something, we know that pain and loss are 100% guaranteed, at some time, one way or another.
But the beautiful paradox is, it is exactly the risk of love that makes us brave. Courage is the muscle we strengthen and build by loving.
This month's theme is "courageous love," but it could really just be "love" because loving is always the bravest thing we do. Join us this month to strengthen our hearts by using them. See you in church!
– Rev. Molly
---
2019-20 Worship Theme
Rooted in Mission
"In the spirit of courageous love, we forge
a community of radical welcome and
deep connection that moves us together
to heal the world."
– UU Church of Columbia, Missouri
In 2013 our congregation adopted the beautiful mission statement above by a vote of the congregation. Since then, its evocative phrases and aspirations have become a part of our weekly conversation and our congregational DNA. But the things that become part of us can also become rote without our attention. So this year, your Worship Associates have chosen our very own mission as our over-arching theme for the year.
Each month in worship and in our chalice circles, we will dive deep with one of the phrases that names our hopes for who we are becoming together:
September – Mission
October – Courageous Love
November – Forging Community
December – Radical Welcome
January – Deep Connection
February – Moving Together
March – To Help
April – Healing the World
What do these things mean to us, when the rubber meets the road? Join us all year to contemplate together!
In Faith,
Rev. Molly