---
Description of Worship Services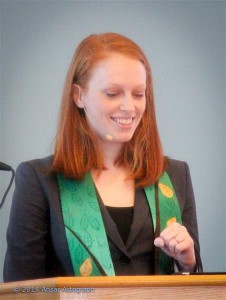 We offer one worship service at 10:30 a.m. every Sunday. Services last about one hour. The children are present for about the first 15 minutes, which includes a ritual of joys and concerns, and the children then leave for their religious education classes. Nursery care and our full religious education program for preschool through junior high school are offered at this time.
Although each of our services is unique, services usually begin with a welcome from a member of our Board of Trustees and occasional special announcements.
Interspersed with a variety of music and hymn singing, the typical service also includes the lighting of the chalice, one or more inspirational readings, a sermon or homily, an offertory, an opportunity to express joys and sorrows, and a closing benediction.
After the service we gather back in the Greeting Area for fellowship, conversation, and coffee.
Members of a group called the Worship Associates assist in planning worship services and also participate in conducting services.
---
Lay-Led Worship Services
Our lay-led services honor our commitment to lay involvement in church leadership and our church's history. We began in 1951 as a lay-led fellowship, and thus all services were lay led until we called our first minister in 1980.
From September through May, the minister steps down from the pulpit one Sunday each month, and the service is entirely lay led, usually by one of the groups in the church, such as the Writer's Group, Social Action, or the high school youth group.
During the summer, the minister is in the pulpit half the time, and the Worship Associates organize lay-led services the rest of the time. These services are often non-traditional and unique, and allow individuals to speak to a topic of interest or lead the congregation in exploring a variety of activities related to the many facets of worship and spirituality. Summer service topics have included an Animal (Pet) Blessing, Silence, What It Means to be an American, and the Honduras service trips.
---
Schedule of Future Services
We offer a worship service at 10:30 a.m. on Sundays. On our Home Page you will find details about the worship service for the coming Sunday. Worship plans for each month appear here.
April 2020 Sunday Worship Schedule – 10:30 a.m.
All in-person church gatherings are suspended at least through April to
ensure we do our part to protect vulnerable populations and slow the spread of
COVID-19 to a level our health system can manage. During April we will gather
online. See the online worship details below.
We will be worshiping together online through the month of April as we continue to observe the City of Columbia's stay-at-home order in response to the COVID-19 pandemic.
Worship services will be offered by:
Rev. Molly Housh Gordon
Director of Religious Education Jamila Batchelder
Music Director Jeremy Wagner
Pianist Hans Bridger Heruth
Your Worship Associates Team
Worship services will be created weekly to respond to the emotional and spiritual needs of the moment. Worship services will be offered on "webinar setting," which means the only video and audio will be from presenters.
Services will be followed by a weekly digital coffee hour, where you will be able to see, hear and visit with each other.
The web address for our weekly Sunday worship at 10:30 a.m. is:
You can also join by phone:
312-626-6799 – Webinar ID: 380 411 489
The web address for our weekly 11:30.a.m. coffee hour is:
You can also join by phone:
312-626-6799 – Webinar ID: 652 315 354
If you have any trouble accessing the technology to join us, please email our tech team with your contact information, and someone will reach out to you to help.
---
Minister's Monthly Worship Message
My Dear UU Churchers,
In this time of uncertainty and fear, I want to share my faith in the strength of this community to hold us through whatever may come. I have seen you show up for each other amid worry, sorrow, joy and loss again and again over years, and I know that a profound spirit of compassion is alive and at work among and between our congregation, always. Your staff and lay leaders are creating new systems of support and connection to meet the needs and challenges of this time, but we also encourage you to do what you always have and always will – reach out (using virtual, phone, and written means) and love each other.
The Unitarian Universalist Church of Columbia will continue gathering only online at least through April and quite possibly beyond, as our community endures the COVID-19 pandemic. Doing so, we remember that our willingness to stay apart, while still staying connected, is an act of love and practice of community care. Together as staff and volunteers, we will be focusing our energies on providing worship, pastoral care, opportunities to connect with one another, and service to the wider community while still working to maintain our usual ministries.
I do hope you will join us for online worship and coffee hour on Sundays. If you need technology help, send an email to our tech team, which will prompt someone to get in touch to assist you. I also encourage you to reach out for pastoral care. I can be reached by email or on my cell phone, 573-825-7464.
In addition to using the newer technology available to us, we're working to get other low-tech supports like phone friends and penpal-ing up and running, too! Contact me to participate.
Is there another way that we can support you? Please do be in touch. The work of the church is clearer than ever in this time – to hold and care for its members and wider community, to be sustained by spiritual practice, and to embody love, hope, and courage to a world that needs our care.
I am sending you my love and my wishes of health and hope.
In Faith,
Rev. Molly
---
2019-20 Worship Theme
Rooted in Mission
"In the spirit of courageous love, we forge
a community of radical welcome and
deep connection that moves us together
to heal the world."
– UU Church of Columbia, Missouri
In 2013 our congregation adopted the beautiful mission statement above by a vote of the congregation. Since then, its evocative phrases and aspirations have become a part of our weekly conversation and our congregational DNA. But the things that become part of us can also become rote without our attention. So this year, your Worship Associates have chosen our very own mission as our over-arching theme for the year.
Each month in worship and in our chalice circles, we will dive deep with one of the phrases that names our hopes for who we are becoming together:
September – Mission
October – Courageous Love
November – Forging Community
December – Radical Welcome
January – Deep Connection
February – Moving Together
March – To Help
April – Healing the World
What do these things mean to us, when the rubber meets the road? Join us all year to contemplate together!
In Faith,
Rev. Molly