---
Description of Worship Services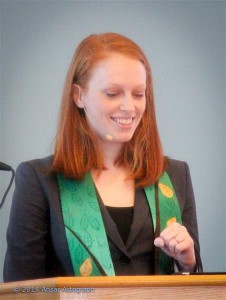 We offer a worship service every Sunday. The current month's schedule appears below. Services last about one hour. In normal times, the children are present for about the first 15 minutes, which includes a ritual of joys and concerns, and the children then leave for their religious education classes; nursery care and our full religious education program for preschool through junior high school are offered at this time.
Although each of our services is unique, services usually begin with a welcome from a member of our Board of Trustees and occasional special announcements.
Interspersed with a variety of music and hymn singing, the typical service also includes the lighting of the chalice, one or more inspirational readings, a sermon or homily, an offertory, an opportunity to express joys and sorrows, and a closing benediction.
After the service we gather for fellowship, conversation, and coffee.
Members of a group called the Worship Associates assist in planning worship services and also participate in conducting services.
---
Lay-Led Worship Services
Our lay-led services honor our commitment to lay involvement in church leadership and our church's history. We began in 1951 as a lay-led fellowship, and thus all services were lay led until we called our first minister in 1980.
From September through May, the minister steps down from the pulpit one Sunday each month, and the service is entirely lay led, usually by one of the groups in the church, such as the Writer's Group, Social Action, or the high school youth group.
During the summer, the minister is in the pulpit half the time, and the Worship Associates organize lay-led services the rest of the time. These services are often non-traditional and unique, and allow individuals to speak to a topic of interest or lead the congregation in exploring a variety of activities related to the many facets of worship and spirituality. Summer service topics have included an Animal (Pet) Blessing, Silence, What It Means to be an American, and the Honduras service trips.
---
Schedule of Future Services
We offer worship services on Sundays. On our Home Page you will find details about the worship service for the coming Sunday. Worship plans for each month appear here.
October 2021 Sunday Worship Schedule

We will continue worshiping with two services – online at 9:30 a.m. and outdoors in-person at 10:30 a.m. If you have trouble accessing the technology to join us online, please send an email with your contact information to our tech team.
Sunday, Oct. 3 – 9:30 a.m. ONLINE • 10:30 a.m. OUTDOORS
"Unitarian Theology for This Moment" – Rev. Molly Housh Gordon
What are the cornerstones of Unitarian theology, and how do they speak into this moment? Join Rev. Molly for the launch of our year-long theology preaching series, where we will explore a different theological framework one Sunday each month. This would be a great Sunday to bring a friend to learn about Unitarian Universalism!
Sunday, Oct. 10 – 9:30 a.m. ONLINE • 10:30 a.m. OUTDOORS
"Universalist Theology for This Moment" – Rev. Molly Housh Gordon
What are the cornerstones of Universalist theology, and how are we challenged to uphold them in these times? Join Rev. Molly for the second in our two-part engagement with UU theology this month. This is another great Sunday to bring a friend to learn about Unitarian Universalism!
Sunday, Oct. 17 – 9:30 a.m. ONLINE • 10:30 a.m. OUTDOORS
"Living as If…" – Rev. Dr. C.W. Dawson Jr., Guest Preacher

Given the madness that is all around us, what are we to do to persevere? Perhaps we are being called to live as if…! Join us for a powerful word from UUCC's favorite guest preacher, philosopher, and our former sabbatical minister, the Rev. Dr. C.W. Dawson, with music from our own Neil Minturn and Alan Arnold.
Sunday, Oct. 24 – 9:30 a.m. ONLINE • 10:30 a.m. OUTDOORS
"Nuanced Clarity" – Rev. Molly Housh Gordon
In a time of ever more stark polarization and duality, how do we hold the tension between moral clarity and nuance? Can we find the clarity to act alongside the complexity -– to act gently and wisely as competing truths and priorities pull at our hearts?
Sunday, Oct. 31 – 9:30 a.m. ONLINE • 10:30 a.m. OUTDOORS
"Tricks and Treats" Halloween Service – Rev. Molly Housh Gordon and DRE Jamila Batchelder
Halloween as expressed in our culture holds contradiction beautifully – inviting us into the meeting point of fear and excitement, sweetness and mischief, seriousness and celebration. Join us for an intergenerational celebration before the tricks and treats begin. Costumes encouraged for UU Churchers of all ages.
9:30 a.m. online worship services are offered via Zoom. Services are followed by a weekly digital coffee hour at 11:30 a.m.
The Zoom web address for our 9:30 a.m. online worship is:
You can also join by phone: 312-626 6799
Webinar ID: 380 411 489
The Zoom web address for our weekly 11:30 a.m. online coffee hour is:
https://zoom.us/j/95152263717?pwd=SzJJeWdWV0d5QkU4MTdnK1U0b1ZDQT09
You can also join by phone: 312-626 6799
Webinar ID: 652 315 354
Services are also streamed live to Facebook
---
Minister's Monthly Worship Message
October 2021 – We Are Rising to the Moment by… Embracing Tension
"This is the time for every artist in every genre to do what he or she does loudly and consistently. It doesn't matter to me what your position is. You've got to keep asserting the complexity and the originality of life, and the multiplicity of it, and the facets of it. This is about being a complex human being in the world, not about finding a villain. This is no time for anything else than the best that you've got."

– Toni Morrison
Natural to the brain, nurtured by the media landscape, and taken advantage of by social media – the human tendencies to polarizing simplicity and either/or thinking are a fact of our lives.
Yet, the tendency to simplify away complexity is one we can and must resist with the help of spiritual practice. We must because we are living in a time that will require us to work together for survival – our liberation is bound together with those at every pole of every dualism. We can because embracing tension is a spiritual and intellectual muscle we can exercise by holding nuance, finding third ways when offered duality, and seeking complexity when offered simplicity.
Join us this month to lean into being complex human beings in a multi-faceted world!
See you in church,
Rev. Molly
---
2021-22 Monthly Worship Themes
September – Staying Present
October – Embracing Tension
November – Grieving Together
December – Seeking Inspiration
January – Confronting Power
February – Nurturing Each Other
March – Engaging Conflicts
April – Renewing Promises
May – Celebrating the Good
Rev. Molly also will be preaching a monthly theology series, delving into how a number of theological frameworks speak into the moment at hand:
Theology for the Moment Series
Unitarianism & Universalism for this moment (2 Sundays)
Political Theology for this moment
Process Theology for this moment
Womanist Theology for this moment
Queer Theology for this moment
Disability Theology for this moment
Earth-Centered Theology for this moment
Liberation Theology for this moment