---
Description of Worship Services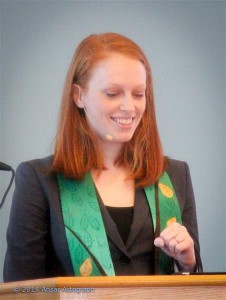 We offer a worship service every Sunday. The current month's schedule appears below. Services last about one hour. In normal times, the children are present for about the first 15 minutes, which includes a ritual of joys and concerns, and the children then leave for their religious education classes; nursery care and our full religious education program for preschool through junior high school are offered at this time.
Although each of our services is unique, services usually begin with a welcome from a member of our Board of Trustees and occasional special announcements.
Interspersed with a variety of music and hymn singing, the typical service also includes the lighting of the chalice, one or more inspirational readings, a sermon or homily, an offertory, an opportunity to express joys and sorrows, and a closing benediction.
After the service we gather for fellowship, conversation, and coffee.
Members of a group called the Worship Associates assist in planning worship services and also participate in conducting services.
---
Lay-Led Worship Services
Our lay-led services honor our commitment to lay involvement in church leadership and our church's history. We began in 1951 as a lay-led fellowship, and thus all services were lay led until we called our first minister in 1980.
From September through May, the minister steps down from the pulpit one Sunday each month, and the service is entirely lay led, usually by one of the groups in the church, such as the Writer's Group, Social Action, or the high school youth group.
During the summer, the minister is in the pulpit half the time, and the Worship Associates organize lay-led services the rest of the time. These services are often non-traditional and unique, and allow individuals to speak to a topic of interest or lead the congregation in exploring a variety of activities related to the many facets of worship and spirituality. Summer service topics have included an Animal (Pet) Blessing, Silence, What It Means to be an American, and the Honduras service trips.
---
Schedule of Future Services
We offer worship services on Sundays. On our Home Page you will find details about the worship service for the coming Sunday. Worship plans for each month appear here.
January 2022 Sunday Worship Schedule

Worship services are merged into one service held in-person and live-streamed online at 10:30 a.m. Sundays. If you have trouble accessing the technology to join us online, please send an email with your contact information to our Tech Team.
Sunday, Jan. 2 – "Getting Free Together" – Rev. Molly Housh Gordon
Join us to reflect on the joy and freedom we find in the liberation struggle and to ponder why it is a spiritual journey rather than simply a political one. We'll also be introducing the congregation to the UU 8th Principle project. Don't miss this service, which will feature special musical guest Sifa.
Sunday, Jan. 9 – "Liberation Theology for this Moment" – Rev. Molly Housh Gordon and Guests
Join us for the fifth installment in our "Theology For This Moment" series, in which we ask what interventions different theological frameworks offer to this moment of challenge and transformation. This month we explore Liberation Theology, which centers liberation of the oppressed in the act of salvation. Musical guest The Jane Doe Revue will perform.
Sunday, Jan. 16 – Martin Luther King Jr. Sunday – Rev. Dr. C.W. Dawson, Jr., Guest Preacher
Join guest preacher Rev. Dr. C.W. Dawson and special musical guests as we remember the life and work of the Rev. Dr. Martin Luther King Jr. and bring forth his vision for our world into the day before us.
Sunday, Jan. 23 – Rev. Dr. C.W. Dawson, Jr., Guest Preacher
Sunday, Jan. 30 – Founders' Day – Rev. Molly Housh Gordon
Join us for our annual celebration of our congregation's founding on this, our 71st anniversary. What does our heritage carry into this moment of transformation?
Worship services will be offered in-person and via Zoom at 10:30 a.m. Sunday. Online coffee hour after worship is continuing for now.
The Zoom address for our 10:30 a.m. Sunday worship is:
https://zoom.us/j/380411489
You can also join by phone: 312-626 6799
Webinar ID: 380 411 489
Services are also streamed live to Facebook.
The Zoom address for our coffee hour is:
https://zoom.us/j/95152263717?pwd=SzJJeWdWV0d5QkU4MTdnK1U0b1ZDQT09
You can also join by phone: 312-626 6799
Webinar ID: 652 315 354
---
Minister's Monthly Worship Message
January 2022 – We Are Rising to the Moment by… Confronting Power

This month marks the 10th anniversary of our faith-based community organizing partner Missouri Faith Voices! We heartily congratulate them for all the work for justice they have accomplished alongside many congregations over a decade. Missouri Faith Voices has been an incredible resource for our congregation and for me personally in learning about community organizing and building power for the Beloved Community.
One of the first things you learn in community organizing is that power is a neutral term. Power is simply energy, or the capacity to effect action. It is not inherently good or inherently bad but, like energy, it must flow. Power hoarded yields oppression, but power mobilized at the margins reclaims efficacy and liberation.
This perspective acknowledges that each person has an inherent power from within that our faith demands be allowed to flow freely, and that the exercise of power over another limits that freedom. It is the work of faith to liberate that sacred power within, even when it means confronting those who would wield power over others. We turn our hearts toward that work this month, as we rise to the moment by "confronting power."
See you in church,
Rev. Molly
---
2021-22 Monthly Worship Themes
September – Staying Present
October – Embracing Tension
November – Grieving Together
December – Seeking Inspiration
January – Confronting Power
February – Nurturing Each Other
March – Engaging Conflicts
April – Renewing Promises
May – Celebrating the Good
Rev. Molly also will be preaching a monthly theology series, delving into how a number of theological frameworks speak into the moment at hand:
Theology for the Moment Series
Unitarianism & Universalism for this moment (2 Sundays)
Political Theology for this moment
Process Theology for this moment
Womanist Theology for this moment
Queer Theology for this moment
Disability Theology for this moment
Earth-Centered Theology for this moment
Liberation Theology for this moment