---
Adult R.E. Team
Our Adult Religious Education Team plans informative and stimulating programs in keeping with our vision to engage our intergenerational community in faith development and life-long learning with a spirit of curiosity and openness.
Ideas for and questions about adult R.E. programming may be emailed to the team.
---
Current Adult R.E. Programs
Exploring Jesus' identity through art
New Zoom-based Adult RE series
"One of Us" – 7 p.m. Tuesdays, March 7, 14, 21 and 28
Zoom Meeting Link
https://us06web.zoom.us/j/82802821123?pwd=OCttL2hxL25xdkpuczV3YlhVM3ptdz09
Meeting ID: 828 0282 1123
Passcode: 463462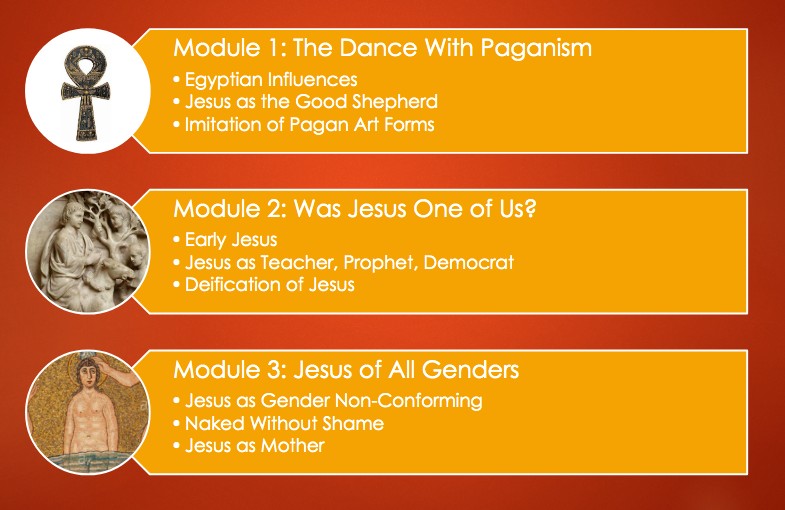 The Superbowl "He Gets Us" ad campaign sought to reclaim the person of Jesus for a group's own political purposes. But this attempt to define Jesus has been ongoing for two millennia.
Nowhere is that more true than in the world of art. Join Intern Minister George Grimm-Howell for a four-session Tuesday night March Zoom series called "One of Us." This unique discussion series will explore Christian art from the earliest pre-Roman to the modern and subversive – and will seek to reclaim Jesus as the subversive he was.
Explore the transgressive and heretical from 7 to 8:30 p.m. March 7, 14, 21 and 28. You don't have to commit to all four sessions. All are welcome, but please note that some adult themes will be discussed.
Ongoing "Poetry for Spiritual Growth" series
With Rev. Molly Housh Gordon
7 to 8:30 p.m. on the first Thursday each month – online
Join us for a contemplative series with poetry at the center. We will reflect on spiritual and theological questions using poetry as our source text. We will share some of our favorite poems. We will write, whether you prefer to journal or write your own poetry. And we will share our reflections, and perhaps our writing, with one another.
Please join us for any session even if you can't make the whole series, and feel free to join in-person, online, or alternating how you attend. Please bring a notebook and pen and a favorite poem to each gathering!
Zoom info:
https://us06web.zoom.us//89071224964pwd=ZUFMblRGVXV5alBKb2cwdlVRWUU3QT09
Meeting ID: 890 7122 4964
Passcode: 790328
---
Materials from Past Adult R.E. Programs
"Race, Law and the Body Politic" – Jan. 12-Feb. 16, 2021
"Critiques of Capitalism" – June 30-July 28, 2020
---
Adult R.E. Library
Over the years, our congregation has amassed a wide range of books for our library on almost every topic that intrigues the mind. The extensive lending library, located in the lower level of the church in the Forum Room/Library, is available to all.