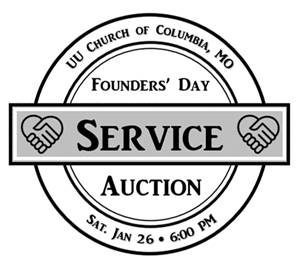 Please complete the form below to purchase tickets for the Jan. 26, 2019 Founders' Day Service Auction and make payment via Paypal. Tickets are $10/person. Tickets are not required for children who will be in childcare, but are required for other children attending.
When you click the SUBMIT AUCTION TICKET(S) PURCHASE button, you will be sent to Paypal to make payment. When you have completed that, you will be returned to the main auction page, and you will also receive a confirming email message.
Note: Paper tickets will not be issued. The Auction Team will keep a list of those who have purchased tickets.
You must click the gray SUBMIT AUCTION TICKET(S) PURCHASE button above to complete your payment via Paypal.