Job Announcement – Director of Music Ministry
Unitarian Universalist Church of Columbia, Missouri
The Unitarian Universalist Church of Columbia is a growing Unitarian Universalist congregation of 280 adult members and 75 children in Mid-Missouri. We seek a Director of Music Ministry to lead a vibrant and varied music program that inspires and enlivens our spiritual life together. This is a year-round, part-time position at 20 hours per week.
Our Vision:
We look forward to meeting a candidate who will minister with us through music. Our ideal candidate skillfully and compassionately shares their love of music with people of every age, skill, and stage; they will inspire us to sing together in choir, in Sunday services, and beyond; and they enjoy creative collaboration with staff and lay leaders. Each week, our Director of Music Ministry helps to create a holistic experience of Sunday morning services that reflect the fullness of the human experience via a variety of musical traditions, musical styles and instrumentation.
Statement of Inclusion and Values:
UUCC is an Equal Opportunity Employer and is committed to inclusion. People with disabilities, people of color, indigenous people, Hispanic/Latinx, and LGBTQ candidates are encouraged to apply. UUCC is committed to developing a diverse and talented staff team.
Unitarian Universalism is a progressive, inclusive, and historic religious denomination. While it is not required or expected that an applicant/employee identify as a Unitarian Universalist (UU), all UUCC staff members are expected to perform their job duties in accordance with UU values and Principles.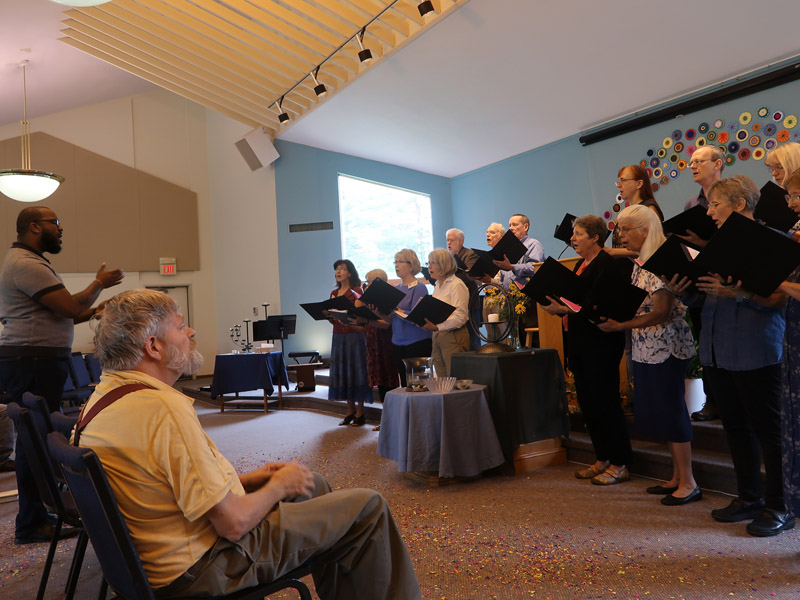 Job Description:
Reports to: Minister
Supervises: Volunteer Musicians
Works with: Minister, Church staff, Worship Associates, Choir, Volunteer Musicians
Status: Part-Time (20 hours/week)
Regular Responsibilities:
Provide or arrange for keyboard accompaniment for all church services where accompaniment is essential (hymns, choir anthems, etc.)

Provide or arrange for music (instrumental or vocal) as needed for appropriate parts of the service including but not limited to: prelude, offertory, interlude

Ensure diverse musical offerings

Utilize and support the many diverse talents of the congregation

Recruit singers for UU Singers Choir and lead weekly rehearsals

Conduct the UU Singers Choir at least two Sundays per month

Lead or arrange others to lead the wider congregation in song

May be asked to arrange for music for special services (memorials, weddings)

Create opportunities for our children to participate in our musical life
Planning Responsibilities:
Plan, select, and perform music that is coordinated with the church service, season and/or message, in consultation with the minister and worship associates

Participate in monthly staff meetings

Participate in quarterly Worship Associate meetings

Maintain the church music library
Budget Related Responsibilities:
Operate within approved annual music budget for new choral and congregational music, special musicians, personal training, and miscellaneous musically-related items

Arrange for substitute musician(s) during absences for vacation

Arrange for the maintenance of all musical instruments
Salary & Benefits:
$19,000 annually plus benefits to include disability and life insurance, vacation and sick leave, contribution to health care premiums, and professional development funds
Qualifications and Competencies:
The successful candidate will possess:
Demonstrated competence leading, conducting, and developing a choir

The ability to adjust musical instruction to varying skill levels

Excellent communication skills

A desire and capacity for creative collaboration

Strong organizational skills and the capacity to manage time, volunteers, and budget

The ability to make strong connections within and beyond the congregation

Knowledge of a diverse array of musical repertoire

Cultural sensitivity and a commitment to intercultural competence
Our ideal candidate is people-focused and nourishes leadership through music, is spiritually alive in their relationship to music, works well with all ages, strives for both excellence and inclusion, reveres both music and relationship, and thrives on creativity in collaboration.
Contact and Due Date:
To apply, please submit a letter of interest, resumé, and rehearsal video by email to the Rev. Molly Housh Gordon. Applications are due by June 21.