---
Plans for R.E. in 2021-22
From Jamila Batchelder, Director of Religious Education:
We are going to begin in-person Religious Education classes starting Sept. 19, at 10:30 a.m. I am so excited to finally be together. But a few things will be a little different! First and foremost:
WE WILL BE OUTSIDE…
…at least for the first quarter of the year, as our community gets a handle on its Covid infection rates.
Potter Class will meet just outside their regular classroom, beside the lower parking lot.
K-7th graders will meet at Shepard Park under the shelter.
Coming of Age class will meet on the church grounds at a yet to be determined location.
Other changes: As we reintegrate to church life, K-7th graders will do a group curriculum focused on reconnection, relationship building and the joy of play. We will begin with a story to center us on our core values and then have a combination of structured and less structured activities for children to choose from as we rebuild our R.E. community. We will also build in service projects that allow us to put our faith into action.
Teachers and children will continue wearing masks when we are together, even outside. We will continue to re-evaluate our plans as conditions change here in Columbia and Missouri.
If you are interested in volunteering, please contact me. It is an amazing opportunity to be a part of creating a community of love, care and growth for the young people of our UU church.
Note: Jamila presented a video on Sept. 3, 2021 in which she discussed plans for R.E. classes this year. Click the image below to view the video.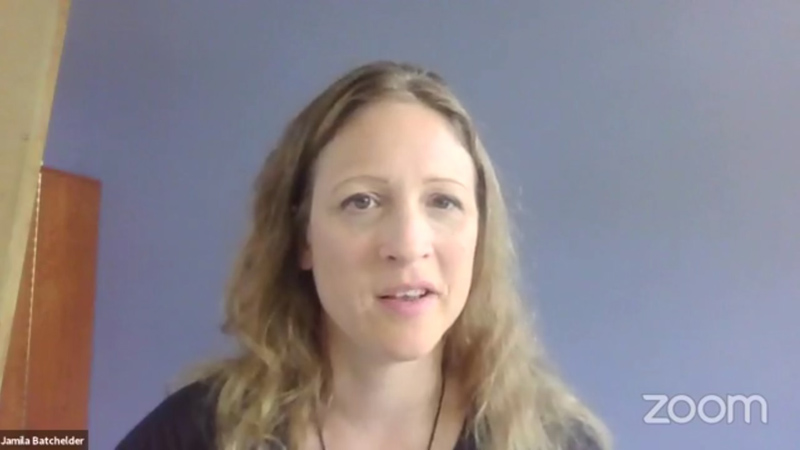 ---
Upcoming R.E. events
October R.E. classes
Oct. 3: Regular Classes
Oct. 10: Service Sunday
Oct. 17: Regular Classes
Oct. 24: Regular Classes
Oct. 31: All Ages Service
YRUU Lock-in? – Oct. 2-Oct. 3
Each year, we start off our YRUU programming with a lock-in as a chance to get to know each other and bond as a group. We are hoping that Covid case numbers come down far enough that we feel safe doing that this year.
If numbers stay bad, we will have an outdoor evening of fun, but won't stay the night inside the building.
Our event will begin at 5 p.m. Oct. 2. Stay tuned for more info.
Junior Youth Meeting – 6:30-8:30 p.m. Friday, Oct. 8
All 6th-8th graders are invited to join us for an outdoor movie night. We will be voting on the movie, so keep an eye out for an email of our choices. Our meeting will go a little longer than usual to make sure we have time to see the whole movie. Dress for whatever the weather might be!
And RSVP to DRE Jamila Batchelder.
Pumpkin Carving Party – 11:30 a.m.-1 p.m. Sunday, Oct. 31
Come join us for pumpkin-carving fun and a bowl of chili after the all-ages service on Halloween! We will provide a pumpkin, but RSVP to DRE Jamila Batchelder so we can have enough pumpkins for everyone.