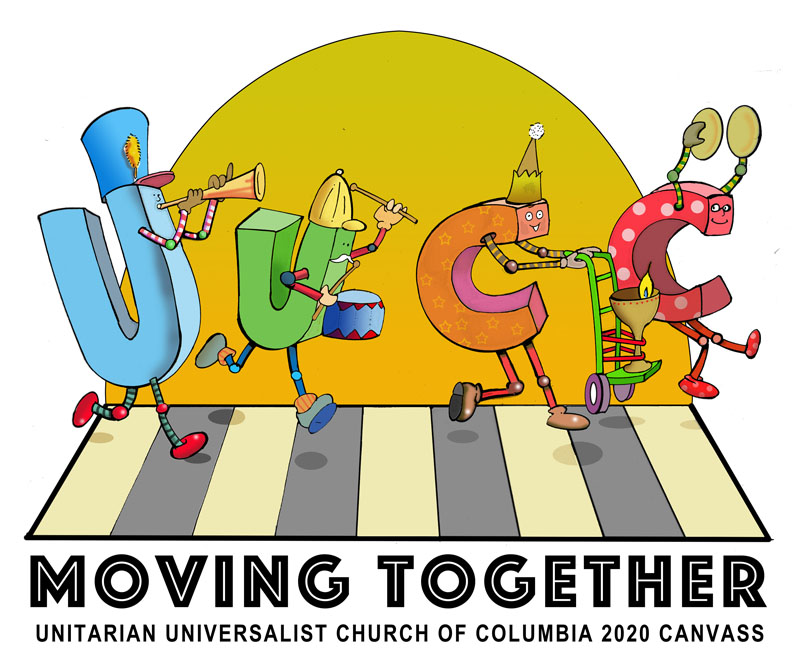 Related pages:
Introduction
Our church mission statement: In the spirit of courageous love, we forge a community of radical welcome and deep connection that moves us together to heal the world.
As we spend the year connecting more deeply with our mission as a congregation, we are reminded of our deep purpose in community together. The portion of the mission statement that is our theme for the month of February is "moves us together" – thus our stewardship theme of Move Together.
The stewardship campaign calls us to move together in supporting the mission of our church and our community by pledging to financially support that mission. As in previous years, our primary goal is to receive pledges from 100% of those who consider UUCC a spiritual home – both members and friends of the congregation. Pledging is not meant to be an exercise of over-extension that risks your financial future, but instead asks you to live within your means to support the very important work of this church that plays a role in your spiritual journey and practice. Guidelines for giving can be found with your pledge card and online.
Why Pledge?
Just like the pledge drives most of us are familiar with for KOPN and NPR, pledges are a necessary part of the fiscal health of the church. While cash donations in the offering basket are greatly appreciated and are used to help support the church and its causes, they are unpredictable. Pledges enable us to plan a realistic budget, so we rely on the pledge commitments of our community of members and friends to set our budget. Your pledge will be for our upcoming fiscal year – July 1, 2020 to June 30, 2021.
Where Do Your Pledge Dollars Go?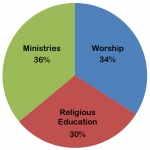 Pledges made during the stewardship campaign constitute about 90% of church income. The remainder comes from pledges made at other times, undesignated Sunday offerings, facility rentals and fund-raisers.
In the 2019-2020 fiscal year ending June 30, we have budgeted $348,558.
For the 2020-2019 fiscal year starting July 1, we project spending needs of about $359,000, which will allow us to fund:
A new racial justice group envisioning a project to undertake alongside our building improvements
Additional administrative needs, including additional hours for our Church Administrator, in this important time of preparation
Our continuing commitment to fair compensation and benefits for our amazing staff
Utility costs as we donate our space for sheltering our neighbors and supporting liberation organizations active in our community
The pie chart at right shows the proportions of our projected 2020-2021 budget that will go to worship, religious education and ministries. Each category includes associated staff, administrative and facilities expenses.
Considering Your Pledge Amount
The amount you pledge is your personal decision based on your financial resources and needs. The Stewardship Team asks that you consider the UUCC Fair Share Guidelines you will find on the back of this year's pledge cards and online.
Most of our members are able to contribute on a regular basis, and many households already pledge at the suggested levels. For those who do not, we ask you to work toward meeting the guidelines over time. For newer members and friends, we ask that you consider pledging an amount that reflects a serious commitment to the church you have chosen as your spiritual home.
We estimate that we can meet our dollar target if current pledgers will increase their pledges by 3% to 5% and if new pledgers will pledge at least $30 per month.
Submitting Your Pledge
Pledge cards, available in the Greeting Area or here as a PDF, can be turned in at the stewardship table, placed in the offering plate, given to any Stewardship Team member or the church administrator, or mailed to the church.
You can also pledge online by clicking the button below:
Stewardship Team Members
Team members this year are:
Michela Skelton Birk and Shannon Beck, Co-Chairs
Ene-Kaja Chippendale
Qhyrrae Michaelieu
Steve Mudrick
Dennis Murphy
Maria Oropallo