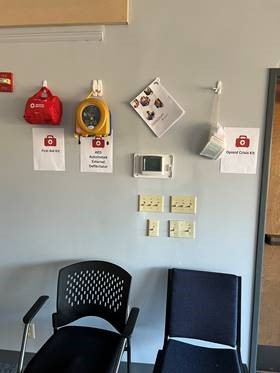 Staff and volunteers successfully completed a CPR and AED course with the American Red Cross on Oct. 29, so we are feeling more prepared for any medical emergencies that may come our way.
UUCC staff members have been working on creating a visible area for the supplies needed in these life-saving treatments. The photo at right shows a first aid kit, AED, Skills Cards, and an Opioid Crisis Kit. These are all located just inside the doors to the Sanctuary on your right when you enter. They are placed high on the wall to prevent children from playing with them.
Expect to hear more in the future about safety plans and drills. We want everyone to know what to do in case of an emergency.
Also, we want to know if you are certified in CPR, AED or First Aid with any organization, even if you didn't attend our training. If so, please email Church Administrator April Rodeghero and let her know about any current certifications you have.