---
Minister – The Rev. Molly Housh Gordon
The Rev. Molly Housh Gordon started her tenure as the third settled minister of our congregation on August 1, 2012.
Molly's sermons and other messages delivered during worship are on the Sermon Archive page of this website. She can be contacted by phone at the church, 573-442-5764, or by email.
A lifelong UU from Tulsa, Oklahoma, Molly holds a Bachelor's Degree in Religion from Hendrix College in Conway, Ark. and a Master of Divinity from Harvard Divinity School in Cambridge, Mass.
Molly and her spouse James live in Columbia with their daughters Nora and Margot and their dog Eddy. Together they enjoy cooking, long rambling walks, and getting involved in the Columbia community. Molly also loves to dance, sing, and bake – her specialty is buttermilk pie.
Molly says: "It is truly a joy to serve the UU Church of Columbia – a warm and welcoming community that is always seeking to grow in spirit and in service. Together we ask the big questions of life and meaning, and together we learn how to better love this world. I hope you will join us!"
---
Intern Minister – George Grimm-Howell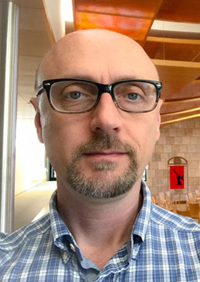 George Grimm-Howell is our 2022-23 Intern Minister. He earned a master of divinity degree at United Theological Seminary of the Twin Cities in May 2022 and will be a candidate for UU parish ministry, focusing on themes of social justice and liberation, particularly for members of the LGBTQ+ community and people of color, and incorporating socially transformative art forms into the worship experience.
He lives in University City, Mo. with his family and is a long-time member of First Unitarian Church of St. Louis.
---
Church Administrator – April Rodeghero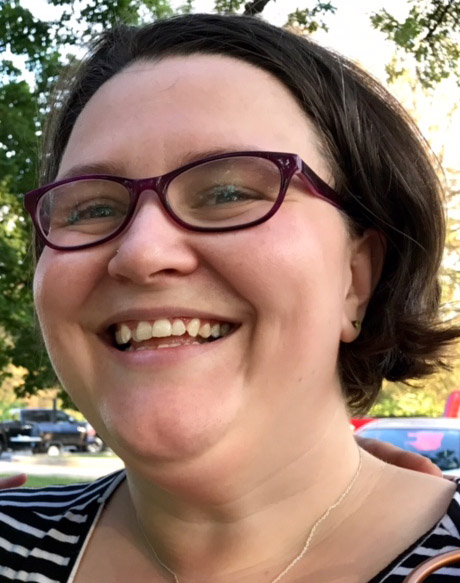 April Rodeghero, our Sunday Morning Assistant since October 2017, was appointed Church Administrator effective March 7, 2023. In announcing April's appointment, Rev. Molly said, "I am delighted to benefit from April's understanding of our congregation and its processes, her warm and welcoming presence, her organizational skills, and her commitment to our shared values."
As Church Administrator, April will look out for well-being of volunteers, the building, grounds and finances. She will also oversee the office and communications.
April was drawn to UUCC by the strong social justice theme of Unitarian Universalism and hopes to learn more.
She lives with her twin sons, daughter and spouse in Columbia. She has a background in education and postpartum doula work. In the past she worked with the MU Adventure Club, Missouri Afterschool Network and the Columbia Housing Authority.
---
Director of Music Ministry – Violet Vonder Haar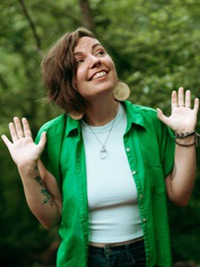 Violet Vonder Haar joined our staff as Director of Music Ministry in October 2021. Violet is a songwriter, artist, activist, and teacher from mid-Missouri. She has been using her music as a tool for healing, education, consciousness awakening, and social justice since the age of 9.
She is the founder of the all female rock orchestra Jane Doe Revue, which has helped to raise over $30,000 for women's healthcare and various organizations in Missouri. Through her work with JDR and her band Violet and the Undercurrents, she has helped to elevate women's voices, empowering them to stand stronger within their truest selves.
Violet has been a music educator for over 10 years, and uses her teaching as a way to heal and awaken the power within each of her students. She has taught elementary and general music at Lange Middle School, Stephens College Children's School, Columbia Montessori and Windsor Street Montessori School.
In 2019 and 2020, she was nominated for the Missourian Progress in the Arts award, and in 2017, was the recipient of the Sarah Dwyer Special Appreciation Award by Women in the Arts at National Women's Music Festival.
On October 1, 2021, Violet announced that she will be opening a community music center with local music teachers and local music non-profit organization Compass Inc. The center will offer free music lessons through a community outreach program, performance opportunities in a substance free listening room, workshops and much more.
Some of Violet's music ministry goals at UUCC are to reconvene the choir safely, begin a youth music program with an emphasis on singing and playing based upon interest and skill level, youth and/or adult songwriting groups, involving and inviting members of the Columbia music scene to play for our services, and of course involving and making space for all the talented UUCC musical members.
---
Director of Religious Education – Jamila Batchelder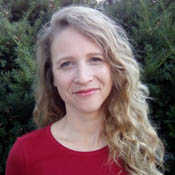 Jamila assumed her duties as Director of Religious Education in November 2016. She has attended UUCC for many years and became an official member in 2014. She has taught in our R.E. program in the Schweitzer class, volunteered as a youth advisor and coordinator for our high school youth program, facilitated Chalice Circles for a group of parents and a multi-age group, and served as a worship associate.
Jamila says, "This position combines two of my great passions in life – education and my love of religion, spirituality, and most particularly Unitarian Universalism. It is all the more meaningful that I will be serving a community to which I already feel such deep connection and love."
Read Jamila's Philosophy of Religious Education.
---
Affiliated Community Minister – Rev. Dottie Mathews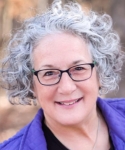 The Rev. Dottie Mathews is our Affiliated Community Minister, which is an unpaid non-staff role.
Dottie retired from active ministry and relocated to Columbia with her spouse Rosie Geiser in 2015. Both Rosie and Dottie were delighted to find such a warm and welcoming church home here at UUCC.
In July 2016 our Board of Trustees approved an official agreement with Dottie to serve as our Affiliated Community Minister. The agreement publicly recognizes that the justice work she does in our community is being done as a representative member of the church and is in service of the goals and mission of the church.
Dottie is an active volunteer with the Faith Voices Sanctuary Network and with SURJ (Showing Up for Racial Justice). She is a past co-leader of our Sanctuary/Immigrant Justice Team and is now devoting most of her volunteer hours to a new national program with the Unitarian Universalist Service Committee's Congregational Accompaniment Project for Asylum Seekers.
She can be contacted at 920-378-4013 or through the email link below.
---
Sunday Morning Assistant – Vacant Position